Blog
Turning Downstream Disruption into Competitive Advantage

Energy
Dec 9, 2020
1862 Views

6 min read
Add to Favourite
Digitization in downstream: Need of an hour
The downstream oil and gas sector presents enormous opportunities in terms of multiple touchpoints for digitalization. These touchpoints vary from bringing energy efficiency to the process of identifying the current level of gasoline left in the consumer's car.
Historically, companies operating in the downstream sector selling products to distributors, wholesalers, retailers, and end customers have focused heavily on product and cost. The investment has been majorly on the portfolio of technologies to improve on areas like vehicle performance, lower emissions while optimizing supply, internal operations, and several other things to bring cost efficiency to the business. While doing this, what was grossly neglected was the thinking of improving the life of their assets and driving customer relationships.
On the customer relationship front, most companies that used to differentiate themselves purely based on product and price basis were finding it difficult to compete and retain the same share of their market presence. On the technology front, the ones with the reactive approach towards asset maintenance started finding it challenging to remain profitable due to uncertainty in breakdowns and unplanned maintenance activities.
Digitization promised to improve both these problems by deploying advanced analytics to understand and serve the customers proactively and tracking down technical issues in assets and predicting the required maintenance schedule well in advance, thus helping refiners improve efficiency, reduce costs and protect revenues.
Bringing digitization in downstream
Downstream operations which start right from crude selection till delivering the fuels to the end customer have several areas where the information collected through sensors, payment gateways, and other devices acts as a junction to derive important insights about the business.
The data collected on a daily basis may range anywhere between several gigabytes and its manual interpretation may require a specialized workforce spending weeks to draw conclusions – time which could have been invested in carrying out the actual analysis.
Industry 4.0 brings a stack of technologies that can improve processes, skills, and squeeze more productivity from the existing assets. IoT, ML, Predictive analytics, Digital twin, AI, and Cloud computing are some of the leading digital technologies in which the majority of the players are investing.
Exhibit 1 below represents different digital technologies across the value chain and their advantages to the downstream industry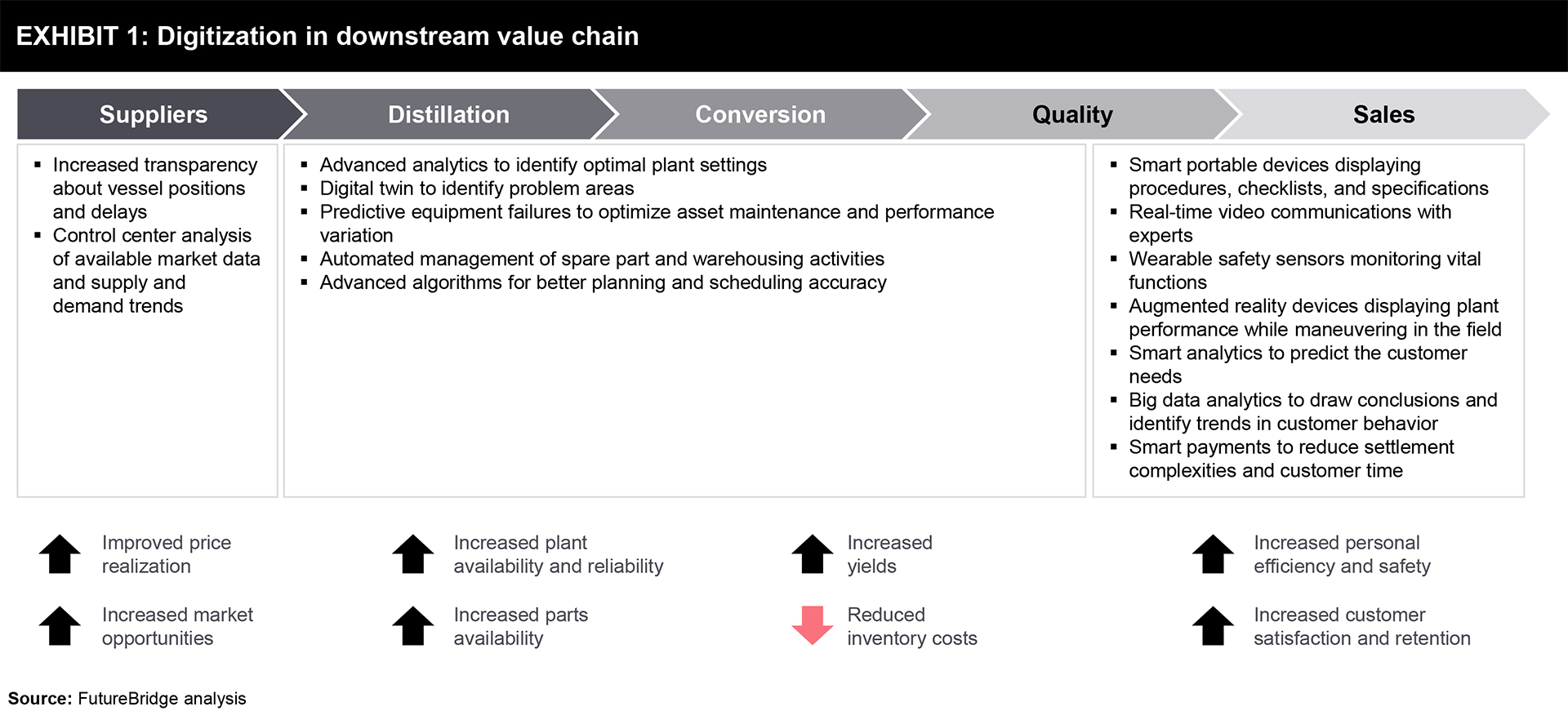 There are several key value drivers for accelerating digital transformation across the downstream oil and gas industry. Leading players like Total, BP, Shell, Chevron, ExxonMobil, have implemented digital transformation faster when compared to other mid-sized players thus disrupting their market segments. Below are some of the use cases by these leading players
Total: Total invested in Sigfox for the deployment of IoT solutions which can help them to develop customer-centric apps that offer value-added services. It also gives ways to improve predictive maintenance at industrial sites. It selected GE's Proficy® Monitoring & Analysis Suite for predictive analysis and remote monitoring of upstream and downstream assets to avoid catastrophic failure
British Petroleum: BP invested more than US$ 200 million in its digital activities which span from developing customer-centric apps like AI-based Miles and partnership with Comarch for loyalty programs.
Shell: It has developed some of the industry-first solutions like AI based Shell LubeAnalyst to understand the condition of the engine that suffer from cold-corrosion issues. It also partnered with FLIR to deploy infrared cameras for detecting methane emissions in the refinery.
Chevron: It has developed LubeWatch Oil Analysis that helps to track the performance of equipment providing real-time health checks of equipment. It partnered with Visa and Apple Pay to make payment convenient for its customers at a gas station
Exhibit 2 below shows how some other players are adopting and benefiting from the digital initiatives in the downstream business.

Digitization taking care of changing customer demands
Customers have more control than before over how, what, and where they search for, select, and buy products. Disruptive technologies, increasing access to data, and new ways of engaging with suppliers are changing the essence of the relationship between the parties. Below are some of the forces which are influencing this relationship.
Digital natives: Customers grown in the digital age expect to engage with organizations that are digitally matured. Business preference has changed from old methods to app-based purchases providing convenience to the customer.
Consistent experience: Customers expect a similar experience across the different channels or devices they use. This requires attention by oil and gas players to monitor its distributors for collaborating on channels and content.
Security while transacting: Customers prefer secure transactions where their shopping details are not shared with any third party without their permission. The least amount of information being asked, the better. They are ready for providing anonymous feedback.
Digitalization does not just lead to accurate data or faster decisions. Disruption has changed the refining industry, driving new business models and causing enterprises to reinvent themselves. Below are some of the changes noticed in the way of doing business:
Organizations are thinking beyond the old value chain to imagine new ecosystems
Digitalization interconnects products, value chains, and business models
New entrants with new business models have transformed to next-generation operations, accelerating the transition to as-a-service infrastructure and applications to drive agility and savings
The pervasive use of mobile technologies and wearable is forcing a redesign of functions and internal processes
Exhibit 3 below shows verbatim comments of key industry people expressing their opinion on digitization in refining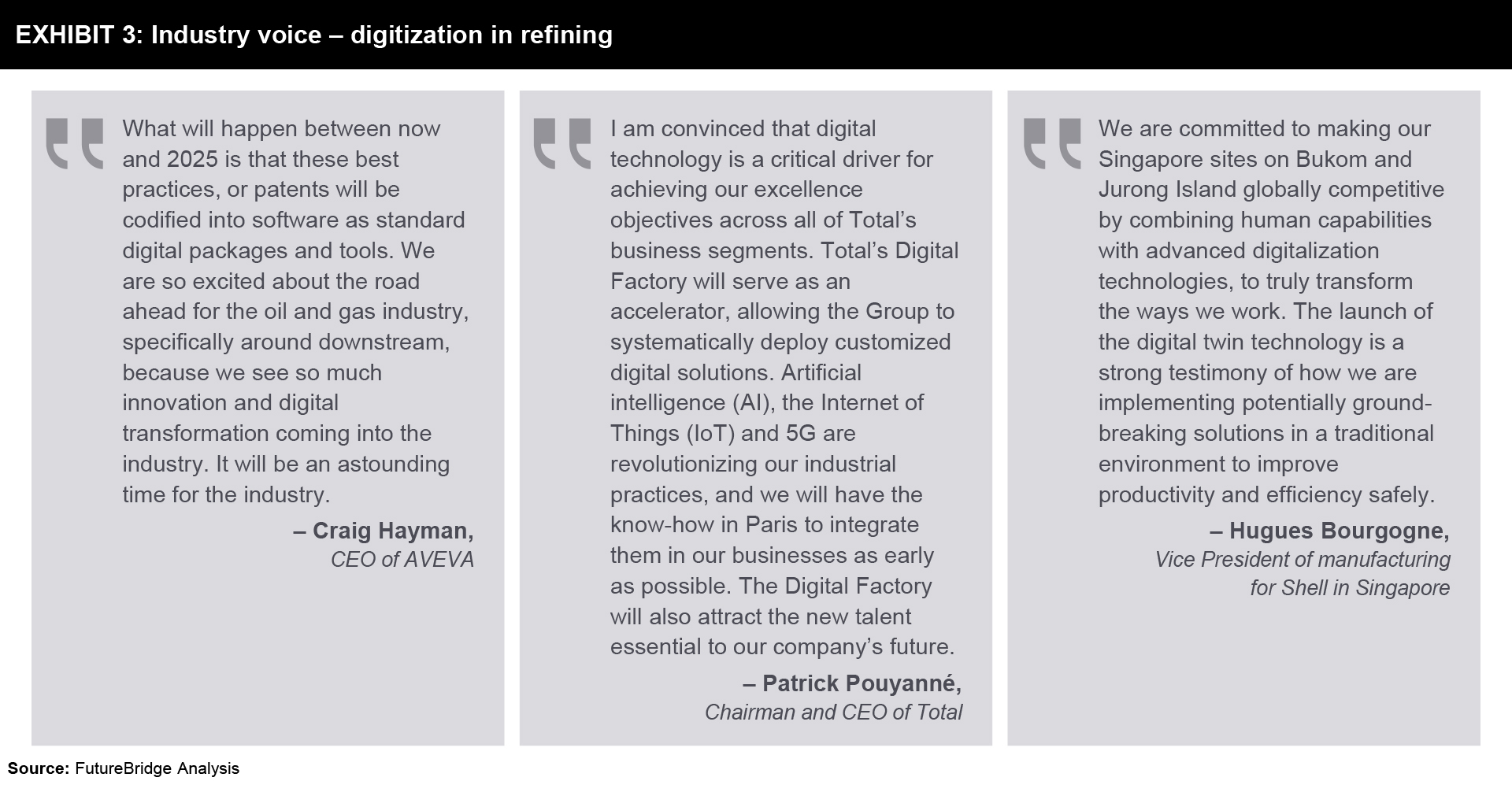 Drivers and barriers to adoption of digitization
Driving factors:
Enables in handling constantly changing variables like market demand, crude slate, crude prices, and make the refiner aware of upcoming challenges.
Concepts like drones and robots help in meeting the highest level of safety in confined spaces like reactors, process vessels, storage tanks, etc.
The senior management of the organization actively and constantly sponsors the new way of working and stresses "smart" rather than "manual" interventions.
Barriers to adoption:
Projects often started as a technology project without a well thought long term plan which is aligned with the company's vision.
Training the operators or hiring a specialized staff might become a challenge as it could be a time-consuming task.
Insufficient integration of people, work process, strategy, and technology might result in operational expenditure without providing a return on investment.
While deploying these technologies, oil companies need to ask themselves questions like duration in which the adopted technology will become obsolete, will adoption lead to an additional layer of complexity for the end customers or will it benefit them, can the mindset of the existing workforce be changed to benefit in future and the likes. Any and every penny spent on such efforts should provide a good return on investments.