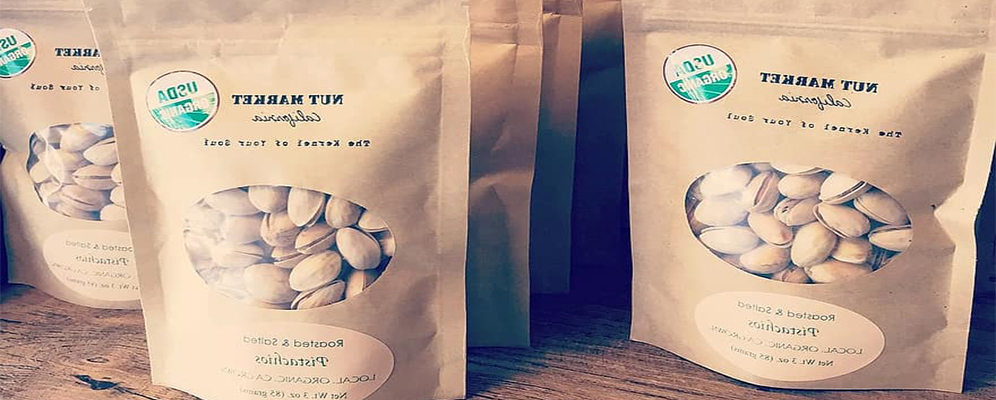 What is sustainable packaging?
Sustainable packaging is a packaging type that contributes to minimizing the environmental footprint over a period of time. This can be achieved in the following ways:
Ingredients: Using 100% recycled or pure raw materials
Production process: By minimizing the production process, supply chain and carbon footprint
Reusability: Developing a circular economy-related to packaging and extending packaging use
Packaging reusability is one of the critical solutions to eliminate different types of pollution, and packaging waste recycling is one of the ways to achieve that. Converting packaging waste into reusable packaging is a high-profit opportunity that benefits FMCG companies by cutting costs, meeting individual needs through customization, and improving customer experience.
A. What is the global waste recycling scenario?
Globally, large quantities of municipal solid waste are generated across many cities and managed formally or informally depending on the set up of the waste collection and recycling infrastructure in different geographies. The waste recycling scenario is well established across developed economies compared to developing ones.
Generally, waste management involves waste collection, followed by a waste sorting and then recycling/re-processing. The waste collection and recycling are mainly categorized into plastic, glass, paper, metal waste types. As shown in Exhibit 1, more than 50% of the population in countries like Germany, the UK, and Sweden in the European continent have accessibility to the waste recycling infrastructure. Such countries have installed color-coded bins for different waste disposal & sorting and have dedicated waste recycling or material recovery centers for different waste types. In Asian countries, less than 50% population has access to the waste recycling infrastructure due to poor waste collection and sorting processes. One of the critical reasons for the absence of a well-monitored waste management infrastructure in countries like Indonesia and the Philippines is the lack of funding for upgrading the waste management set-ups and the absence of strict laws and regulations from the government.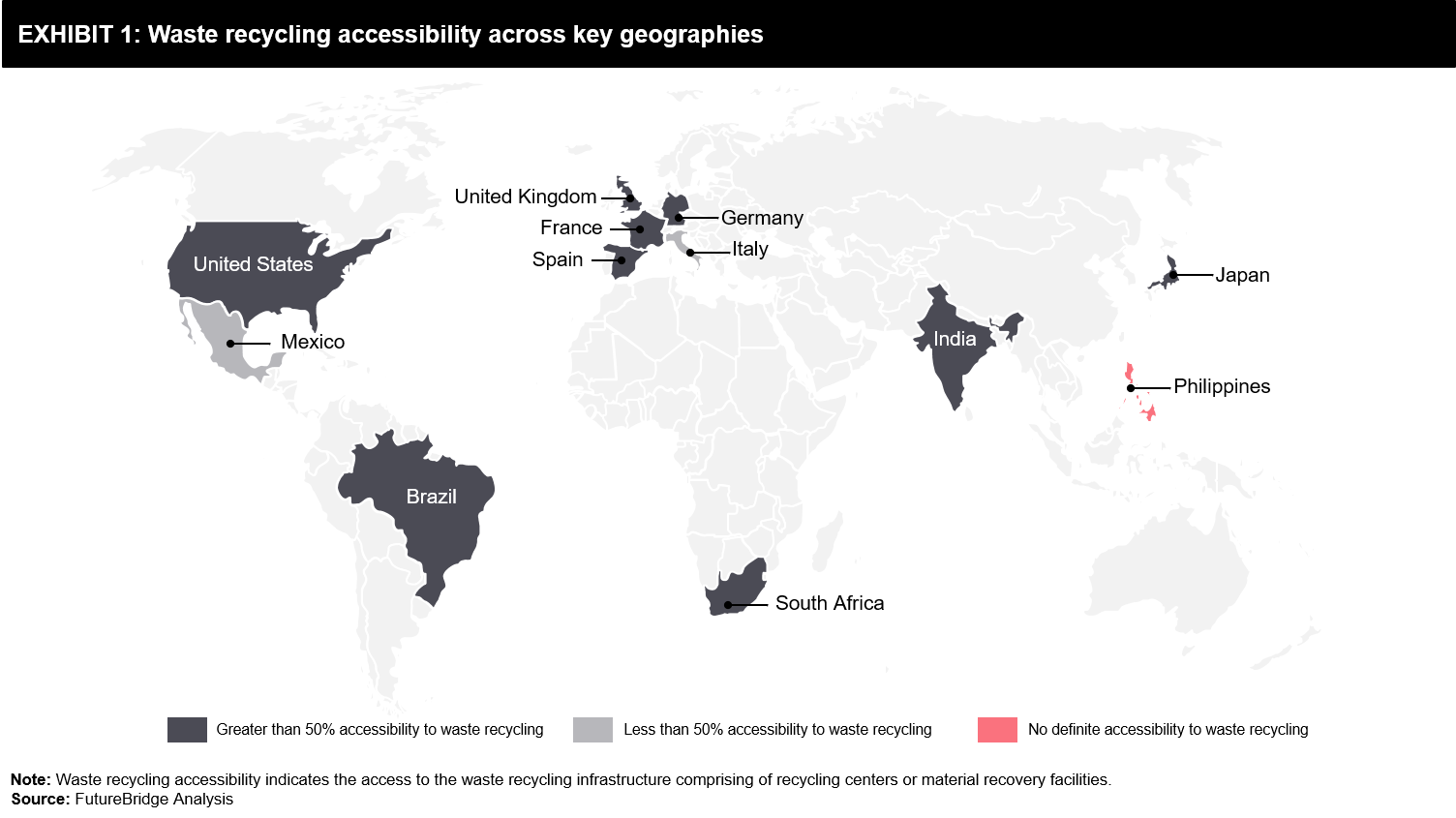 B. What is the plastic packaging recycling scenario?
Packaging has always played a critical role in sustaining the quality, safety, and integrity of products throughout the supply chains. Post-consumer packaging waste is a vital concern for FMCG companies. Global unmanaged dumping of all plastic material is estimated to be around 19%, and only 16% of all plastic waste generated undergoes re-processing to make new plastics. Approximately 25% of the global plastic waste suffers incineration, and 40% goes to landfills. Plastic packaging has come under scrutiny due to its low recycling rates and increased burden on the environment.
In comparison to other waste, the recycling rates for plastic packaging are relatively low. In the United States, the recovery rates for packaging and foodservice plastics are cumulatively 28% in 2018. As per Eurostat, for European Union countries, the plastic-packaging recycling rate was more than 40%, compared to approximately 80% for paperboard, and 75%–80% for metallic and glass packaging.
Emerging economies, Asian countries, in particular, are under high pressure because packaging demand growth is surpassing the global packaging growth rates. Both waste collection and recycling systems are poorly-managed and are not in place at an adequate scale.
B.1. What are the next steps taken by the companies?
More than 450 companies worldwide are heavily focused on establishing a circular economy for plastic. They have joined hands with Ellen MacArthur Foundation, in collaboration with the UN Environment Programme. The companies that represent 20% of the total plastic packaging produced globally include L'Oreal, Nestlé, PepsiCo, The Coca-Cola Company, MARS, and Unilever. FMCG companies are mainly focusing on improving their packaging solutions in the following ways:
Phasing out non-recyclable or hard to recycle plastics
Increasing investment in the development of mono-material packaging
Adopting alternative materials such as paper, bio-based plastics, and new refill/reuse systems
For example, in 2019, Nestlé used 4.6 million tons of packaging materials. The company's global plastics and laminates use were 1.5 million tons in 2019 compared to 1.6 million tons in 2018. Nestlé managed to reduce it by approximately 10% in 2019, even though its business grew by 3.5%. In 2018, 66% of the total plastic used by the company was recyclable or reused. Nestlé's overall plastic usage in 2019 in comparison to 2018 has reduced, especially for PET and PP plastic types, as shown in Exhibit 2.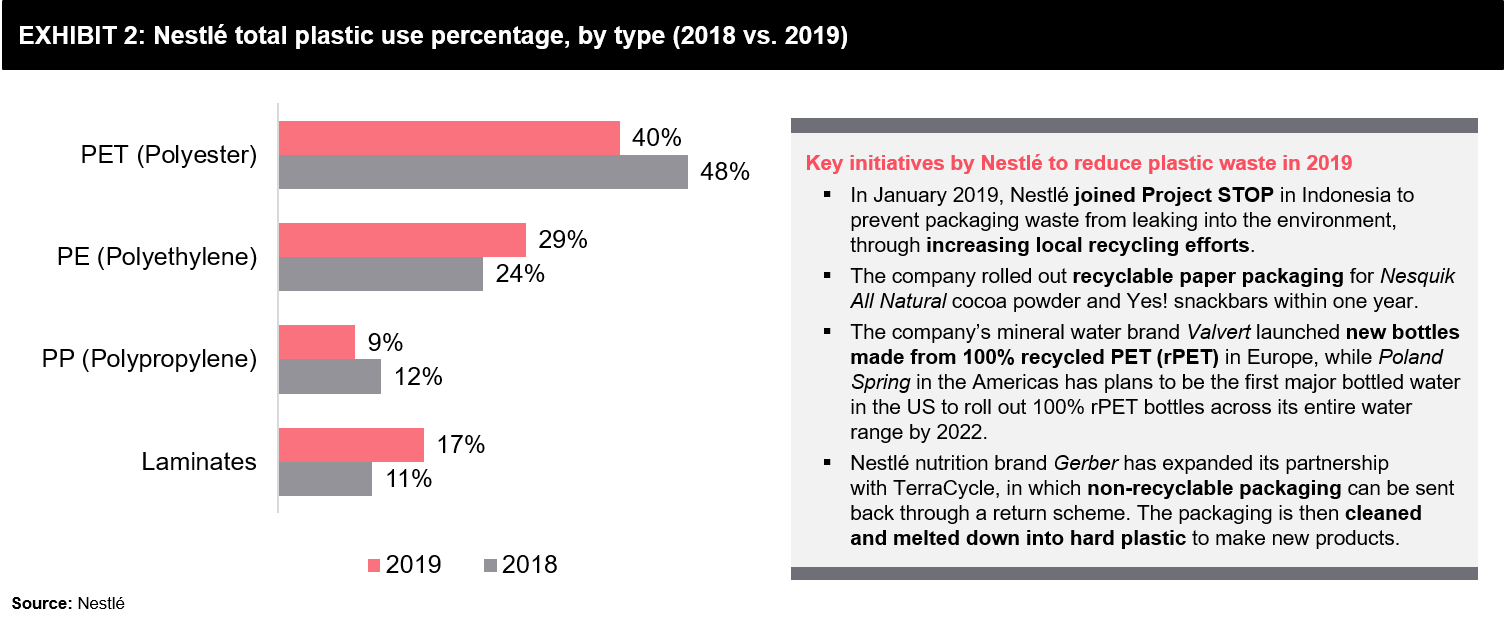 Few more companies working towards achieving a sustainable target are:
PepsiCo is striving to design 100% of its packaging to be recyclable, compostable, or biodegradable by 2025. Since flexible packaging is their primary non-recyclable packaging type, and they have projects underway to design this packaging to fit the current recycling infrastructure, utilize plastic alternatives, and compostable or biodegradable films.
Reckitt Benckiser is planning to develop systematic recyclability guidelines based on How2Recycle and OPRL. These guidelines will help the stakeholders inform marketing and R&D teams how best to develop products to design for recyclability and ensure that they label their products appropriately to educate consumers on how to dispose of best and recycle their products.
The Coca Cola Company utilizes its Coca-Cola Freestyle® technology to re-imagine the role of packaging in how they deliver products to consumers, piloting refillable cups, and bottle models.
Unilever has moved into mono-material sachets in specific countries such as India across relevant applications and launched the Magnum recyclable crackpot innovation in the UK. The company is also investing in technology (e.g., Creasolv) to recycle currently non-recyclable materials (e.g., multi-layer sachets)
B.2. What are the regulatory steps taken by the Governments?
Governments worldwide are trying to address the concerns related to packaging waste and are implementing regulations to minimize environmental waste and upgrade waste-management processes, as shown in Exhibit 3.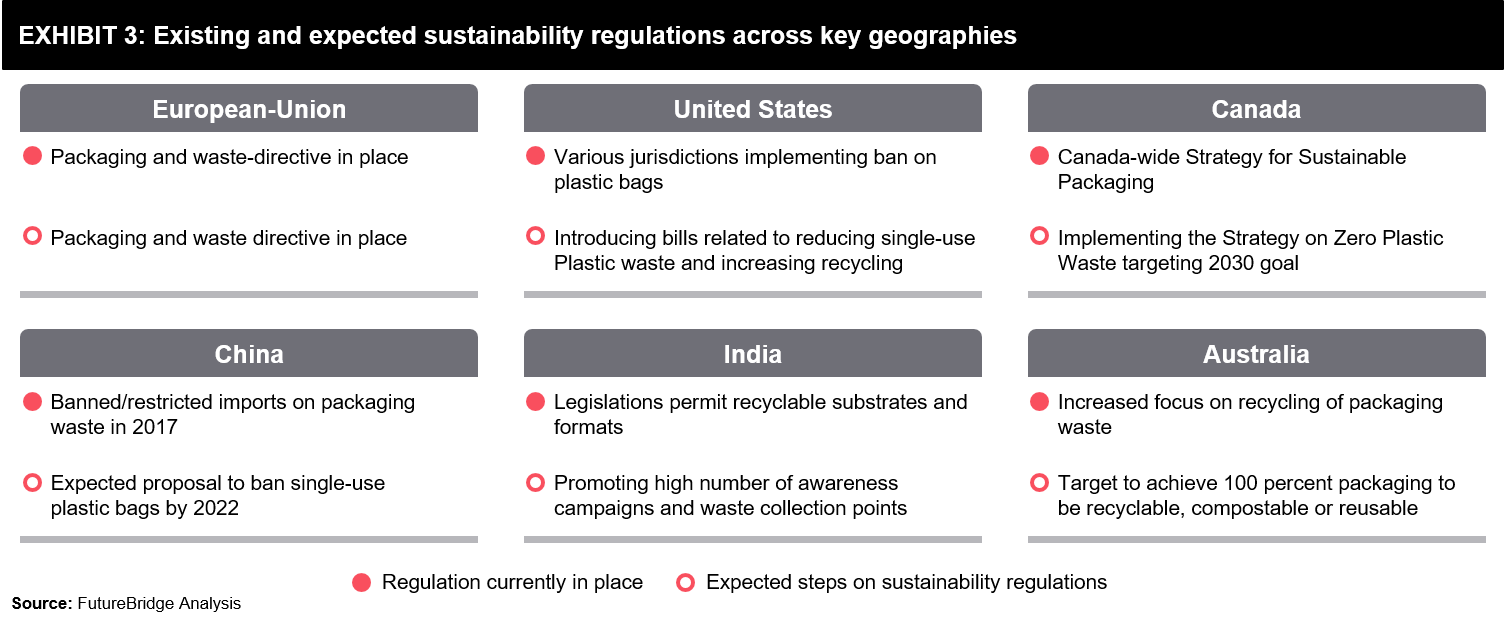 In the United States, 16 states have legislated state-wide regulations related to packaging waste, focusing on single-use plastics, shopping bags, and boosting recycling targets. More bills are expected to be approved over in the next three years. In 2019, the European Union announced specific measures under its 'New EU Directive for Single-Use Plastics', aimed at reducing leakage of the single-use plastic products. Countries like the UK, Germany, and France are forming recycling regulations to implement robust Extended Producer Responsibilities (EPRs). These countries aim to set higher recycling targets, fees on the usage of non-recyclable packaging, etc. Thailand announced a country-wide ban on single-use plastic bags at major stores beginning January 1, 2020.
From 2016 to 2019, Latin America has seen considerable approval of many local and federal bills. For example, Chile and Mexico are banning plastic bags for business and single-use plastics, respectively.
C. What is the packaging innovation scenario post-COVID-19?
To comply with the new regulations, cater to consumer preferences, and minimize the environmental impact of packaging, packaging manufacturers are making new investments, up-scaling their production capacities, and launching innovative packaging solutions. Some of them are:
PriestmanGoode creates reusable packaging for the foodservice segment using sustainable materials such as cocoa bean shells, mycelium, and pineapple husk
Sonoco has planned to upgrade its corrugated medium machine located at its South Carolina facility in the US, and expecting an investment of $83 million to transform the equipment into a new recycled paperboard machine
Frugalpac launched Frugal Bottle, which is made from 94% recycled paperboard with a food-grade liner for wines and spirits packaging
EcoTensil launched plastic-free paperboard utensils consisting of a range of folding multi-functional paper utensils to replace small plastic spoons, and pot lids, trays, and another grab-and-go packaging, with an environmentally friendly option in Europe
Sulapac received $16.24 million to expand its footprint in the sustainable packaging segment, and together with Stora Enso, Sulapac launched a renewable and biodegradable straw. A detailed company profile is shown in Exhibit 4.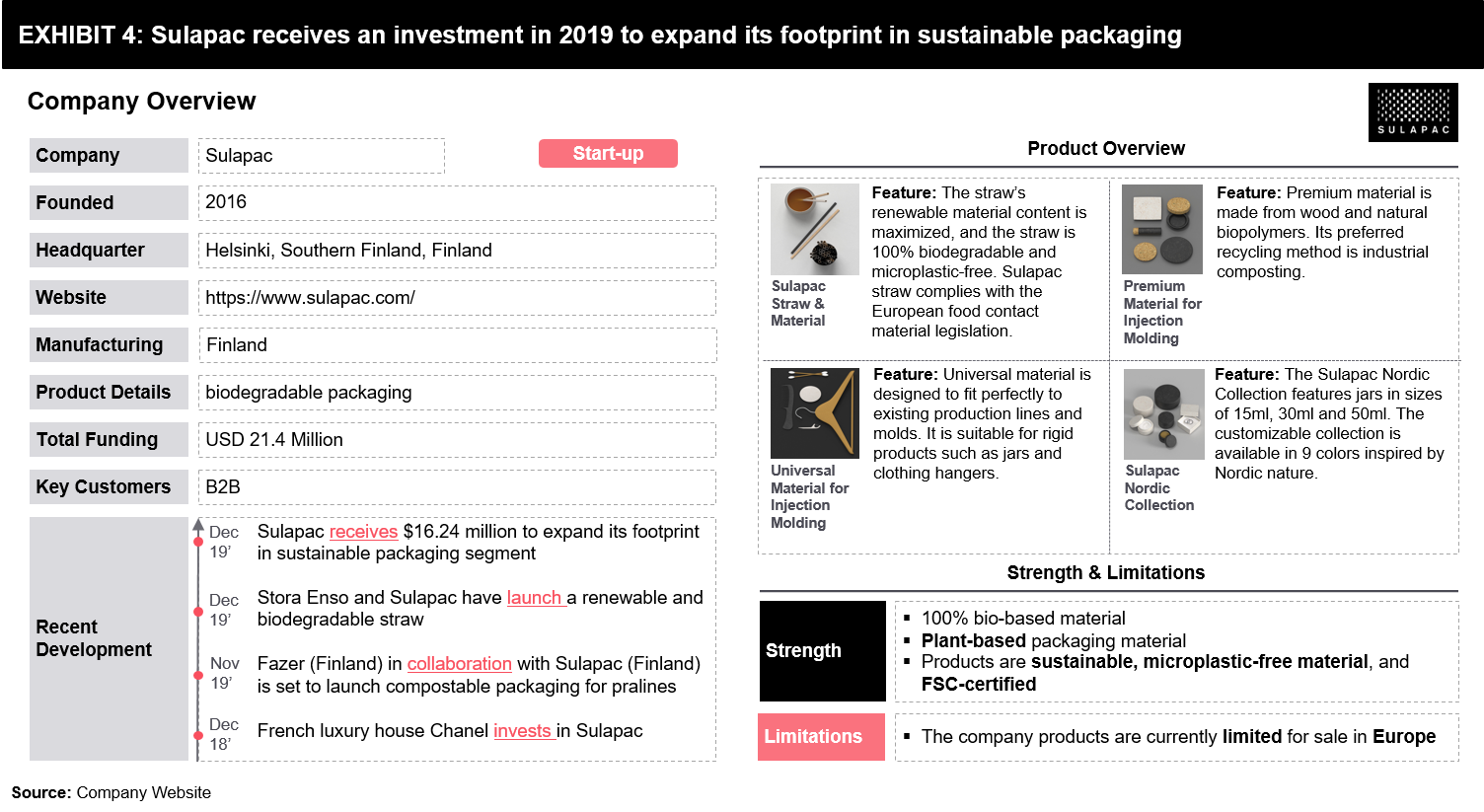 In the food industry, companies are focusing on developing packaging as per consumer preferences. Consumers are becoming serious about what they consume and are unwilling to take the risk with the packaging during the ongoing COVID-19 pandemic. This trend is expected to push companies to innovate and use sustainable packaging materials, as shown in Exhibit 5.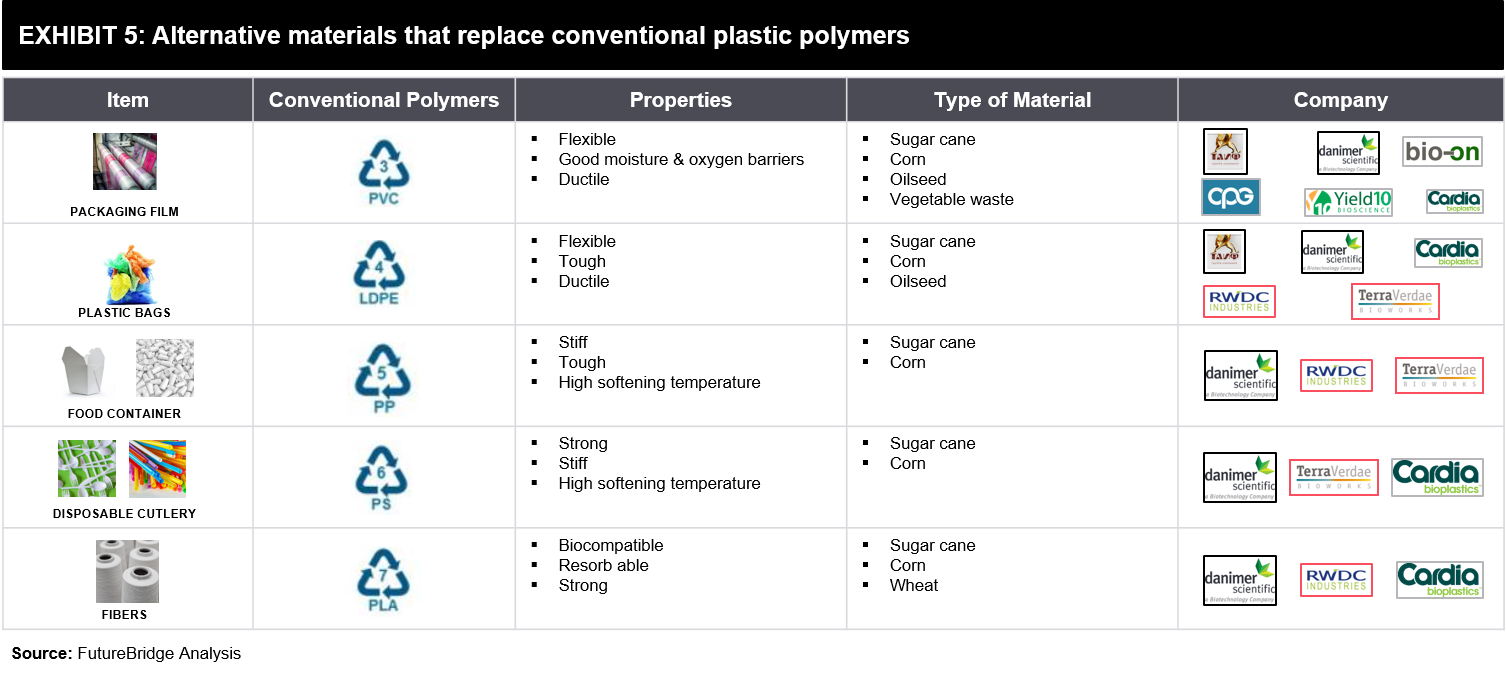 References
Eurostat
Ellenmacarthurreport
Company Websites
Newsletter1- Analyzing Municipal Solid Waste Treatment Scenarios