Future of e-mobility is in the hands of chemicals & materials companies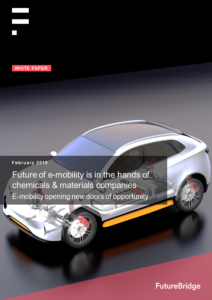 As the market grows for Electric Vehicles (EVs) and new technologies, material solutions will play an important role to meet new requirements and overcome design challenges. There has been a shift from graphite-based anodes to silicon-based anodes to improve battery charge capacity, as silicon has a high density of energy per unit of material and can store 10 times the charge as compared to graphite and improve the performance of lithium-ion batteries. Next-generation batteries, such as sodium-ion and lithium-sulfur, are currently under development and are expected to replace the lithium-ion batteries in EVs . . .
The content is restricted to premium users only.
Please
sign up
here to get access to all premium content on the website.
Request White paper
Thank you for your Interest. We will revert to you shortly.