AI and Robotics: Future of Waste Management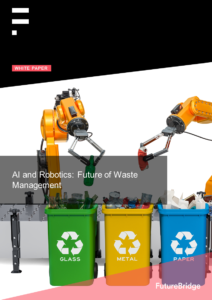 Plastic waste management has become a pressing issue for all countries across the globe, primarily developing countries due to poor recycling rates. Poor collection rate, collection inefficiency, human intervention, and unorganized and fragmented sector are causes of poor recycling rates. Therefore, attempts are being made to improve the recycling of plastic through public awareness and minimizing human intervention across the entire value chain of plastic recycling. Artificial Intelligence (AI) and robotics are gaining prominence these days, as these technologies can help in automating and improving efficiency across the plastic recycling value chain.
This whitepaper focuses on how . . .
The content is restricted to premium users only.
Please
sign up
here to get access to all premium content on the website.
Request White paper
Thank you for your Interest. We will revert to you shortly.