Blog
Flexitarianism: Shifting Consumer Trends and Eating Habits

Food and Nutrition
Dec 9, 2020
1583 Views

3 min read
Add to Favourite
Consumer awareness regarding the impact of meat consumption on health and the environment has fueled plant-based product consumption by different consumer groups that include vegans, vegetarians, and flexitarians. A flexitarian is a person who eats mainly vegetarian food but eats meat occasionally, and this article focuses on flexitarian consumer perceptions and eating habits.
A. Consumer perception of plant-based foods
Based on the consumer's diet intention, different researches, companies, and organizations have defined veganism. According to the Cambridge dictionary, enlisted below are definitions for the eating habits
Vegan: A person who does not eat or use any animal products, such as meat, fish, eggs, cheese, or leather
Vegetarian: A person who does not eat meat for health or religious reasons or because they want to avoid being cruel to animals
Flexitarian: A person who eats mainly vegetarian food but eats meat occasionally
Omnivore: An animal that is naturally able to eat both plants and meat. In this study, this term refers to a human who eats plants and meat equally.
Factors driving demand for plant-based products
There has been a steady rise in the percentage of flexitarians who have shifted towards plant-based foods and occasionally eat meat. The majority of meat-eating consumers are shifting towards the consumption of plant-based foods because:
they think plant-based products are healthy and less contaminated
they are aware of the rising concerns about animal suffering
they understand the negative impact of meat consumption on the environment
rising concern regarding animal-based infections such as Chicken-flu, Swine-flu, COVID-19, among others
However, taste, cost, convenience, and health are the motivators of food choices.
According to a survey conducted by the International Food Information Council (IFIC) on food-purchase drivers among representative 1,012 U.S. residents (IFIC, 2019),  observations were:
The taste of food products is a primary motivator of reported food decisions
The cost is a close second motivator, followed by healthiness, convenience, and sustainability of food products
An experiment conducted by Malone and Lusk (2017) demonstrated similar results. The research concluded that consumers are willing to pay more for conventional meat's health and safety, but they would pay a comparable price to improve the taste.
B. Sources of proteins for flexitarians
Flexitarian's diet comprises of both plant-based food and occasional consumption of meat. So the nutritional requirements of a flexitarian consumer are met from both meat/animal proteins and plant proteins.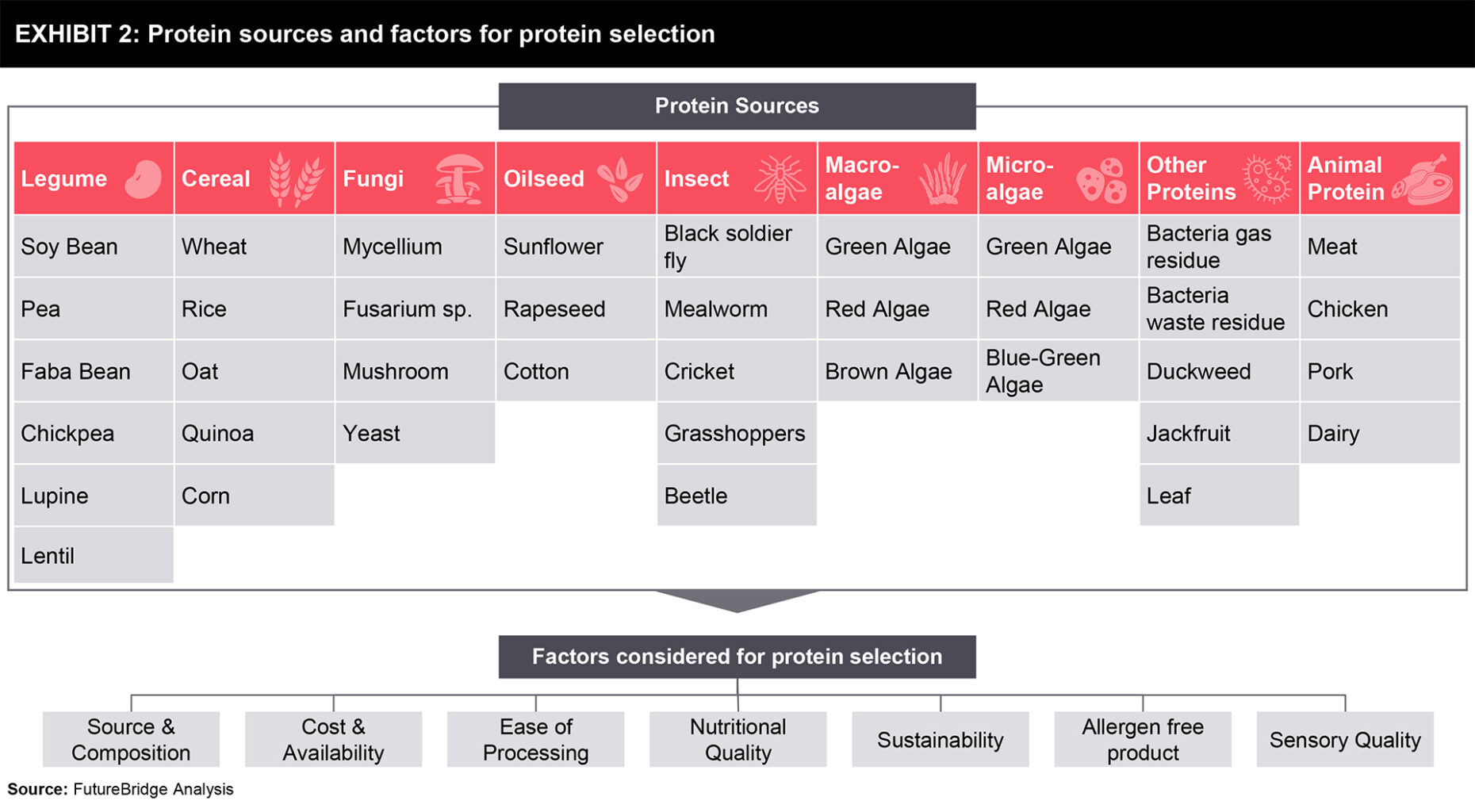 C. Trendsetters in the segment
Introducing meat alternatives that include different proteins – legumes, cereals, algae, microbial, insects, and others listed in Exhibit 2 helps cater to the flexitarian segment. The factors that the trendsetters in the segment are deliberating include:
Taste and texture of the alternative meat proteins
Cost of production
Sustainability of the proteins
Innovation
Listed in Exhibit 3 are a few trendsetting entities in the segment, which include Beyond Meat, Impossible Foods, Chick.P, Hooked, Fazenda Futuro, Michroma, Nature's Fynd, and Solar Foods.