Mobility Industry Insider
Techno-Commercial Lens
Contextual, Data-Driven Analysis
Uncovering Growth Opportunities across the Transportation Ecosystem

Comprehensive, global coverage – through the lenses of electrification, connectivity, autonomy and mobility – of the disruptive technologies, solutions, players and business models that are transforming the people and goods transportation ecosystem.
The intersection of market trends (such as sustainability) and technology trends (including electrification, connectivity and autonomy) is causing a seismic shift in the automotive and transportation ecosystem. With the emergence of new business models, traditional market leaders face an environment rife with risks and rewards.
Our Mobility Industry Insider programme helps clarify the strategic choices for market participants through:
In-depth analysis and benchmarking of technology developments,
Ongoing tracking and assessment of players – large and small – in the global ecosystem, and
Objective recommendations of potential actions for each value chain role.
Our Focus
We track 21 evolving technological trends and challenges that are becoming increasingly critical for players across the automotive and transportation value chain. These trends include those that target performance or value improvement (such as Integrated Safety and Passenger Wellness), transform powertrain and propulsion (such as Battery Energy Storage and Engine Charging & Boosting Systems) and provide insights into future mobility (such as Automotive Ethernet and Vertical Mobility).


Our collaboration model
On-demand access to comprehensive insights on available and emerging technologies – and their potential business impact and market opportunity
Continuous monitoring of the dynamic technology landscape, global startups and player ecosystem with periodic updates on developments, meta-patterns, funding flows and benchmark refinements
Access to our analysts to help you align your R&D and product development strategy with our up-to-date, competitive lens on techno-commercial advances
Decision support for executives and practitioners to identify potential technology scouting, M&A, investment and growth opportunities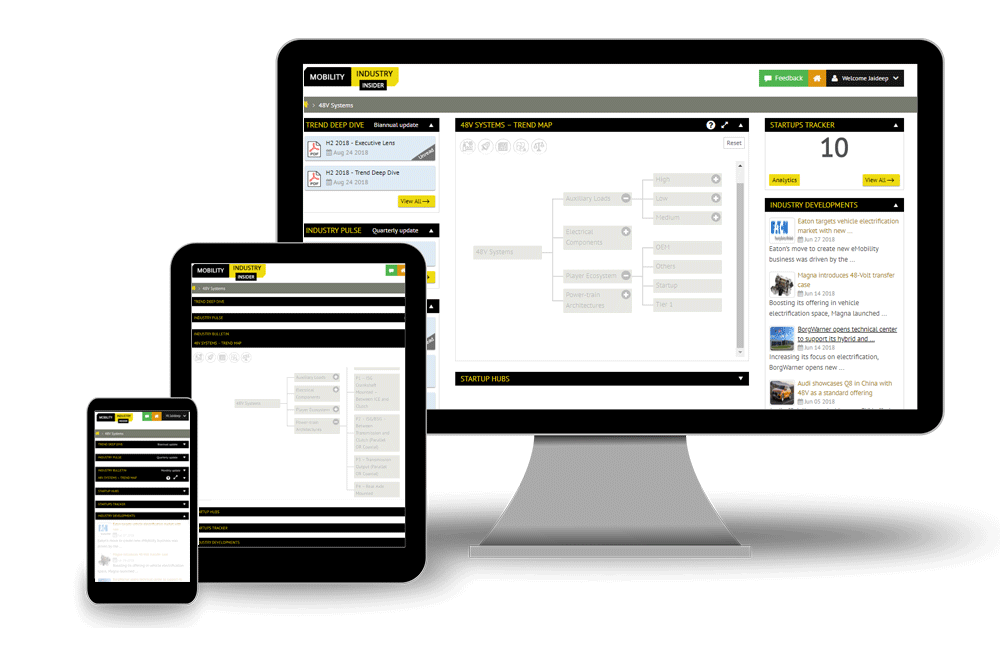 Thank you for your interest in Mobility Industry Insider demo. You will receive a meeting invite on your email address in the next few hours.
Thank you for your interest. Here are the sample pages.