Introduction
The mobility industry is on the cusp of revolution, where the current decade will be very different than what we have seen till now. As a result of fast-paced technological disruptions, the world is moving towards three big trends in mobility which are electrification, connected & autonomous driving, and shared mobility.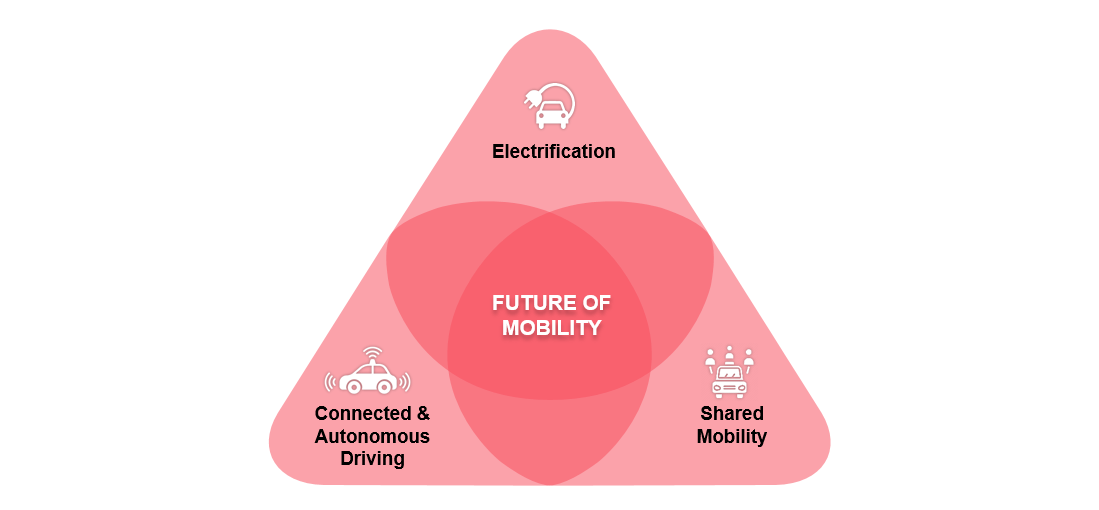 These three big trends are set to replace the present vehicle‑centric system with a radically more efficient, data‑enabled and driverless ecosystem – with a focus on the consumer's needs.
Combined together, these trends will bring in the future where any person sitting at the office or home or at any location can call a driverless vehicle using a mobile application, which can drop that person at his desired location and then drive itself to the nearest wireless charge point to wait for the next ride.
As a result of connectivity and autonomy provided by future vehicles, the occupant of the vehicle will have partial or full freedom to do whatever he wants during the trips. Automakers focusing on the in-car experience are looking to enhance the customer experience across multiple aspects of the car journey, from car entry and ignition to parking, at the same time also ensuring passenger safety and vehicle security.
In-Vehicle AI-powered voice-controlled personal assistant
In the last decade, the availability of AI-powered voice-controlled personal assistants such as Google Assistant, Alexa, and Siri, on mobile devices or on smart speakers have changed the way people perform several tasks. The trend towards usage of personal voice assistants in cars started with people bringing their mobile devices with them to make calls, to answer messages and to find their way via navigation apps.
Observing this, car manufacturers saw this trend as an opportunity to improve driver experiences in their vehicles. Automakers started developing and integrating sophisticated voice-enabled assistants in their vehicles. Mercedes-Benz, Hyundai, Honda, PSA, and BMW were some of the early adopters to develop voice-enabled assistant to control the infotainment system in their cars.
At present, in-vehicle voice-controlled personal assistants can perform various tasks as given in Exhibit 1.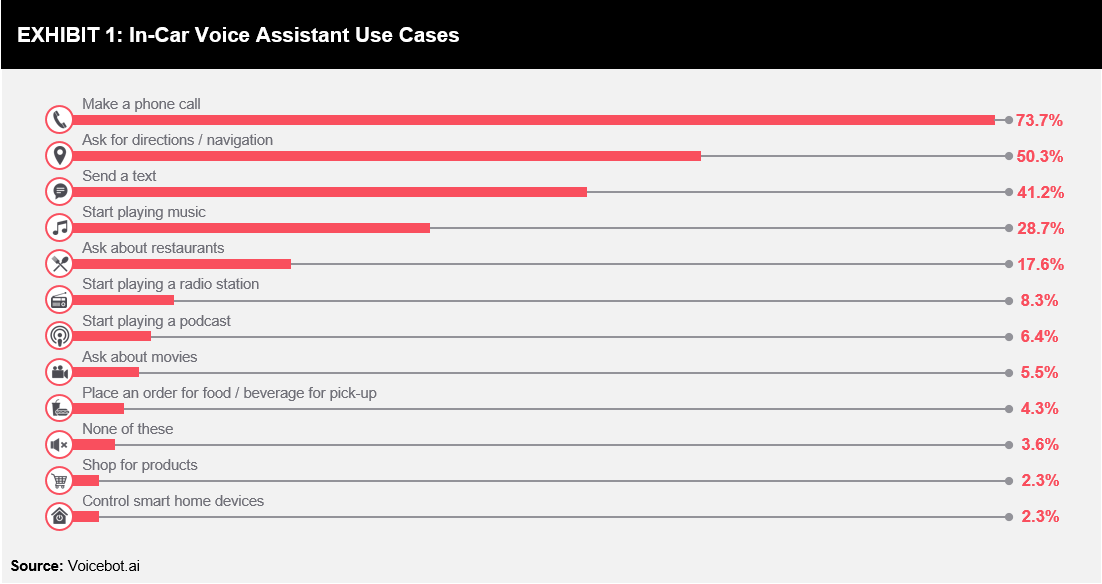 Entry of Big Tech companies in automotive voice market
The top automakers have invested significantly in developing their own voice-controlled personal assistant; however car owners increasingly prefer familiar voice assistants, like the ones they use in their homes, over those designed specifically by automakers.
JD power conducted the survey of car owners and found that 76 percent of the respondents preferred having the same brand of in-home voice service in their next vehicle. This clearly provided a great opportunity to tech firms like Google, Apple, and Amazon to integrate their AI-powered voice-controlled personal assistant in vehicles as they have a notable advantage over automakers and start-ups attempting to build new in-vehicle assistants.
Google and Apple already have a presence in a number of vehicles through Android Auto and Carplay respectively, and have been able to integrate their voice technology in vehicles by collaborating with major automakers. Amazon has been planning to enter the automotive market for a couple of years now and became the latest entrant in the market by officially conveying its focus on a comprehensive integration of Alexa into the automotive sector during CES 2020. Though Amazon made it official only recently, it has been working with some of the major automakers such as Toyota, BMW and Ford to integrate Alexa into their smart infotainment systems. Amazon also recently unveiled the Echo Auto, an aftermarket device that brings Alexa into the vehicle.
On the other had technology leader IBM has launched Watson Assistant. Unlike Google, Apple or Amazon, IBM's Watson Assistant is a white label product, which is aimed at companies looking to build voice-activated virtual assistants for their own products.
Automakers and startups developing their own voice technology
Some automakers are also developing their own much more sophisticated voice assistants as they have a better know-how of the vehicle's working. This is especially important for voice assistants used for driver assistance.
Mercedes-Benz, unveiled its new voice assistant powered by artificial intelligence (AI) at the CES in 2018. The AI assistant powering MBUX (Mercedes-Benz User Experience) is apparently capable of indirect command recognition, which means it can perform tasks like lowering the temperature in the car when the driver says they're cold, rather than requiring a statement specifying a specific setting for the thermostat.
In 2018, BMW also showed its digital personal assistant for its cars, named as BMW Intelligent Personal Assistant. It is capable of not just taking commands but can also make some more casual conversations. The assistant has the capability to remember your preferred settings, and over time, it'll learn more and even proactively suggest changes. For example, driving outside the city at night, the personal assistant could suggest to you the BMW High Beam Assist.
Apart from developing its own digital personal assistant, BMW is collaborating with Amazon and Microsoft to bring in multiple voice technologies to their car. So there will be three different voice technologies working at the same time, leveraging each one's specialty. For Alexa that specialty may be shopping, infotainment, and the passenger experience, while Microsoft Cortana is all about getting work done and the BMW Intelligent Personal Assistant is all about your car.
Start-ups and independent technology developers are also investing a lot in developing in-car voice assistant and experiencing a good demand from the automakers around the world. Cerence recently signed a global contract worth $125 million with a large European car manufacturer for its industry-leading voice- and AI-based automotive assistants.
Global Automakers developing out their own voice assistants are turning to natural language processing start-ups.
Korean automaker Hyundai has invested in Saltlux, a cognitive computing company and collaborating with it to develop its own voice assistants.
SoundHound is another start-up collaborating with multiple automakers such as Honda, Hyundai Motor Group, Kia Motors and Daimler to help these automakers develop their own in-car voice assistant.
Similarly, VW has invested $180 million in Chinese artificial intelligence start-up Mobvoi to develop AI-based in-car voice assistant using Mobvoi's capabilities in AI and voice recognition.
Toyota is collaborating with Nuance Communications, where Nuance's Dragon Drive connected car platform can power the automotive assistant in Toyota's vehicle. Conversational AI in Dragon Drive connected car platform is powered by contextual reasoning, which uses knowledge and context of current and past conversations, it also remember personal preferences to understand and complete complex requests and tasks. When it works with Toyota's emotion estimation engine, conversational AI can take into consideration the user's emotional reaction and deliver an intelligent conversation with optimal results.
Future of In-Vehicle AI-driven digital voice assistant
According to the recent survey of the car owners, 73 percent respondents expect to use AI-powered in-vehicle voice assistants built into their vehicle for one or more purposes by 2022. This is a significant increase over the 49 percent of car owners who currently use their automotive voice assistant in some way.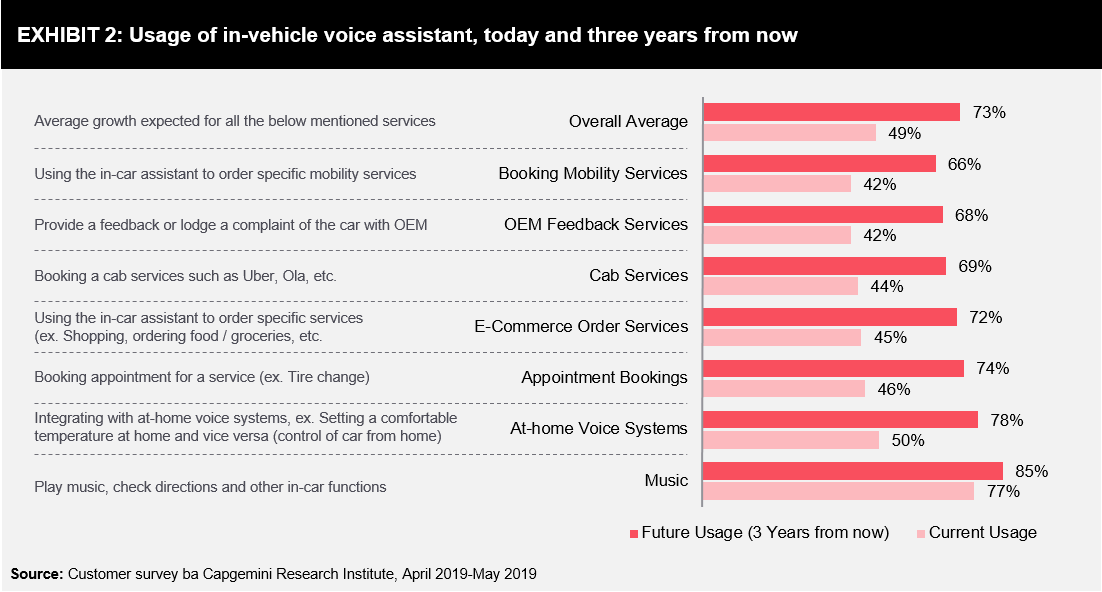 In-vehicle voice assistants today are undeniably hit and miss, but the world is on a path to fully autonomous vehicles. The In-Vehicle AI-powered voice-controlled personal assistant will play a key role in the increasingly autonomous future car. As tomorrow's vehicles move towards full autonomy, the time spent in those vehicle becomes less about vehicle operations and more about infotainment and work. Automakers and fleet operators believe that the value-added services in the form of AI-powered voice-controlled personal assistant will be a significant element of their businesses. Also, looking at the trend towards shared mobility and not individually-owned vehicles, cloud-based, voice-controlled personal assistants will be the key.
AI-driven technologies are set to change the way we interact with our car. One of the key things that technology players have been working towards is the development of new product where the voice will be able to tell you- the occupant of the car, far more than ever before, not only about what is happening in the car, but also about what is happening in your immediate surroundings, on your route or at your destination in real-time.
Where is the market heading?
Growth in wireless connectivity in vehicles – Automakers, mobile operators and networking equipment manufacturers are collaborating to develop connected car solutions. Last year, Kia Motors and Hyundai announced their plans to launch their own connected vehicle services with UK based mobile operator Vodafone. This is just one example, according to one of the global research organisations, the overall market connected car market is expected to be over $150 billion by 2022. Annual sales of light vehicles with in-built wireless connectivity is expected to reach approximately 117 Million vehicles by 2028.
Growth in vehicles with an in-built voice assistant – It is expected that the use of in-vehicle voice assistant will generate a large amount of user data which can be monetized in various ways, such as location-based advertisements. Automakers and technology companies are looking to trap this market by providing vehicles with an in-built voice assistant. It is expected that more than 95 percent of cars with wireless connectivity will come with an in-built voice assistant.