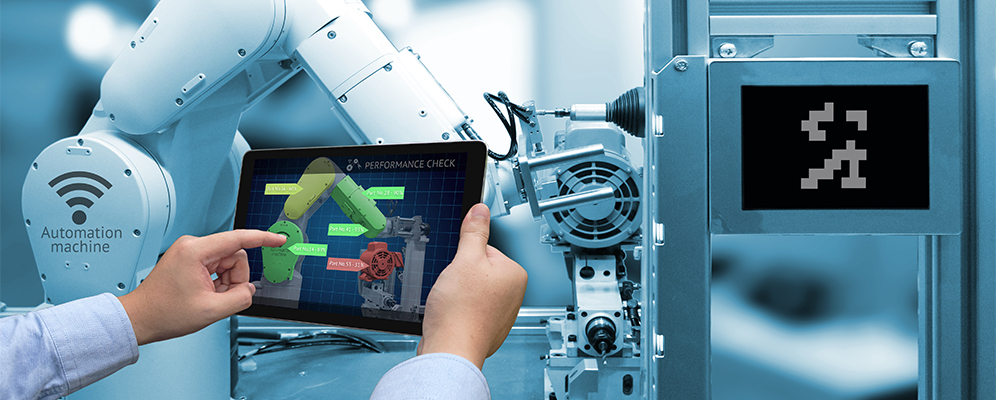 Introduction
Traditionally, Industrial Machinery (IM) manufacturers have focused on selling hardware (equipment and components) and achieving success based on the quality and reliability of their products. However, this trend is expected to transform at a rapid pace. A significant portion of new sales growth for industrial machinery manufacturers comes from the sales of connected equipment (a combination of hardware and software).
Connected (IoT-enabled) equipment, comprising sensors and actuators, generates analytical insights into the equipment working condition, and these insights get shared with other machines and connected networks (refer Exhibit 1). Industrial software extracts useful information from the shared data and advises operators about how to operate the equipment effectively.

Digitization, which comes under the umbrella of Industrial 4.0, is increasingly being adopted by a wide range of machinery manufacturers, including construction, packaging, and industrial. Most of the machinery manufacturers agree that offering IoT-enabled equipment helped them gain market share and attract new customers.
Digitization in the industrial machinery space has become a key factor, helping manufacturers to survive the intense competition and eroding price margins in the next five years. Manufacturers are moving ahead accordingly:
According to FutureBridge, IM manufacturers across the globe will invest more than US$100 billion in the next three years on digitization.
According to the survey conducted by FutureBridge (which included 70 respondents from industrial equipment manufacturing companies), 20% of IM manufacturers are expected to invest >10% of their annual revenues in the next three years on digitization (refer Exhibit 2).
Customers of industrial machinery recognize the benefits of digital services, which include an increase in plant productivity and process improvement. Previous case studies have shown that effective utilization of digitization in a manufacturing plant has led to a stronger bottom-line. Digitization in industrial manufacturing has developed to become a highly monetizable service for machinery manufacturers.
Digitization is creating new opportunities across the industrial machinery domain
Over the past few years, the global industrial machinery market has been dominated by manufacturers from North American and European regions, due to their high quality and reliable offerings. However, the emergence of new players from the Asia Pacific region (especially China) has been a new challenge for established leaders. Machinery manufacturers from the Asia Pacific offer price-competitive copies with similar quality and reliability. Aggressive pricing by new players has resulted in eroding the profit margins in the industrial machinery domain.
Digitization offers an attractive opportunity for IM players. It has been implemented by manufacturers to improve their products & services as well as to enrich customer experience through analytics and automation. The concept of digital machinery has transformed manufacturers from 'hardware only' suppliers to 'hardware, software, and services' suppliers, which, in turn, has led to the evolution of new business models. These new models are used by IM manufacturers to build a loyal customer base and generate a steady revenue stream.
Digitization has paved the path for IM manufacturers to introduce new business models, based on usage or performance level of the equipment. For instance, Kaeser Kompressoren, an air compressor manufacturer, introduced a new usage-based model 'pay-per-use,' under which it charged consumers based on the compressed air consumption (refer Exhibit 3).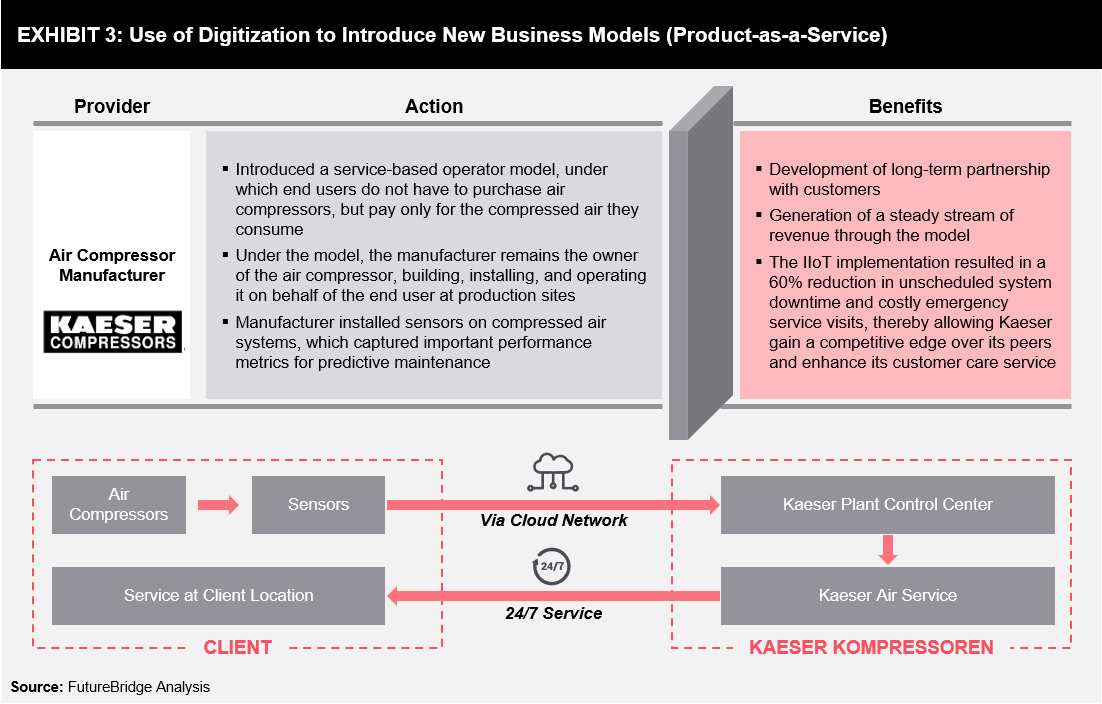 Digitization has created newer opportunities across various processes of the industrial machinery value chain from designing the product to its production, sales, and offering after-sales services (refer Exhibit 4).
Data gathered from equipment through digitization is used by IM manufacturers to innovate and introduce new products in the market, based on the varied demands of consumers. For instance, Caterpillar, a construction machinery manufacturer, offered telematics as part of its hardware offering, to capture essential information about the equipment usage. The information was then utilized by the manufacturer to introduce a new model in the market that appealed to lighter-duty operation (refer Exhibit 5).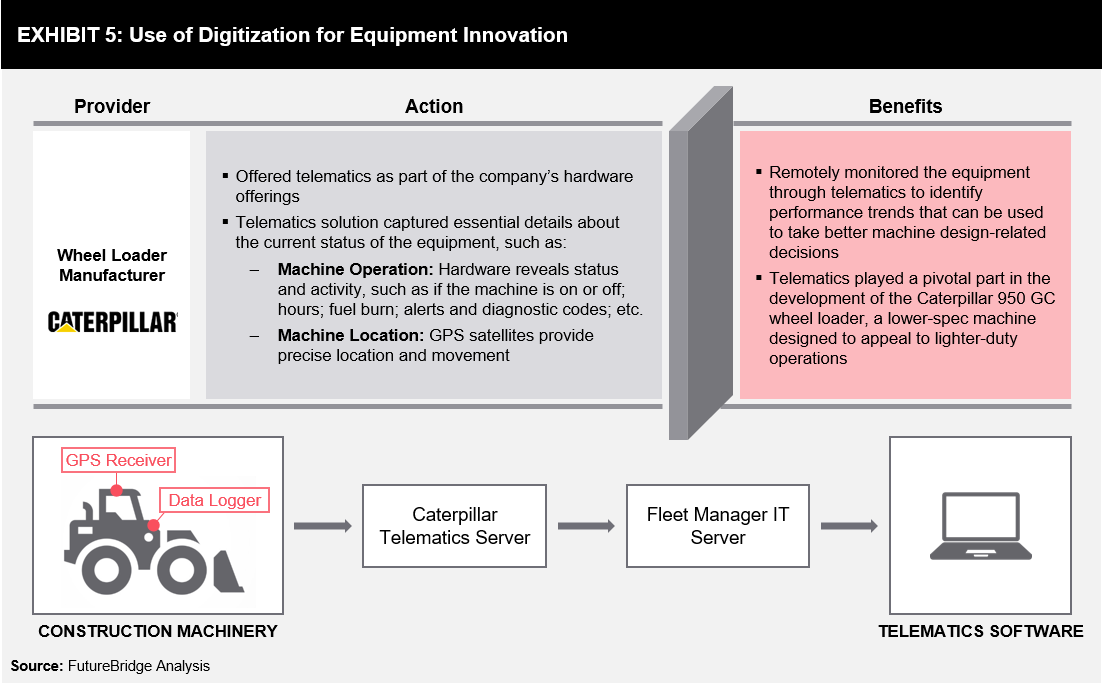 The adoption of digitization can help IM manufacturers in the following ways listed below:
Finding out and developing innovative products that can appeal to a niche market
Building smart factories through connected equipment that can industrialize IoT and operationalize mass personalization with real-time manufacturing
Integrate planning and real-time collaboration and transparency through digital supply networks
Offering new service-based models that can improve customer satisfaction
In a survey conducted by FutureBridge (which included 70 respondents from industrial equipment manufacturing companies), 90% of IM manufacturers agreed that the introduction of new service-based models is one of the key intentions behind the adoption of digitization (refer Exhibit 6).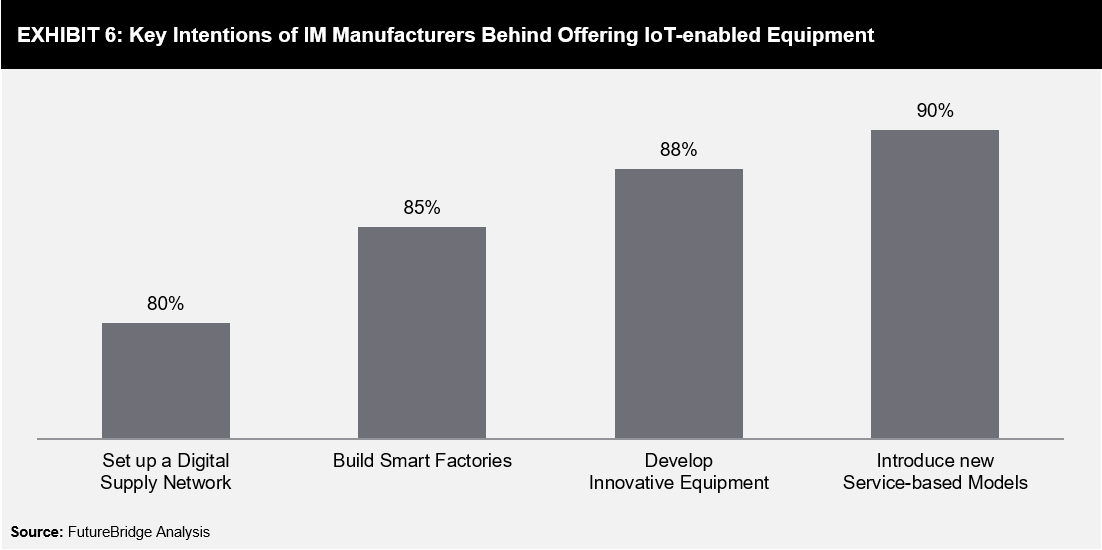 Key Steps for Manufacturers in Future
IM manufacturers planning to develop their digital capabilities will benefit from the technologies, such as IoT, artificial intelligence, augmented reality, 3D printing, and robotics (refer Exhibit 7). Manufacturers can follow the below blueprint, going forward: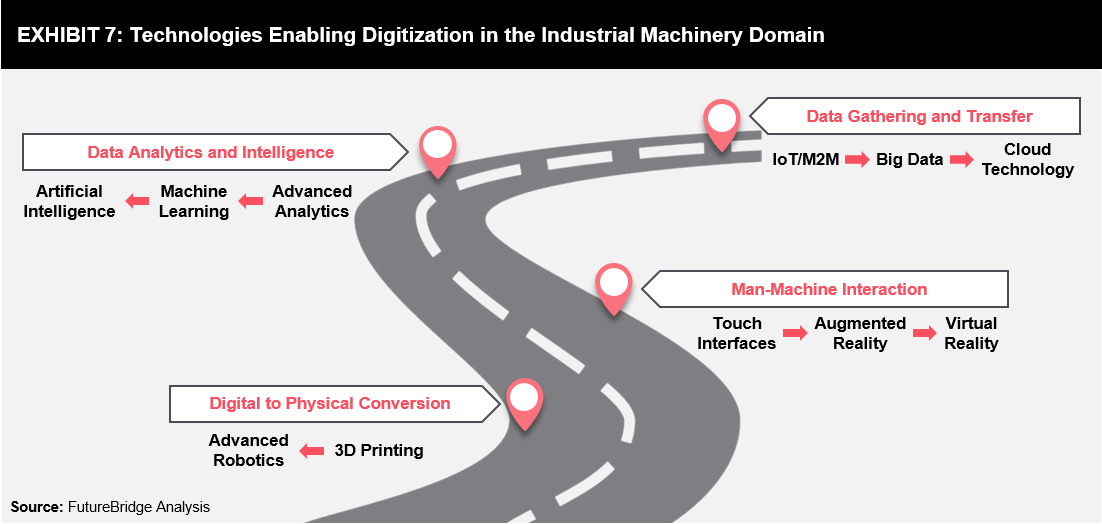 Create a Digital Strategy through Self-Assessment: At an early stage, manufacturers should evaluate their maturity level and digital IQ to assess their positioning in digital transformation. Manufacturers should further analyze how they can collaborate with their customers, suppliers, and technology customers to achieve success. They should also focus beyond technical details and consider what impact could new business models have on the value chain and their existing relationship with customers.
Become Highly Skilled in Data: IM manufacturers should develop digital skillsets around creative digital strategy design, user experience design, technology architecture, and design, or rapid prototyping capabilities to successfully use the data gathered through digitization. In an attempt to achieve this, manufacturers can appoint someone from the leadership team to lead the effort, for instance, a Chief Information Officer, a Chief Technology Officer, or a Chief Digital Officer.
Develop an Ecosystem around Core Offering: IM manufacturers should develop their digital offerings around their core hardware products. Manufacturers can offer various options to consumers based on the level of digitization and equipment prices. They should also understand consumer needs and use digital technologies to create and develop an integrated solution. Manufacturers can partner with external companies if they are unable to develop the platform internally. They can also look for acquisitions if they are unable to share the data with external partners.