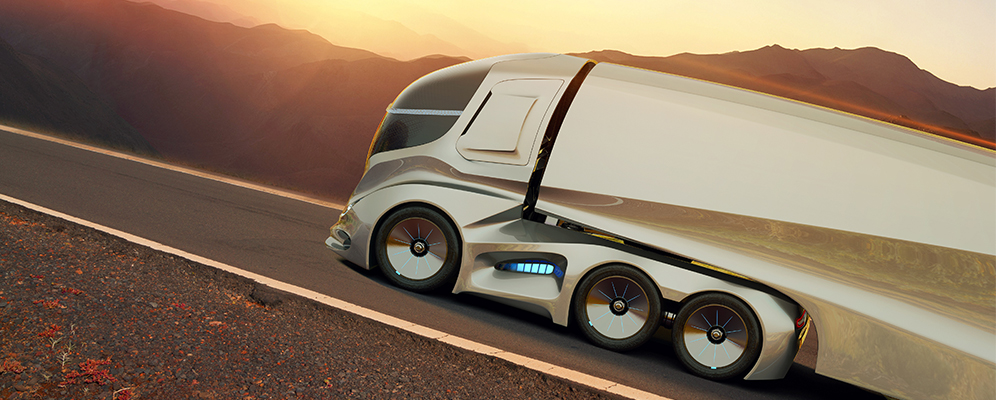 Introduction
According to the US Department of Transportation's National Highway Traffic Safety Administration (NHTSA), 94% of car crashes can be attributed to human error. Due to this, road safety agencies and automotive OEMs are focusing on self-driving cars that curtail road accidents and fatalities. In the case of trucks, along with safety improvement, self-driving features can reduce operational costs, which include driver and supporting staff expenses.
Self-driving trucks and self-driving cars utilize similar technology to operate their artificial intelligence system for autonomous driving. However, the weight of a truck is significantly higher than a car, and hence, the time taken to stop the former is longer and has a lesser ability to avoid accidents. Historically, automotive OEMs are investing in the development of self-driving technology such as parking assistance, cruise control, lane-centering steering, and hands-free steering. However, there were limitations to these technologies in trucks, particularly heavy vehicles.

This article highlights the impact of autonomous driving technology on the logistics sector and explores the following key questions.
What is currently the role of autonomous trucks in the logistics industry?
What will be the new business models with the increased adoption of autonomous trucks in the global logistics sector?
Who will be the emerging players in the autonomous truck segment with the rising penetration of autonomous trucks in the logistics sector?
Current Scenario
Currently, fully autonomous trucks are deployed in limited areas where the movement of trucks is confined to pre-defined geographies (mines, warehouses, military bases, etc.). However, highway/freeway logistic application trucks need to be controlled by a human driver. These trucks are slowly adopting self-driving features from level 1, level 2, and level 3 (Refer Appendix).
Emerging market factors—such as growing competition in the e-commerce sector—are putting pressure on the traditional logistic sector. E-commerce has witnessed exponential growth in the last ten years, and due to this, road traffic has increased. Also, the competition in the e-commerce sector has increased, which is further leading to improvement in the speed of product delivery and a reduction in shipping costs in the logistics sector. Due to this, the adoption of self-driving features in trucks is on the rise, and many truck OEMs are offering partial self-drive features such as cruise control, emergency braking, lane departure warning system, and collision avoidance system. Truck OEMs are experimenting with autonomous/semi-autonomous trucks, which include platooning of trucks, fully autonomous trucks for limited geography, and semi-autonomous trucks for highways.
Currently, the majority of the trucks across the globe are driven by human drivers, and there is very limited technology available to track the safety of the goods and speed of the delivery. To overcome these challenges, truck OEMs and fleet owners are installing telematics systems to track the shipment and assets. These systems are 'add on' and increase operation cost, as they are costly with equipment cost and yearly/monthly payments to be done to the service provider. As the autonomous driving technology adoption increase, telematics service might become part of autonomous driving packages and might bring down costs.
Platooning of semi-automated trucks
Automated vehicle technology companies and truck OEMs are experimenting with vehicle platooning technology to improve the fuel efficiency of the vehicle platoon (platooning reduces aerodynamic drag by grouping vehicles together), safety, and operational efficiency. Platooning of trucks is emerging as a cost-saving option for many logistics companies in North America and Europe. Currently, the adoption of platooning technology is at a nascent stage, and in the coming years platooning technology will develop with the evolution of autonomous trucking systems (Refer Exhibit 2).

The platooning of trucks can be done using electronic and communication technologies such as forward-looking cameras, system display, platooning control unit, driver controls, GPS/DSRC/Cellular/Wi-Fi antenna, and radar-based collision mitigation system. Many automated vehicle technology companies are working/partnering with truck OEMs to deploy the platooning system for fleet owners of semi-automated trucks. Countries around the globe are also promoting platooning technology to reduce carbon emission from the logistics sector (Refer EXHIBIT 3).
Fully autonomous trucks for defined geographies
Unlike cars, trucks can be primarily operated to confined geographies for their entire life. For example, mining trucks, warehouse trucks, and farm trucks/vehicles can be operated in a specific geography for a particular duration, depending on the life of the vehicle. The operation of these trucks can be automated, when compared to conventional trucks on the highways (that transport a wide range of freights).
Many mines are investing in autonomous haulage (driving) systems to improve operational efficiency and reduce human casualties. Similar technology can be implemented for trials in logistics applications where busy routes can be identified, and automated trucks are deployed with additional safety features (such as road sensors, geotags, etc.). (Refer EXHIBIT 4 & 5)

Road ahead
Truck OEMs are investing in developing fully autonomous trucks for the logistics sector that is struggling with issues such as product delivery speed, safety issues, and inadequate carrying capacity. However, these semi-autonomous and autonomous trucks will take at least 2–5 years to make a market entry. (Refer EXHIBIT 6).
The penetration of semi-autonomous and autonomous trucks is expected to increase in the logistics market in the next 5–10 years and disrupt the business models of conventional fleet owners (who are operating manual trucks), the conventional fleet owners might look for alternative technologies to reduce the cost of shipping. Many technologies companies (Peloton, Continental, TomTom, etc.) are developing platooning systems for human-operated trucks. The main objective of these systems is to reduce fuel consumption and improve the delivery speed of conventional fleet owners (small and medium-size fleet owners), which might help them compete with large fleet owners in the future.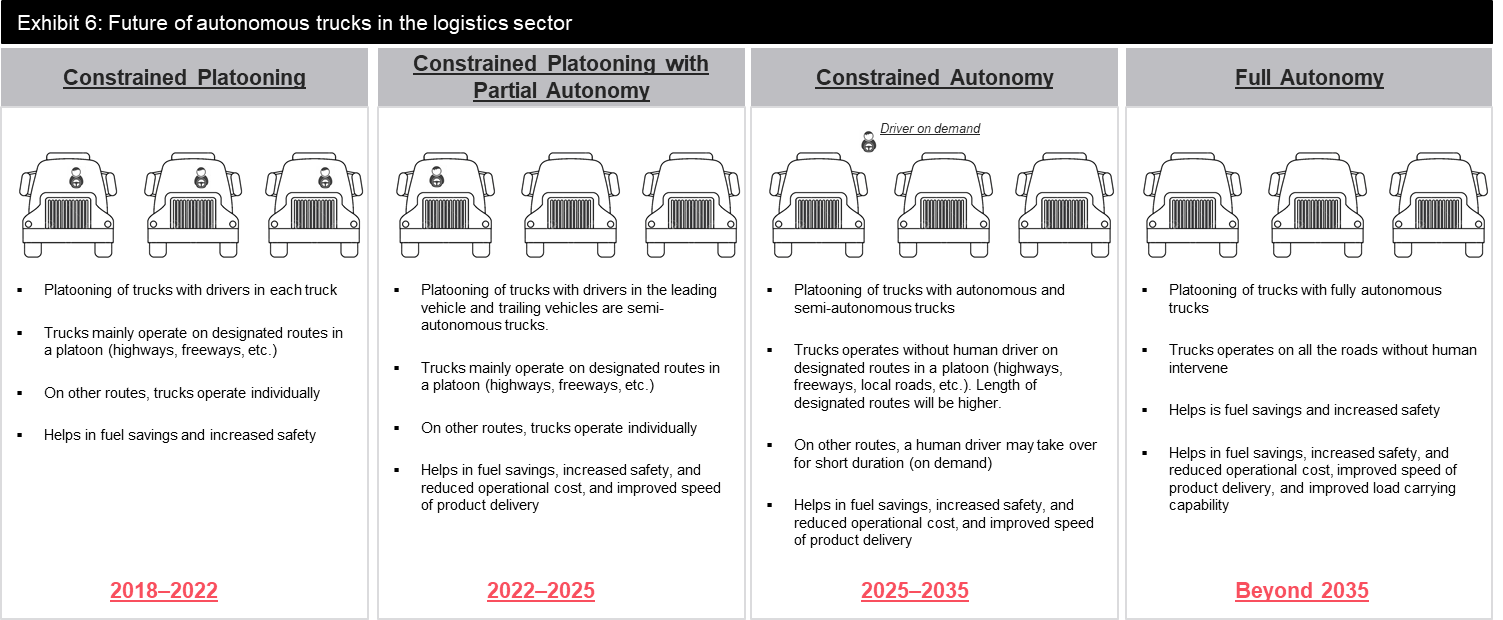 According to FutureBridge analysis, in the next 2–5 years, constrained platooning might become a practice in North America and Western-Europe, and the next 5–10 years combination of semi-autonomous and autonomous trucks for logistics is expected to increase. The dependency of human drivers will reduce as the degree of autonomy of the driving system increase. As trucks become more connected, monitoring of trucks to become easier, and technology related to autonomous driving is expected to become more advance, new players and business models might emerge to take advantage of these aspects in the next 5–10 years.
This might result in increased freight capacity and increased platoon range (by 30–40%), which might significantly reduce shipping cost.
New business models
As autonomous trucking technology becomes more and more mature in the logistics sector, many new business models might emerge in the future.
Contracts based on performance
Currently, implementation of an autonomous driving system (and platooning technology) for existing trucks is a cost-intensive process, and as margins in the transport sectors are very thin, many fleet owners are not able to install these technologies. Many of the leading earth-moving equipment manufacturers and truck OEMs offer autonomous haulage technology for mining companies on a contract basis. In general, payment of these contracts depends upon the performance of the autonomous vehicles in transporting material (per ton per mile) (Refer EXHIBIT 7).
As the autonomous trucking technology becomes mature, truck OEMs might venture into a similar agreement with e-commerce companies, 3PL companies, large-scale FMCG manufacturers, and others.
Pay-as-you-use service for logistics
As the penetration of digital technology increase in the logistics sector, many startups are offering on-demand logistic services. Many of these startups are offering logistic service based on the 'pay-as-you-use' model on which customers are charged for actual usage of the machine/vehicle (Refer EXHIBIT 8). Currently, these vehicles are monitored by asset tracking devices and telematics systems. To avail of these services, a driver is a must for the company or consumers must-have commercial licenses. Due to this, the growth of 'pay-as-you-use' is limited. However, the scenario might change in the next 5–10 years with fully autonomous trucks.

Shared logistic
Currently, many startups are focusing on utilizing the unused capacity of the logistic transport system by connecting haulage, logistics, and freight forwarding companies through digital networks (web or mobile app) (Refer EXHIBIT 9). These startups allow the companies (fleet owners) to go through a database for available freight and market their available vehicle capacity. Consumers can view the available options of trucks and relevant information (time slot, unused capacity, planned route, etc.) beforehand. Consumers can select the best possible option considering delivery time, capacity, and cost.
Currently, many of the fleet owners are operating level 0 or level 1 trucks (Refer Appendix) for logistics application, and due to this, tracking of trucks becomes difficult. However, as penetration of autonomous trucks increases, the digitalization of truck routes, capacity, and time to delivery will improve; these features will be accessible via the web or mobile application. Shared logistic companies might take advantage of these trends and expand their footprint in the logistics sector.
Emerging players in the market
As the logistics industry's dynamics are changing with the introduction of technologies such as platooning, telematics, and autonomous driving, new players are emerging in the market.
Technology Companies
Currently, the majority of the trucks on the roads operated by fleet owners are level 0 or level 1 trucks (Refer Appendix). Fleet owners are struggling in the highly competitive logistics sector, and the growth of the e-commerce sector across the globe has also increased pressure on the fleet owner. Technology companies (such as platooning and telematics system providers – Peloton, Continental, etc.) have identified these opportunities and currently developing cost-effective solutions.
Technology providers are currently offering platooning solutions (offering platooning solution for mono-brand vehicles) to reduce fuel consumption and improve the fleet's safety. In the future, platooning might become an integral part of the logistics industry. Mono-brand platooning and multi-brand platooning might be widely adopted, and current freight capacity might be doubled in the next 5–10 years.
Logistics companies may manufacture their trucks and minivans
Logistics companies (mostly tier-1) are partnering with autonomous technology providing companies to develop minivans and trucks for last-mile delivery (Refer EXHIBIT 10). Logistics companies are investing in autonomous driving technology with a focus on the growing e-commerce sector, where last-mile delivery is a crucial factor.

In the next 10–15 years, third-party logistics companies might design their self-driving trucks in collaboration with technology providers. Currently, DHL is developing its self-driving technology in partnership with NVIDIA.
Appendix