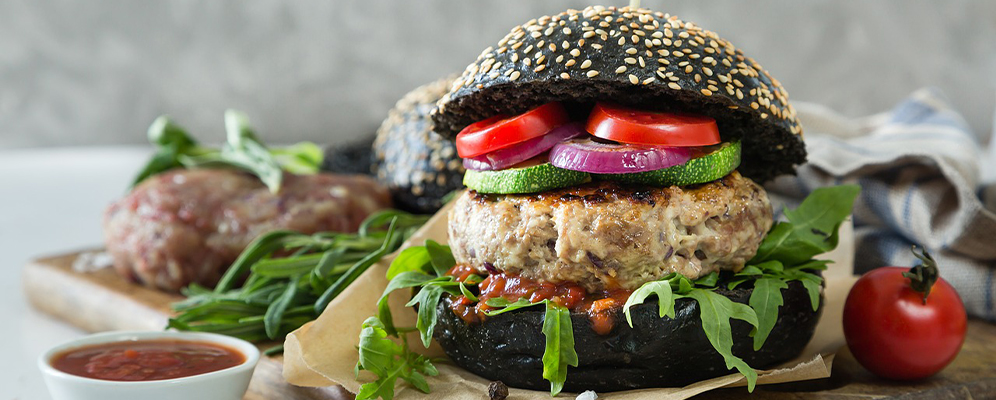 Plant-based meat for the growing world
Introduction of plant-based meat market poised for the growth
Plant-based meat products are produced from ingredients sourced from plants. It has similar properties as that of natural meats and is considered to be meat alternatives. Plant-based meat has the same qualities as conventional meat, such as texture, flavor, and appearance. The plant-based meal is also known as a veggie-based alternative.
This plant-based meat is available in the following form:
Burger patty,
Nuggets,
Crumbles & sausages
Plant-based meat products are made to taste exactly like meat. Despite global meat consumption increasing over the previous decades, there is a growing market for vegetarian and vegan substitutes. Nowadays, plant-based meat is rising not just because of vegetarians and vegans but due to better product quality and perceptions about plant-based meat as a healthy alternative.
According to the International Agency for Research on Cancer (IARC), processed meat and red meat have a carcinogenic effect that may cause cancer. Due to these health effects, the American Cancer Society has recommended a diet that has less processed meat and red meat and high in vegetables, fruits, and whole grains. Apart from this, the American Cancer Society has provided the guidelines on nutrition and physical activity mention selecting beans instead of red meat and processed meat. These numerous studies showed increasing awareness of the negative implications of meat consumption on human health.
The current COVID-19 pandemic is re-shaping the plant-based meat market from the global economies to product categories, pricing, and stock availability to consumer behavior. This pandemic has also placed the spotlight on meat supply and food security across the world. The spotlight on meat supply has been evident in both developed and emerging markets; it helps in the following aspects:
Among disruptions to supply chains,
Panic buying & storage,
Plant-based meat companies will be expected to see growth opportunities over the years.
Impact of the COVID-19 on the Plant-based meat market
Market estimation of the plant-based meat market
As people worldwide become more open to plant-based meat products, the industry is expected to grow significantly. According to our research, the total plant-based meat market is increasing, and it is estimated at over USD 7.3 Billion in 2020. With the impact of COVID-19, the market is projected to grow with a CAGR of more than 17%. Europe is currently leading the market in terms of growth, whereas Asia-Pacific is also projected to grow significantly during the course of time. The fear of an increasing number of animal-borne diseases such as COVID-19, growing health concerns, and demand for clean label products & natural products, are some of the major factors projected to drive the growth of the plant-based meat industry during the forecast period.
As depicted in Exhibit 1, Asia-Pacific will be the fastest-growing producer of plant-based meat.
Europe is expected to account for the largest share in the plant-based meat market. With the increasing trend of veganism in Europe has huge growth of the plant-based industry. The UK hosts the largest vegan populations in the world, which will further propel the demand for plant-based meat products in Europe. The current outbreak of COVID and negative associations with animal-based food will also boost the market in North America and Europe in the upcoming years since numerous countries in both regions have witnessed the worst outcomes of COVID.
Initiatives by the Plant-Based Meat Players and government support
COVID-19 is providing a boost to the plant-based meat industry in the world. From Manufacturing and distributing, this industry has faced unprecedented demand from manufacturers as well as consumers, particularly for some products, such as meat analog.
Earlier, this market was too restrictive, but due to this outbreak, regulations are relieved temporarily. The government of some countries did relaxation in regulatory requirements placed on alternative proteins, mainly for plant-based protein products. For instance, the FDA has relaxed its guidelines for selling plant-based meat products in the market. Earlier, the FDA did not allow direct-to-consumer sales of Impossible's raw plant-based meat burgers, due to labeling concerns.
Companies are investing heavily in the retail sector because of lockdowns imposed due to the COVID outbreak. Due to the sudden rise in demand, many companies have already started changing their business strategies. Companies such as Beyond Meat Inc., Impossible Foods Inc., and Tofurky Co. are ramping up their production, and offering discounts on their plant-based meat products to increase consumer base, expanding stores, and completing partnership with the stakeholders.
Key plant-based meat market players such as Beyond Meat (US), Impossible Foods (US), Maple Leaf Foods Inc. (Canada), and The Meatless Farm Co. (Netherlands), are making investments towards the retail sector due to lockdowns imposed caused by the COVID outbreak. These top players in the plant-based meat market are blooming with different strategies to increase during the pandemic.
Following recent development have been observed:
Impossible Foods goes wholesale
Impossible Foods (US) offers plant-based meat, which includes plant-based burgers. The company had received a USD 500 million funding before the coronavirus outbreak and had planned to gear up for a significant expansion in restaurants and retail sector in 2020. The company is now likely to see setbacks from its foodservice partners considering the lockdowns imposed. Impossible Foods has entered into a partnership with San Francisco food wholesaler Cheetah to sell its burger patties in bulk. The company has invested in launching new products, such as plant-based Impossible Sausage and Impossible Pork, in expanding its retail presence across international markets. The company has also set up a new production plant in China to increase its production due to the growing consumer demand for meat alternatives. It is also communicating with their consumers on emails asking if they would be interested in buying the burgers directly from the websites. The company such as Impossible Foods is seeing the opportunity to market their products directly to the consumers despite restaurant closures.
Beyond Meat jump its shares 49% last month
In the last month, Beyond Meat increased its market by 49% due to rising widespread consumer interest in plant-based foods; meat supply shocks as a result of the Covid-19 crisis and multiple high-profile partnerships, the company has launched across all 3,300 Starbucks locations in China. The company has massive distribution channels, which would help in the free-flow of products during the lockdown situation where supply chains across borders are disrupted. The company also started its initiative called "Feed a Million+" during the pandemic to provide more than a million plant-based meat burgers to help the needy during the outbreak. In the long term, Beyond Meat is likely to benefit from the massive shift of consumers to alternative meats, post the COVID-19 pandemic. Likewise, many companies are collaborating to expand their businesses and consider this situation an opportunity to expand their consumer base.
Exhibit 2 illustrates the noticeable collaborations between companies in May, whose main focus is to expand their reach in the plant-based meat market globally.
The plant-based meat companies from different regions expand into China
COVID-19 has created both challenges and opportunities for traditional meat producers as well as for plant-based meat producers. Result of which are the launches of various plant-based meat products. This would be undoubtedly skyrocketing for a couple of months post-COVID pandemic. This is also fueled by a slew of recent investments and it seems to show no signs of abating. Exhibit 3 illustrates the data acquired from Mintel that shows the product launches across the world but most particularly in Europe. Though there has been quite a gap in Asia-Pacific, which is observing the spurt of such launches in the region. The trend is then closely followed by the Latin American region. But on a month-to-month basis, it's observable that the Asia Pacific is seeing continuous rise while the rest is a declining trend.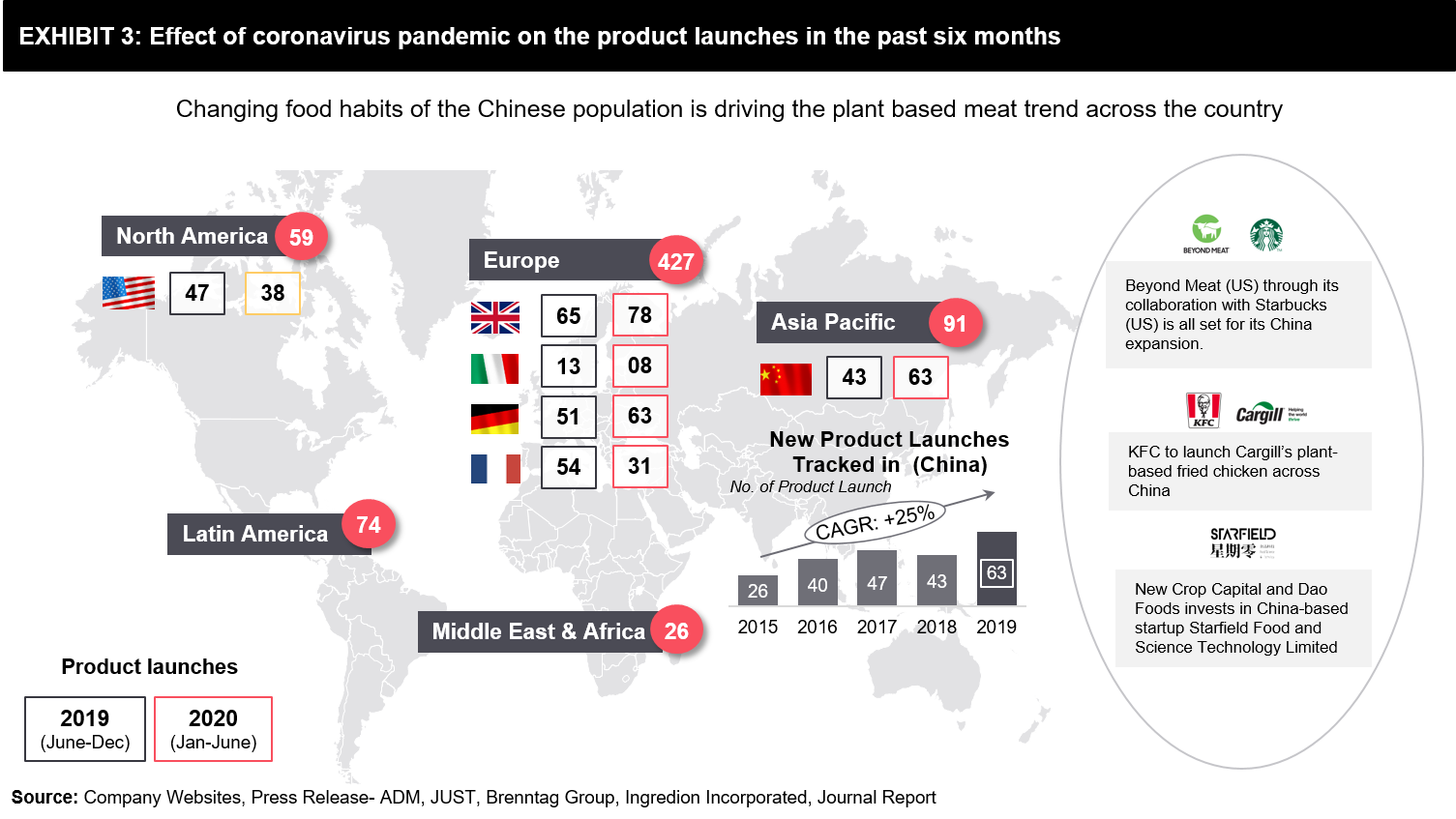 The significant rise in Asia-pacific can be mainly attributed to China which is experiencing these tremendous and much-welcomed changes. Plant-based meats have arrived in China and East Asia with such aplomb that most of the meat lovers have started to take note. While this niche industry was seen to be having a moment in the West hemisphere, China's increasingly affluent population was thought to be trickier to convert. Yet, with the social changes brought upon by sudden COVID-19 outbreak could be just what it takes to convince about 1.5 billion people living in the world's second-biggest economy to switch their conventional sausages to meatless ones. This could be reinforced by other aspects to like:
The downturn in Pork Reserves
The demand for pork in China has always been remarkably high. Before COVID-19 swept the country, China had to face a major epidemic that affected the agriculture sector i.e., African Swine Fever (ASF). In 2019, due to incurable pig disease, millions of hogs got killed and forced the culling of pigs in farms, resulting in the country's pig herd shrinking by more than 40%. This, in turn, caused the domestic pork prices to rise by almost 110% and also hiked the hog costs elsewhere around the world. Although this quarter has shown signs of recovery, new cases of ASF continue to make the headlines. This has created a space as well as an opportunity for an alternative protein segment to gain momentum.
The shift in Consumer Behavior post-Covid
As China is entering the recovery phase of COVID-19, brands across categories have started to adapt to the "new normal." These new trends in which accelerated cause of the pandemic are likely to evolve further. Changes are also observed to be taking place at a micro level, with food consumption being one of them. McKinsey's survey of 2020 found almost 70% of respondents are willing to spend more time and money to purchase safer and eco-friendly products, while almost 60% are more inclined towards healthily eating practices after the crisis. Thus the companies and new startup which produce meat alternatives are well-positioned to satisfy these latest. The government of China targets to halve meat consumption by 2030 to reduce both emissions and obesity levels.
Niche Market
"Impossible Foods," the California based start-up first tested the waters at China International Import Expo CIIE in 2019, where the soy-based burgers and dumplings were served to about 50,000 visitors. Soon a string of other companies such as Beyond Meat, Omnipork, Zhenmeat, and many others lined up. Beyond Meat made a fabulous and wining deal with Starbucks last month and which saw its shares jump by almost 49%. The major selling point for Beyond Meat was their imitation, which is difficult to differentiate from real meat, thus winning over the country's meat-eating population. Similar deals and joint operations could be seen for GOOD. GOOD, a Chinese coffee retailer who's campaign features healthy options from both Hong Kong-based OmniPork and Swedish Oatly. Giants like KFC and McDonald's, too, do not want to be left behind either, these fast-food chains recently introduced plant-based meat products in their menu. Beijing-based Zhenmeat gained lots of popularity due to mock meat-stuffed mooncakes and is also working on 3D print bones for their meat alternatives.
Conclusion
The COVID-19 pandemic has been a significant disruptor in 2020, causing the spotlight to shift to meat supply and food security globally. As this pandemic is thought to have originated from the wet markets of meat and was only aided by crowded processing plants, the traditional meat supply will be rattled. This impact of change is well evident in both developed and emerging markets where a complete overhaul of supply chains and panic buying and stockpiling, following announcements of lockdowns, and social distancing measures are being undertaken to overcome the current challenge. But at the same time on sides of innovation, one of the paradigms shifting changes has been taking place, which is the rise of plant-based meat. These Mock meat products, which are thought of as easier to produce in much hygienic and socially distanced conditions, is also proving to be one of the latest drivers behind meat reduction trends. From North America to the Asia Pacific, which are traditional as well as major markets for meats, the rise of these companies producing plant-based meats is the evidence of the same. Surely, in years to come when observed, it should be noted that this pandemic period had proved to be a springboard for these companies and carved out space in the market. With changing lifestyle or consumer behavior-i.e. vegan or health-conscious, government encouragement, and rapid innovation, these companies shall be able to now anchor and grow within the space. Also, with more capital and technology flowing into this area than ever before and M&A, new joint ventures being undertaken, the current pandemic is creating a particularly enthusiastic environment. Thus, if these conditions persist or if tradition meat suppliers are not able to innovate, don't be surprised if these mock meats are replacing meats in our patties in burgers or even fridge. Generally, while most food trends come and disappear, looking at all data above, we can expect shifting perceptions around food safety and sustainability will only cause an increased interest in plant-based options for the future.
References
Plant-based alternatives-Deloitte report
https://www.adm.com/news/news-releases/marfrig-and-adm-unveil-plantplus-foods-a-joint-venture-offering-plant-based-food-products-for-customers-across-north-and-south-america
https://www.brenntag.com/corporate/en/media/news/brenntag-food-and-nutrition-announce-distribution-agreement-with-axiom-foods-inc.jsp
https://ir.ingredionincorporated.com/news-releases/news-release-details/ingredion-invests-norquin-extending-plant-based-protein
Tweets and Social Media
World Health Organization
Company Websites
Mintel data