Blog
EV Towing Capacity: Enabling Recreational Mobility Needs

Mobility
Dec 9, 2020
2439 Views

6 min read
Add to Favourite
Leading organizations across the automotive sector are focusing on launching electric vehicles as a part of their long-term strategy. Electric mobility is promising as it moves away from existing carbon-emitting fossil fuels and uses energy from electrical power sources (e.g., the National Grid). Emission targets defined by various government authorities worldwide have been another driving force that has made OEMs focus on shifting their portfolios towards electric mobility.
Simultaneously, the emphasis is also on making vehicles more customer-centric, thereby developing cars that can satisfy most customers' driving needs. Hence, to cater to the consumers' purchasing decisions, automakers are trying to evolve cars and pick-up trucks beyond specific consumer needs. For instance, pertinent to critical factors such as range, charging time, overall cost, charging infrastructure, and towing capacity.
Of all the above factors, an electric vehicle's towing capacity had been the least focused by the OEMs. Electric vehicles with attractive towing capacity can be an exciting option for consumers interested in recreational activities. They can either tow a boat, non-powered caravan, ATV, Jet Ski, and many more such end-use applications. Electric vehicles have sufficient pulling power and torque; however, attaching a load can compromise vehicle performance, range, and economy. Currently, few OEMs offer the option or have approvals of developing electric vehicle models suited for towing. More OEMs may soon launch new EV models with the towing capacity to have the edge over competitors.
EV with towing capacity and challenges associated with their enablement
In 2019, The Norwegian Electric Car Association, an organization that promotes electric mobility, performed a sample test to check electric vehicles' performance for towing a Caravan. Three cars – the Tesla Model X LR, Mercedes-Benz EQC 400, and Audi e-Tron 55 Quattro, were used to check the vehicle performance while towing.
In many ways, an electric car can make sense for pulling a caravan. The pulling power from their electric motors is likely to make them a better option for towing than a diesel or gasoline engine, while the low running costs can help owners save money during trips. According to the results, all three models had pros and cons, once benchmarked against parameters such as range, price, towing weight, charging speed, charging network, and driving comfort.
When compared across all the parameters, Tesla Model X LR came across as one of the best. It has a large battery pack, high towing capacity, and the lowest fuel consumption. The disadvantage of this model, when compared with the other two, is its price. According to our analysis, Tesla seems to lead the race for an electric vehicle with the most efficient towing capacity. Tesla's Cybertruck, expected at the latest by 2022 and is expected to be a game-changer for users who can afford this vehicle for recreational purposes. Not to forget the new F-150 from Ford, a pick-up truck that claims to have the highest towing capacity than all the existing or expected models.
Although we see Towing Capacity to be an essential option for OEMs to provide in their electric vehicles, there are specific challenges creating roadblocks. For instance, one key concern is the type-approval. The introduction of a new model has to be type-approved for towing a load. OEMs can decide whether or not to approve the vehicles for towing. In many instances, they are not, mainly due to concerns around the overall weight, range, and impact on the braking system. Besides these, the electric vehicle would face a significantly shorter real-world range due to the attached payloads. In addition to this, the extra weight could also strain the electric motors.
Current EV offerings in the market with a towing capacity
If we look into the current landscape, there are OEMs offering EV models with towing capacity or are planning to launch them in the recent future. Some start-ups have also entered this race to launch their models (please refer to Exhibit 1).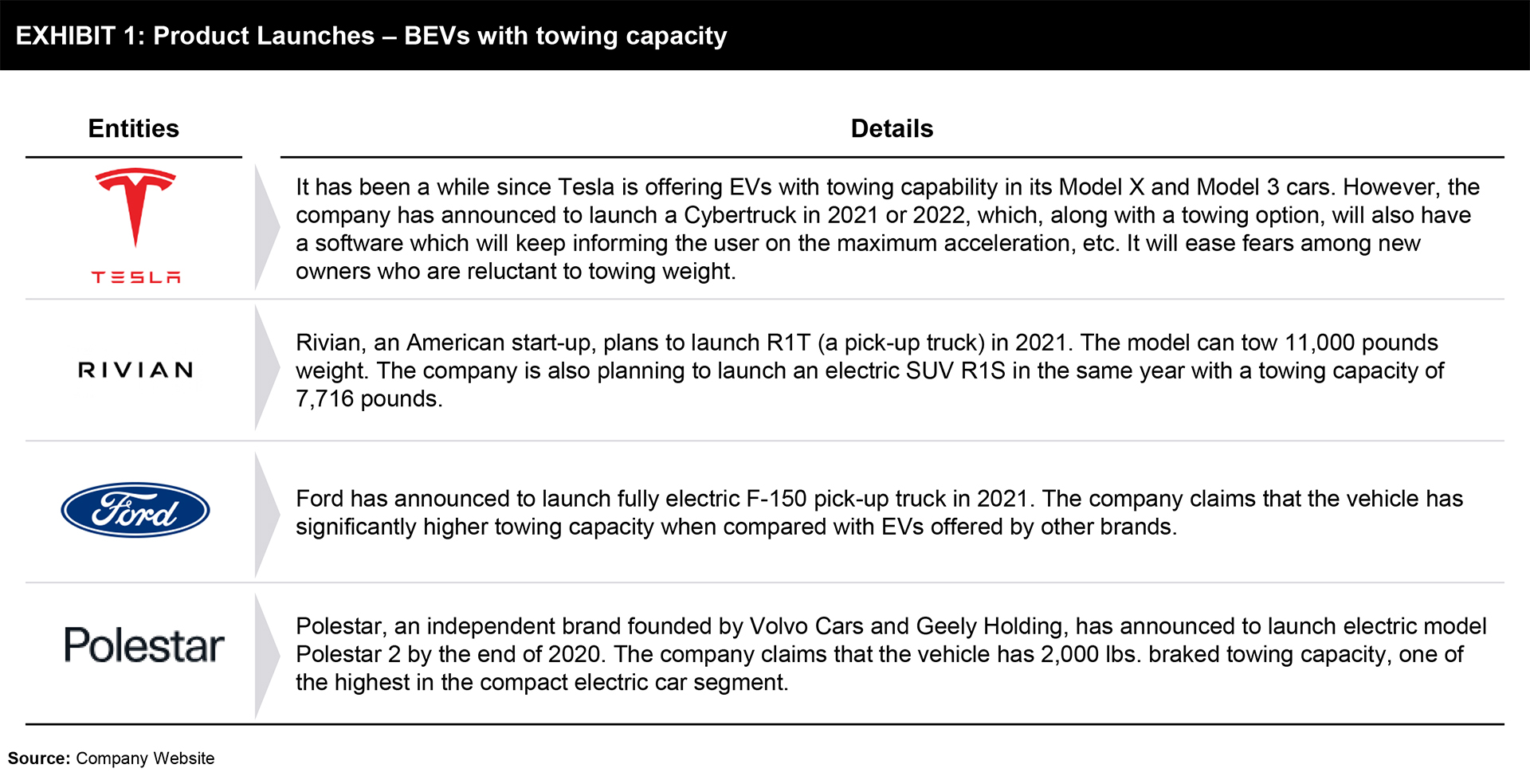 In addition to Battery Electric Vehicles (BEVs), there are also models offered in Plug-in Hybrid Electric Vehicles (PHEVs), indicating that towing capacity in various BEV and PHEV models is one of the preferred options among consumers looking for recreational activities. Exhibit 2 below presents a few key examples of PHEVs with a towing capacity currently on offer to customers.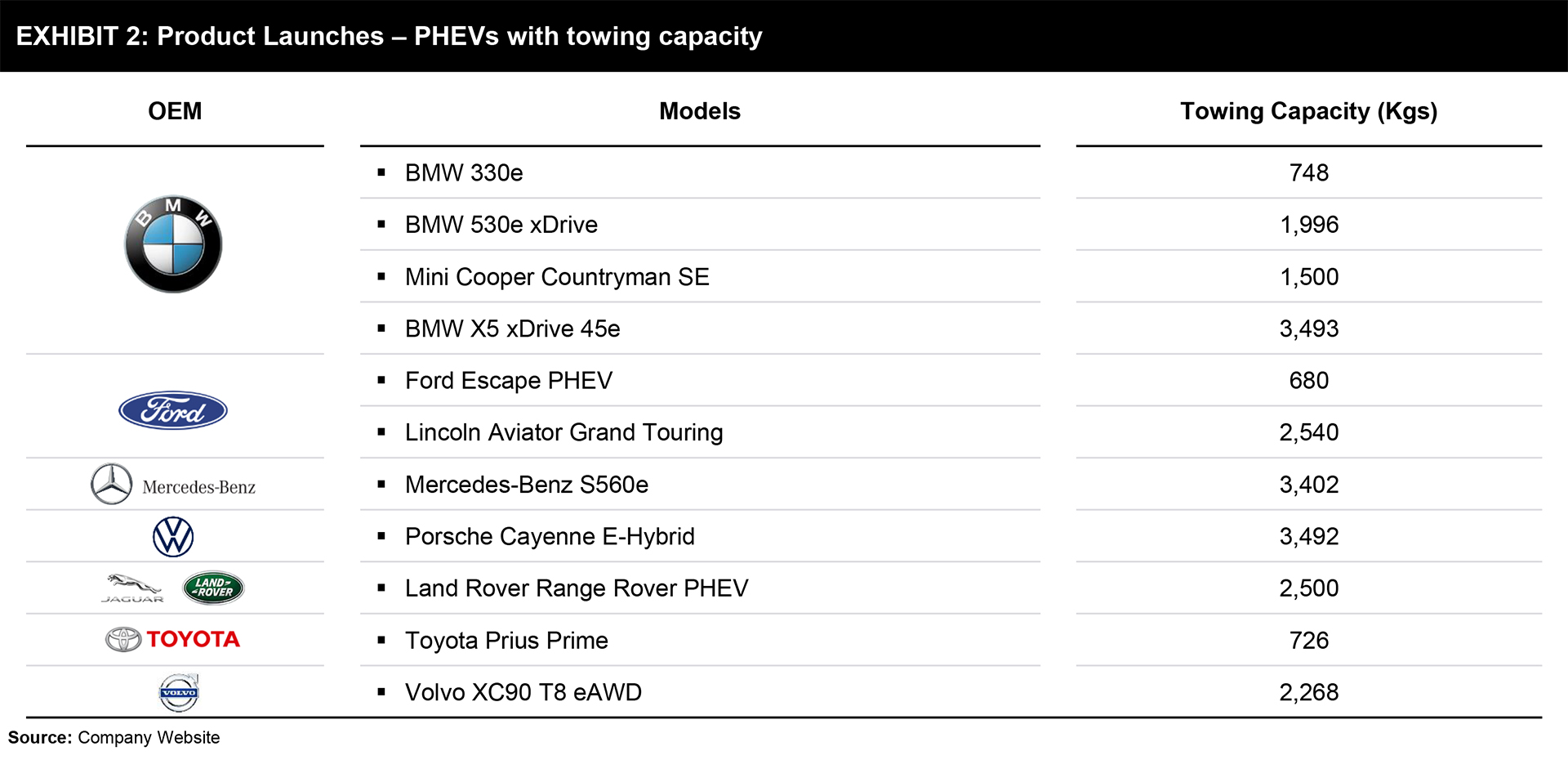 Consumer expectations from future electric vehicles with a towing capacity
The support and development of electric vehicles have been improving and continues to grow. Unfortunately, the vehicles' persistent problems need infrastructure support, such as charging stations and the vehicles' versatility. Hauling capacities and distances are improving. Currently, however, fossil fuel vehicles are superior for long-distance hauling and towing. For shorter distances and lighter loads, at least, electric cars will perform just fine.
An electric vehicle with a decent towing capacity can become a common phenomenon in the future. However, three critical consumer needs will be of utmost importance to ensure that Towing Capacity acts as an additional feature to improve customers' overall attractiveness. A comparison of the above-discussed consumer's needs is presented in Exhibit 3 below.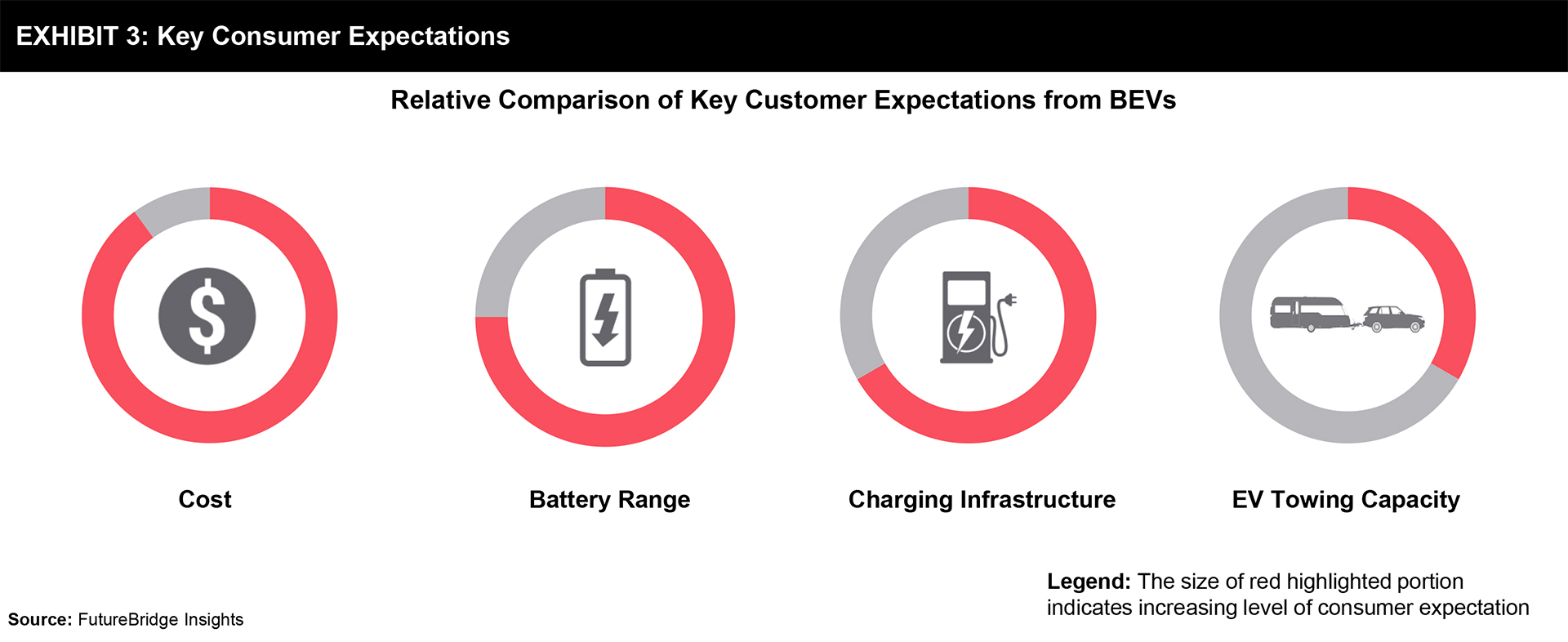 Cost – Countries like China and Norway offer high subsidies for new electric vehicles, which is not a reality in the rest of the world. According to a global consumer survey conducted by an independent agency, >60% of the respondents are concerned about an electric vehicle's cost. Hence, the towing facility may result in added cost and may not yield better sales results.
Battery Range – The same respondents raised concerns about the battery range. Long trips would require a higher battery range, and hence, OEMs will have to address this concern. Battery range in EVs is improving steadily; however, users interested in recreational activities raised some severe problems with the range.
Charging Infrastructure – Respondents believe the charging infrastructure has also improved; however, they are looking for charging stations similar to the frequency of diesel or gasoline stations. Lack of sufficient charging stations is another crucial concern where OEMs are focusing in the future.
Towing Capacity – On the flip side, from the same set of respondents, 20–30% stated in affirmative that they require a towing capacity in electric vehicles for recreational activities. It indicates a strong need for this feature in an electric vehicle.
Historically, OEMs had not focused much on Electric Vehicle's Towing Capacity. However, the focus is changing rapidly towards the introduction of Electric Vehicles with better towing capacity. This is precisely what companies like Tesla, GM, Volkswagen, and Ford are trying to address. This will provide an exciting option for consumers interested in recreational activities.