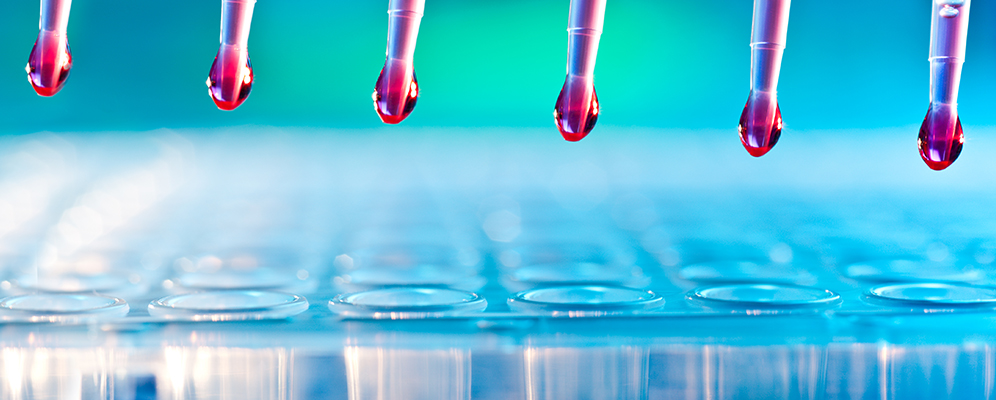 Insights on Diagnostic Biomarkers and Precision Medicine
Introduction
The elaborate understanding of "omics" (i.e., genomic, proteomic, epigenetic, and so on) and environmental and lifestyle factors of individuals have led to the development of precision medicines.
Personalized healthcare has enabled the early detection of the onset of diseases and pre-empts the advancement of diseases, as well as enhanced the competence of the healthcare system with respect to improved quality, accessibility, and affordability.
Biomarkers play a pivotal role in undertaking medical decisions provided that the sensitivity and specificity of evaluation, systems biology methods integrating translational bioinformatics, and data processing strategies have been prudently applied. The identification of more accurate and robust biomarkers /groups of biomarkers will enable the study of several multidimensional factors of health dynamics.
Limited Success of Conventional Therapy
When it comes to medicine, one size does not fit all. Treatments that are effective for some patients are ineffective for others, and the same medicine may cause side-effects in other patients.
Exhibit 1 below showcases the percentage of the patient population for which a particular drug (conventional therapy) in a class is effective, on average.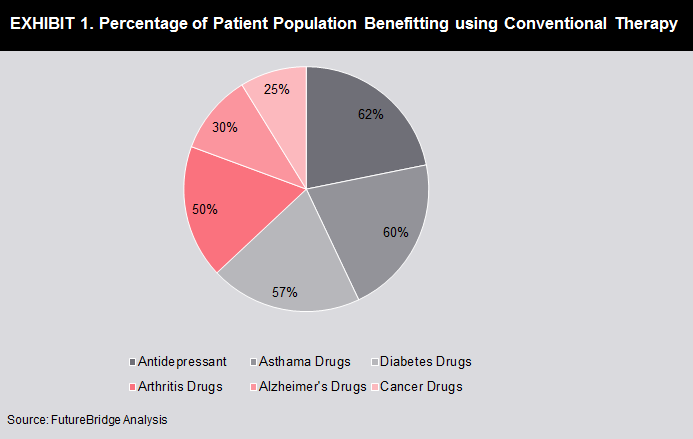 As evident, there is a high unmet need of developing Cancer drugs (75%), followed by Alzheimer's drugs (70%), and Arthritis drugs (50%) through the precision medicine approach.
A New Therapeutic Approach – Paradigm Shift
The molecular profile of an individual patient and the disease onset impact the effect of a medicine. Diagnosis carried out using biomarkers help target the right medicine for the right patient.
Exhibit 2 below depicts a schematic representation of therapy outcomes attained using conventional and precision medicine approaches.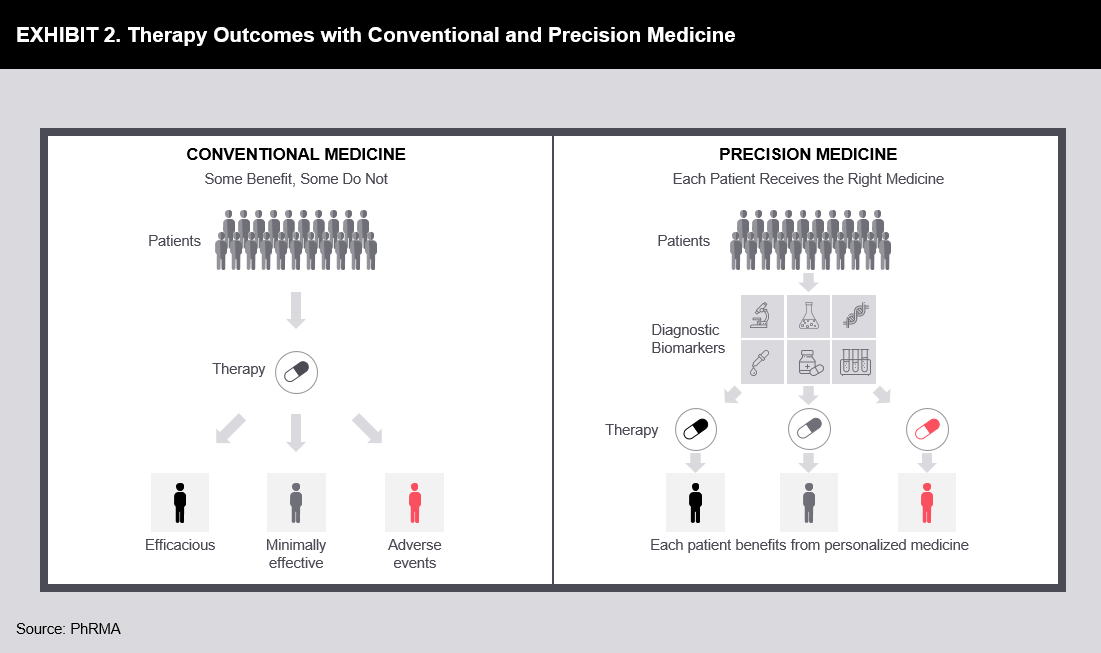 The development of therapy outcomes using conventional and precision medicine requires understanding and navigating an ecosystem with three principal elements, namely, data, personalized impact, and business model.
Data – Data includes information on genomics, additional modalities to understand the molecular phenotype of individuals, and the collection of behavioral data through devices. Every patient will have his/her data ecosystem, a closed loop of continuous learning based on pervasive data, enabling each patient to benefit from insights generated by the collective experience of the entire medical community. Healthcare stakeholders are trying to build competencies around three dimensions, namely, data acquisition, data analysis, and analytics-based decision-making, to drive the potential of precision medicine.
Personalized Impact – The biomarker approach in developing precision medicine helps in clinical decision support, personalized therapies, and improved R&D models.
Developments in oncology and other therapeutic care continue as systems instigate to use advanced analytics to combine biomarkers and Electronic Health Record (EHR) data.
Inclusion of digital and mobile medical apps in healthcare has led to predictive algorithms for the disease at an individual level.
In 2017 and 2018, two individualized CAR-T therapies, namely, Yescarta and Kymriah, were approved for the treatment of leukemia and lymphoma. These are a type of immunotherapy where a patient's immune cells are genetically modified to fight cancer cells. Other gene therapy techniques, particularly CRISPR, are in active development, and more individual therapies are projected to witness approval in the near future.
Business Models – Each stakeholder contends differently in the ecosystem of precision medicine. Diagnostic players need to comprehend the market for future tests. Providers are witnessing the possibility of aggregating and mining patient data, and deriving insights that could be commercialized.
Pharmaceutical companies are associating with providers and payers to be a part of the data ecosystem, and are also trying to develop the best commercial model for small patient populations that would cover value-based reimbursement, monetized data, and direct-to-patient outreach.
Benefits of Precision Medicine through Biomarkers
Personalized medicine developed through biomarkers benefits patients and the health system by:
Increased importance in medicine from reaction to prevention
Additional targeted uses for medicines and drug candidates
Reduced adverse drug reactions
Increased patient adherence to treatment
Reduced high-risk invasive testing procedures
Controlled overall cost of healthcare
Most notably, personalized medicine helps in devising targeted therapy and reducing trial-and-error prescription. For example, Molecular diagnostic tests for HER-2 are used to classify patients who will benefit from receiving Herceptin® and other drugs such as Lapatinib (Tykerb®) that target HER-2 receptor. Two tests, Oncotype DX® and MammaPrint®, use prognostic markers to help physicians target the best treatment option for breast cancer patients.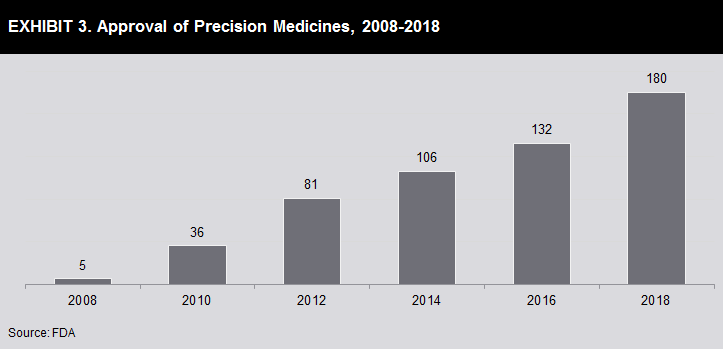 The approval of precision medicines has progressively increased in the last 10 years, witnessing more than 30X growth over a period of time.
The US and Europe are leaders in the development of precision medicines, followed by Asian countries, such as China, which is rapidly increasing their investments. The market for precision medicine is forecasted to be worth over $115 billion by 2025, with a growth rate of 12%.
Cancer: The Most Frequent Application of Biomarkers
Oncology and psychiatry are the two topmost areas where a majority of precision medicines are developed.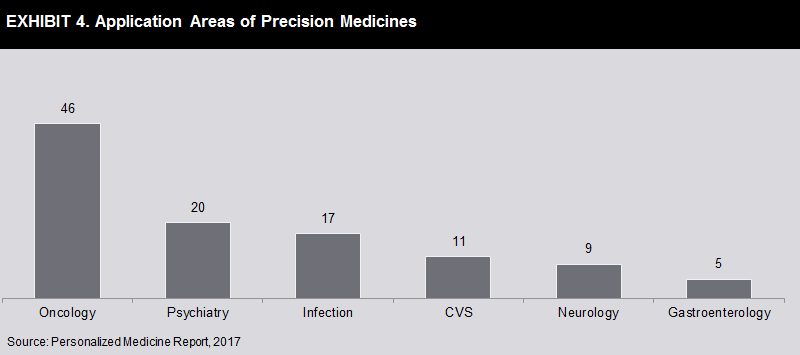 Exhibit 4 above showcases that oncology leads the precision medicines segment with 46 approved medicines, followed by 20 in psychiatry and 17 in infectious diseases categories. Further, 42% of all molecules and 73% of oncology molecules in the pipeline have the potential to be personalized medicines.
Challenges and Opportunities
Despite advances in genomic testing, awareness of family history is essential to understand which patients need to be tested and how to identify family members of patients with a prevalence of the genetic disease. Besides this, health information technology, regulatory policy, coverage and payment policy, and clinical adoption are other major challenges associated with the development of precision medicine through biomarkers.
The regulatory landscape for precision medicine is still emerging, and the lack of a clear regulatory pathway for precision medicine diagnostics continues to discourage investment in this field. A more flexible approach using Next-generation Sequencing (NGS) technology is required to measure a large number of endpoints associated with a specific disease or condition. Other challenges facing precision medicine are reimbursement, pricing pressure, limited patient access, and quantification of treatment value.
Most healthcare organizations do not have formal plans to leverage advances in genomics and data analytics to personalize patient care and are not adequately prepared to implement precision medicine programs. Lack of education, limited awareness among patients and healthcare delivery community, ineffective healthcare infrastructure and data management systems, and challenges associated with the integration of health IT platforms at the point-of-care are other bottlenecks in this field.
Moving forward, digital platforms may play a critical role to understand an individual's genetic variability, environment, and lifestyle. The potential of such platforms in developing precision medicines in the global healthcare scenario is high, driven by unique biomarkers of billion people.
Personalized medicine developed through a systematic understanding of biomarkers have the potential to revolutionize healthcare, and this can only be achieved through active team effort by innovators, patients, providers, regulators, payers, and policymakers.