Blog
Usage of IoT in the Compressed Air Industry

Industrial Manufacturing
Mar 3, 2020
4103 Views

10 min read
Add to Favourite
Importance of IoT in Compressed Air
IIoT is envisaged as a positive force that can result in the introduction of sophisticated robotics (that can communicate with each other), creating future smart factories. As one of the world's primary industrial sources, which accounts for 10% of all energy utilized across manufacturing globally, compressed air will have a major impact on shaping the smart factories of the future.
The concept of adding intelligence to air compressors by enabling them to communicate over the Internet is not new. Several manufacturers, including Kaeser, Atlas Copco, Elgi, Hitachi Sullair, and Fusheng, are already offering IoT-connected air compressors. For instance, Atlas Copco has >100,000 connected air compressors at >35,000 production sites globally. IoT-connected air compressors deliver more than 150 data measurements per second that include sharing the real-time status of their internal parts, such as motor, belt, oil barrel, etc. Customers (production and maintenance staff) of air compressors use this data to analyze the energy consumption of the compressed air in their facilities. On the other hand, air compressor manufacturers utilize this data to analyze the performance of compressors, helping design teams to develop new and more suited compressor air technologies.
Technological developments have enabled compressor controllers to be connected via mobile systems, thereby ensuring equipment monitoring remotely over a secure network. Operators can keep track of key parameters of air compressors that include motor, pressure, flow, and dryer speed. As the final step, these parameters can be adjusted manually by customers, based on the varying production demands of the facility, significantly improving the compressed air energy efficiency.
The next advancement, on which air compressor manufacturers are working, is to transform from manual to fully-automated. Research is being undertaken to develop the technology, through which air compressors will track and make process improvements autonomously acting as independent cyber-physical systems. However, at present, predictive maintenance is the most applicable use case of IoT, which has a significant impact on the compressed air industry.
IoT-connected predictive maintenance helps air compressor manufacturers to send operational data to the cloud, which are later analyzed to gauge the compressor heath (refer Exhibit 1). These compressors track and report the operating status of components over a secure internet connection.
IoT-connected air compressors let maintenance and service technicians to continuously track certain performance indicators, including energy and pressure calculations so that immediate changes can be made when needed. As maintenance and service technicians have complete visibility of the operation of a compressor, they can readily spot any developing problems, unearth potential energy savings, and achieve maximum uptime of compressors.
Increasing Popularity of IoT-connected Offerings
The data captured through IoT-connected air compressors can help customers in the following ways:
Predictive Maintenance: Customers can prevent unexpected downtime with access to compressor performance data, helping them to spot technical faults across key components of compressors, including motor, belt, and oil barrel.
Status Overview: Customers can reduce on-site maintenance time by monitoring the operating status of compressors installed anywhere across the globe.
Real-time Service: Customers can initiate a service request, if they detect unusual operating conditions (current, temperature, and pressure), and send SMS and email messages to service technicians, thereby minimizing equipment downtime.
Historical Information and Data Analysis: Customers can acquire an in-depth knowledge of their compressors by benchmarking current operational parameters with historical data.
The information collected through IoT-connected air compressors provides staff to maintain and service compressors at the right time, thereby improving Mean Time to Repair (MTTR), first-time fix rate, and downtime (refer Exhibit 2).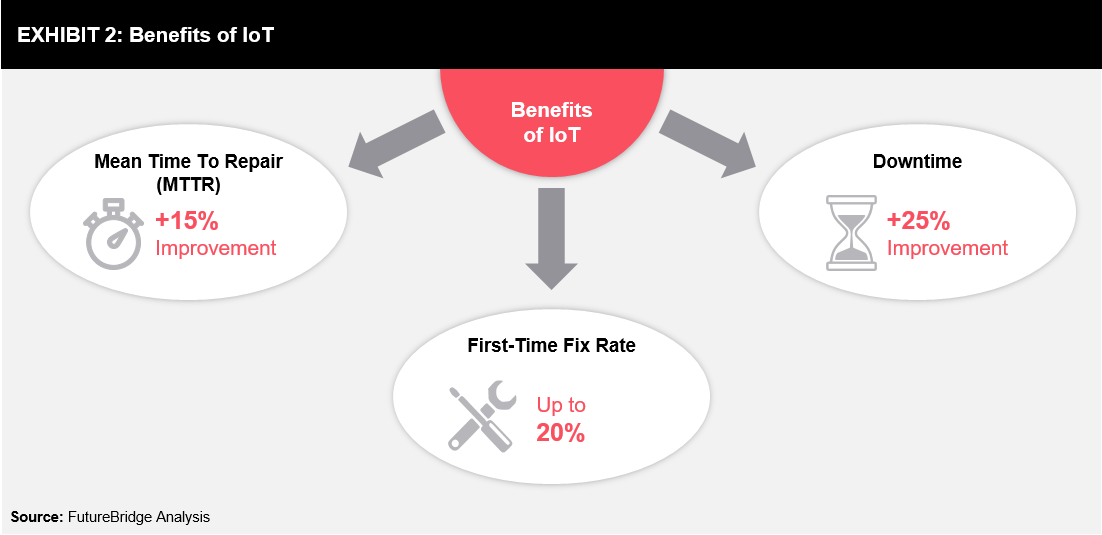 Remote monitoring offered by IoT-connected air compressors has assisted several customers in achieving operational efficiency across their facilities.
For instance, a steel manufacturer was facing challenges, where element temperatures were inefficiently high in all compressors, which were identified owing to the IoT-enabled solutions. On inspection, a service engineer discovered that the room where the compressors were installed was poorly ventilated, leading to a temperature of +400 °C. The service engineer recommended a complete redesign of the compressor room, meanwhile making sure that the compressor coolers were kept clean, and the oil was topped up regularly to prevent overheating. This helped the manufacturer prevent production downtime, which could have occurred due to compressor breakdown.
In another case example, a period of cold weather caused a food and beverage producer's compressor to run at a particularly low ambient temperature. The IoT solution picked up warnings generated from the compressor's electronic condensate drains and scheduled a visit to the plant by a service technician. The service technician visit helped the producer to identify the problem and fit temporary heaters and prevent freezing of condensate drains. Early intervention by the producer averted severe damage to the compressor element, saving substantial breakdown costs.
Considering upfront and operational costs, IoT-connected air compressors are costlier as compared to their traditional counterparts. However, as these equipment are able to reduce consumer's energy bills, payback can be achieved within 15–20 months. Some more use-cases depicting the benefits that various customers leveraged through the use of IoT-connected air compressors are mentioned in Exhibits 3, 4, and 5.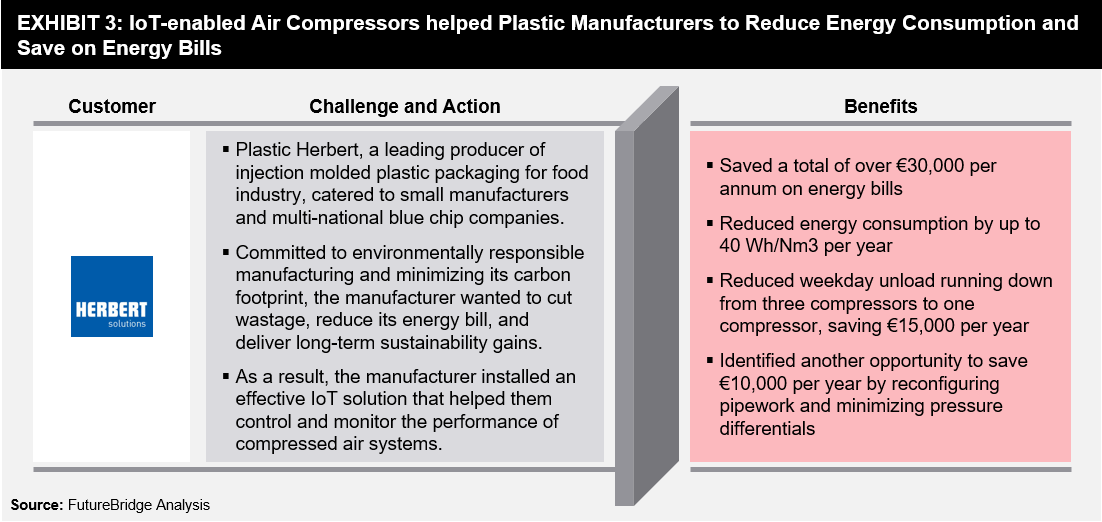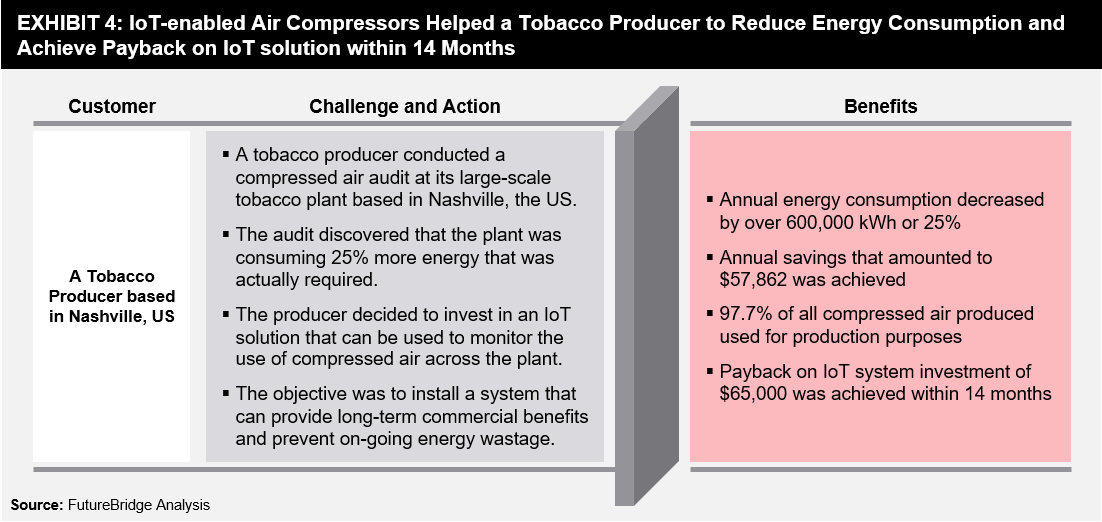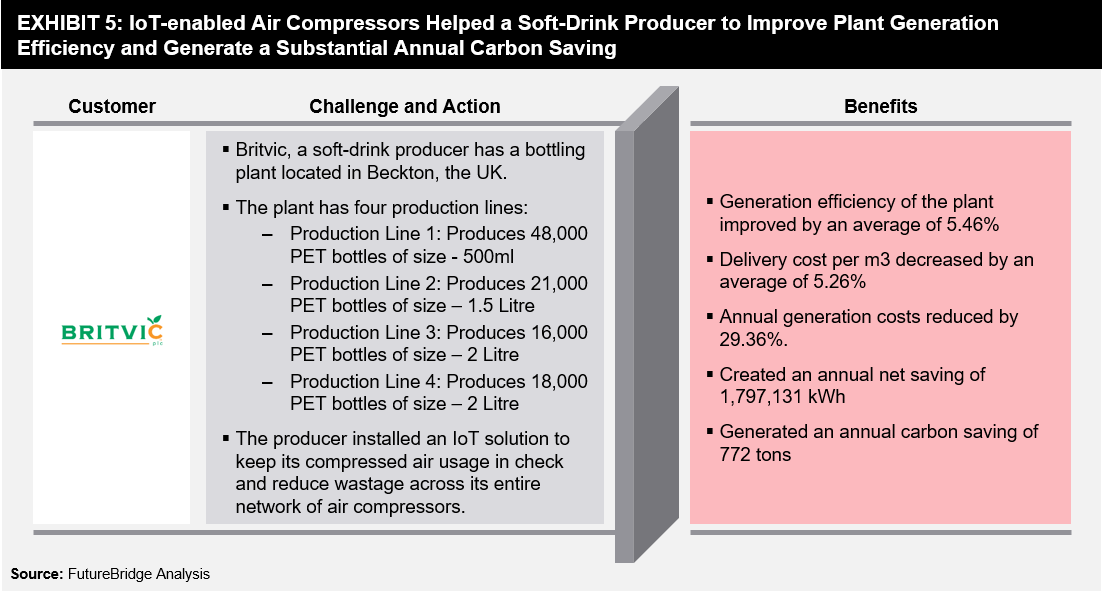 IoT Offerings of Key Compressor Manufacturers
With the growing adoption of IoT-connected air compressors across various industries, several compressor manufacturers have started to offer this optional technology with their compressors. Some of the key manufacturers with a brief overview of their IoT offerings are mentioned below:
Kaeser Kompressoren
Kaeser offers IoT compressor solutions to customers by the name – 'Sigma Air Manager 4.0 (SAM 4.0)'. SAM 4.0 combines compressors, blowers, and vacuum units in a single secure network—SIGMA—to offer complete compressed air system management. This solution helps in balancing load hours for effective maintenance scheduling and also improves pressure stability and system reliability. Through the solution, customers can monitor equipment performance remotely and also use the data for the energy audit, which is captured based on ISO 50001 standards.
Atlas Copco
Atlas Copco offers an IoT solution called 'SmartLink,' which can be used for data monitoring of compressed air equipment. The solution is easy-to-install, customizable, and user-friendly, enabling compressed air equipment to be connected to the consumer production and maintenance staff. The solution can be used to gather operation-related data of the equipment and share it with the customer through mobile phones, smartphones, and PC. Through the solution, customers can view information related to alarms & faults as well as refer to the visual representations of demand and load of the complete site. This functionality allows customers to change load settings accordingly based on the varying production demands. SmartLink can also be used to schedule service calls or connect with service technicians.
Fusheng
Fusheng offers an IoT smart platform system—'GoService'—combining all aspects of manufacturing, product, customer, and service processes to offer predictive maintenance, status overview, real-time service, data analysis, energy diagnosis, and historical information of compressors. The solution can collect the operating status of compressors remotely via a wired network or 3G/Wi-Fi communication. The solution captures data related to unloading/loading, voltage, current, power consumption, discharged pressure, temperature, dew point temperature, airflow, hour of maintenance, and alarm messages. The platform can auto send the gathered data to the production staff and Fusheng's service team through mobile SMS or E-mail.
Sullair
Sullair (presently acquired by Hitachi) offers an IoT solution known as 'AirLinx,' which can be used to record the parameters of air compressors in real-time. The solution enables customers to observe the performance of the machine through a simple and easy-to-read dashboard on their mobile or computer. It alerts users about any breakdowns and unscheduled stops, improving the equipment reliability and return on investment.
ELGi Equipments
ELGi offers an IoT platform known as 'Air Alert,' which utilizes a SIM card-based communication system to track parameters, such as operating temperature, pressure, the volume of air delivered, and energy efficiency. The captured data is transferred to the in-house servers, where engineers review the data and provide solutions to the customer on service intervals, energy efficiency, changes in air consumption, and compressor health. 'Air Alert' is provided as a standard offering (with no additional cost) to all ELGi screw air compressor customers.
Gardner Denver
Gardner Denver offers the 'Cumulocity IoT Platform' that provides conditional monitoring for air compressors. This solution connects the product, manufacturing, distributors, and service partners in a single platform to evaluate customer needs. Through this platform, the company offers real-time monitoring of operational parameters, real-time faults, on-demand distribution alerts to the right service partner, remote configuration of compressors, etc.
Opportunities for Compressor Manufacturers
Advancements in communication and sensor technologies have led to the introduction of accurate and low-cost sensor devices. These devices are currently used to gather various operational parameters of the compressor every second, offering an invaluable source of information to all stakeholders (customers and manufacturers). The information gathered can be used by customers to improve their plant efficiency and significantly reduce their energy bills. Manufacturers can transform themselves from being an 'Equipment Provider' to an 'Equipment and Data Provider.'
In the coming years, a majority of compressor manufacturers will offer IoT solutions. These would be developed in-house or with the support of a third-party, that has domain expertise in IoT technology. IoT would result in the introduction of the following business models, adding new revenue streams for air compressor manufacturers, thereby providing customer-focused solutions across the globe.
Subscription-based Model: Through IoT, manufacturers can have continuous interaction with the compressor (even after its sales) installed at the customer site anywhere across the globe. This gives manufacturers leverage to develop a recurring-revenue business model. Manufacturers can offer a subscription-based model (also called pay-as-perform model), under which the customer pays a fee according to the performance data of the compressor. Traditionally, equipment manufacturers rarely interacted with customers once the sale was completed. However, this barrier has presently been broken by IoT, as manufacturers can gather all the data related to customer production output. Hence, manufacturers can provide customized offerings to customers, which are tailored to their specific needs.
Output-based Model: Output-based model helps manufacturers to transform from selling a product or service to a transaction-based output. Under this model, the manufacturer offers compressors to the customer free-of-cost and charges solely based on their compressed air consumption. As manufacturers have complete visibility regarding the usage of compressors installed at the customer site through IoT, they can generate invoices every month based on the compressor usage.
Service-based Model: Manufacturers can utilize IoT to offer servicing of the equipment to the customer. As IoT can be used to monitor the equipment in real-time, manufacturers can not only predict the maintenance cycles but also detect compressor parts that have to be replaced in the near future. Current IoT-connected air compressor providers have witnessed significant improvement in Mean Time to Repair (MTTR) and first-time fix rate as well as machine downtime, thereby generating significant value for customers. With more focus on service-based offerings, manufacturers can sell maintenance contracts to customers, undertaking full responsibility for compressor operations on-site (at the customer location).
IoT offers opportunities for manufacturers in terms of business models as well as technological advancements. Manufacturers are currently working to develop IoT solutions, which would further reduce manual tracking and improvements. Under this, air compressors will autonomously act as independent cyber-physical systems. The introduction of such technologies would be a significant step towards the realization of smart factories.