Blog
Unique Device Identification (UDI) for Medical Devices

Life Sciences
Jul 5, 2019
13112 Views

9 min read
Add to Favourite
With increasing concerns for patient safety and efficient supply chain management, a single, globally harmonized identification system for medical devices is needed. The United States introduced a Unique Identification System (UDI) for all medical devices across its distribution channel. The system is expected to be completely implemented by 2020. Other countries are also trying to implement the UDI system as their foundation. The UDI system will help labelers with better traceability and target recalls of medical devices.
Introduction
Supply chain and patient safety issues are of utmost concern in the rapidly evolving healthcare sector. With a range of medical devices available in the market, traceability becomes a major issue resulting in improper product recalls, incomplete adverse event reporting, and counterfeit products. A dedicated global identification protocol is needed to unambiguously identify medical devices in the healthcare supply chain. The United States Food and Drug Administration (FDA) implemented a Unique Device Identification (UDI) system to assign a unique identifier to all medical devices distributed in the US. The UDI system is gaining popularity with increased adoption in Japan, Brazil, and Asian as well as European countries.
What is a Unique Device Identifier (UDI)?
The Unique Device Identifier (UDI) is provided to label the medical device with a unique numeric or alphanumeric code. The UDI information has to be displayed on the device as both human-readable data and machine-readable data. The code as represented in Exhibit 1 is divided into two: (i) the Device Identifier (DI) linked to the model of the medical device, and (ii) the Production Identifier (PI) that refers to the device's product information and distinct identification code (applicable only for human cell, tissue, or cellular and tissue-based product). UDI code can be of two formats: (i) linear barcode or 1D code (ii) data matrix or 2D code. Exhibit 2 represents the illustrative UDI coding.

A centralized public database has been developed by the US FDA that serves as a reference catalog for medical devices encoded with UDI known as Global Unique Device Identification Database (GUDID). GUDID contains DI, which serves to be the primary key to obtain device information stored in the database. PI is not stored in GUDID, but the GUDID contains PI flags to indicate which PI attributes are present in the UDI.
The submission of UDI and its related information to GUDID can be performed through two interfaces: (i) GUDID Web Interface for structured manual UDI data entry and for low volume submissions, and (ii) HL7 SPL for multiple UDI submissions in the XML file format (up to 500 submissions at a time).
How is UDI helpful?
The identification of medical devices using the UDI system offers several advantages, which include:
Secure global supply and distribution chain to prevent counterfeiting of medical devices
Effective management of post-market safety-related activities, such as adverse event reporting, medical device recalls, etc.
Cumulative information related to medical devices to reduce medical errors by healthcare professionals
Uniform documentation for robust pre-market assessment of medical devices for the healthcare industry and public
How is the UDI system enforced?
The UDI system advocates a single, globally harmonized identification system for medical devices. There are three FDA-accredited agencies to issue UDI, namely GS1 (earlier known as Uniform Code Council), Health Industry Business Communications Council (HIBCC), and International Council for Commonality in Blood Banking Automation (ICCBBA). All of them offer advisory services for complying with guidelines provided by regulatory authorities. Table 1 represents the technical formats of each agency to comply with the UDI system.
Global Medical Device Nomenclature (GMDN) is another identification term used to identify a generic medical device group. GMDN, managed by the GMDN Agency, is equivalent to the FDA Preferred Term (PT) Code on GUDID, and it provides internationally accepted descriptors to identify medical devices. For example, products assigned to GMDN 35195 relates to electrocardiographic monitor.
What are the challenges while enforcing the UDI system?
Efficient data management is a key challenge in the implementation of the UDI system. A small modification in the medical device may lead to alteration in the UDI data, which may lead to changes being made to all the units where such data is stored. Thus, advanced tools and techniques are required for the precise management of the regulatory data.
Apart from the US FDA, several international regulatory authorities are working on the implementation of the UDI system in countries other than the US. The UDI-related directives have been declared across all member countries (28) of the European Union. The European repository for medical devices is known as the European Database on Medical Devices (EUDAMED). As all countries have their own UDI system, there exist discrepancies among different national approaches. This may lead to failure to address the primary goal of a single, globally harmonized system for the identification of medical devices. For example, GUDID requires labelers to enter product attributes, such as sterilization methods and packaging type, while EUDAMED does not require any such product attributes. Another issue is that each country has a different timeline for enforcement of the UDI system. The timelines for enforcement of the UDI system in some of the countries are mentioned in Table 2.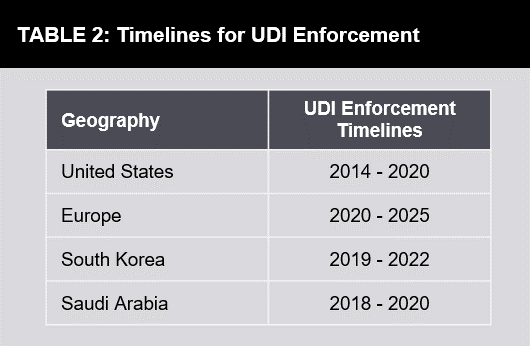 The International Medical Device Regulators Forum (IMDRF) is a group of major medical device regulators from around the world, including the US, Europe, Australia, Brazil, Canada, China, Japan, Russia, Singapore, and South Korea. The IMDRF group is helping to strengthen the international medical device regulatory frameworks, such as the UDI system. The forum provides guidelines to regulatory authorities of member nations to develop and implement a uniform UDI system.
What actions are required by medical device labelers?
UDI must be furnished on all packaging layers of medical devices. In some instances, UDI needs to be printed on the device that is intended for extensive use after it is unpacked. This is known as direct marking and helps in the identification of devices in the absence of packaging. The idea is to track the medical device through the entire supply chain, for instance, an implantable device can be tracked throughout the supply chain using UDI, starting from the manufacturer to the patient in which it is implanted. Challenges that are faced by medical device labelers include:
Some medical devices are configured based on customer requirements, which may potentially lead to several UDIs against a single medical device
UDIs need to be generated separately for all accessories coupled with the medical device
In the case of direct marking, technical problems may arise, such as device size and interference with the safety or efficacy of the device
Ambiguity may arise while labeling combination products (a device with an active pharmaceutical ingredient)
Several consulting and data management companies have started providing comprehensive solutions to support UDI compliance efforts of labelers. For example, ConnectSx, headquartered in Illinois, is an e-health startup that caters to the need of the medical device supply chain to support UDI compliance. The company launched UDidentify, a free scanner software-as-a-service (SaaS)-based mobile application for enabling labelers and medical representatives to scan UDI barcodes (HIBCC and GS1 barcodes) and validate them against the GUDID database. UDidentify is available for download on the Apple App Store and Google Play.
Another company, Vuemed, developed a Radio-frequency Identification (RFID) solution known as the VueTrack-UDI, which is a SaaS-based stand-alone solution that labels UDI-compliant, passive RFID tags on the device using printers/RFID encoders. It also validates that the RFID data matches the information printed on the manufacturer's device packaging using advanced scanners. Such solutions help improve the visibility and efficiency of the medical supply chain.
Several companies have developed UDI compliance software that helps minimize implementation errors and streamline compliance with government regulations. This may help labelers to reduce the cost incurred due to iterations involved in the implementation of the UDI system and meet the UDI standards with ease. One such software is TrackWise® UDI eSubmission Manager developed by Sparta Systems. It is a web-based software that helps maintain UDI-related quality and compliance issues. PTC Windchill 10.2 is another UDI solution developed by PTC to help labelers comply with the UDI standards. Near-term cost to comply with UDI standards should not be a matter of concern for labelers, as the long-term price of non-compliance is much higher.
A long journey ahead
Although the UDI system helps in better traceability, efficient target recalls, and improved patient safety, it needs to be implemented globally for all classes of medical devices. In addition, an independent regulatory body is required to keep tabs on the uniformity and compliance of this regulatory data. The UDI system was rolled out in the US six years ago; however, the regulation is not completely implemented in various countries. This propels the need for a protocol to implement the UDI system and a robust data management system. Medical device labelers must be prepared to adapt to changes that will arise with the evolution and overall acceptance of UDI.
References