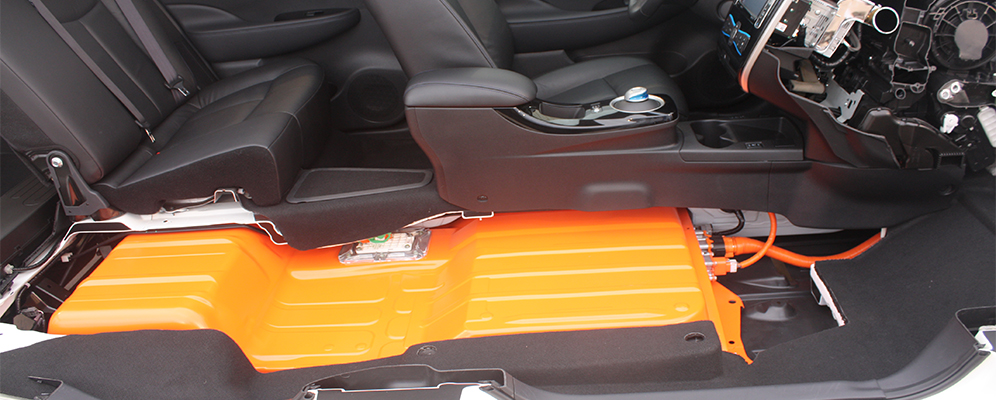 Introduction
Electric car deployment has witnessed rapid growth over the last ten years. According to the International Energy Agency (IEA) estimate, the global stock of electric passenger cars has already reached the 5 million mark in 2018. Furthermore, according to one of the IEA's scenarios, "EV30@30", the global EV sales are expected to reach 44 million vehicles per year by 2030. This brings us to the most important question, which is, what happens to the battery when it reaches the end-of-life in electric vehicles? Batteries are retired after use for more than 10 years in electric vehicles, as they are not capable enough to meet stringent requirements of continuous charging and discharging cycles, even though these batteries have around 70% of the original capacity remaining.
Batteries are generally recycled, disposed of, or can be refurbished for further use. The refurbishment of batteries for further use in stationary storage applications provides a lot of opportunities.
Battery Life Cycle – Value Chain
Exhibit 1 depicts the value chain for EV batteries. The current methods for the end of their useful life in EVs are mainly disposal and recycling.
Disposal: Battery packs are generally thrown away if they are damaged beyond repair. It can lead to a huge amount of battery waste and subsequently, have a negative environmental impact. These batteries need to be adequately disposed, as they carry an immense risk of polluting the atmosphere with toxic gases.
Recycling: There are several EU regulations in place that are encouraging tie-ups between carmakers and recyclers to carry out collection, treatment, and recycling of batteries. One example is Umicore that deals with Tesla and Toyota to recover some of the precious metals from batteries.
Reuse: Since batteries have a capacity of around 70% remaining after their first use in EV application, they can be refurbished and used for stationary storage applications, which are not demanding as that of EV application.
Projects related to Second-Life EV batteries
There are several projects worldwide where Second-Life EV batteries are being used for stationary storage applications. Some of the prominent projects are mentioned as follows –
Renault – Advanced Battery Storage (ABS) System: By 2020, Renault will be building an Advanced Battery Storage (ABS) system, which will be one of the biggest stationary storage systems for EVs. This system is expected to have a storage capacity of 60MWh. ABS system is expected to be gradually expanded to contain the energy of more than 2,000 EV batteries.
Engie and Umicore: ENGIE has been researching and investing in the field of lithium-ion batteries that are used in electric cars for stationary storage applications. ENGIE is working on several projects in Belgium. The company has worked with the first of its kind "second-life" battery system project at an industrial site. The second-life battery system was put into use at the Umicore site in Olen. It consisted of 48 used lithium-ion batteries from Renault Kangoo brand cars to form a battery storage system of size 1.2 MW or 720 kWh. The original energy content of these batteries was 22 kWh per battery; after use in EVs, the energy content in these batteries was reduced to 15 to 17 kWh. These batteries are expected to work for the next 10 years in their second life according to ENGIE.
EVgo and BMW: In July 2018, EVgo equipped one of its fast-charging stations with an energy storage system made up of two battery packs, each having a capacity of 22kWh. The storage system offers a 30 kW/44 kWh storage capacity. The energy storage system in the fast-charging station is made up of four used batteries from BMW i3, which are used to store energy from the grid generated during peak solar hours.
Challenges related to Second-Life EV batteries
There are several challenges that might impact the usage of used EV batteries for stationary storage applications. These challenges, if overcome, can result in more utility and automotive players partnering together to develop second-life EV battery projects for stationary storage applications.
Cost gap between new batteries and second-life batteries – Even though the current cost difference between Second-Life EV batteries and new batteries is sufficiently high, it is expected to fall drastically from around 60% in 2025 to approximately 25% by 2040. Future second-life battery costs need to be in line with the rapidly falling new battery costs.
Regulation and policies – There are a few markets globally that have regulations with respect to recycling or refurbishing of batteries. Ambiguities regarding the responsibilities of consumers and producers in certain countries still exist. Stringent regulations regarding the transportation of dangerous goods in the EU and the US can hamper the movement of second-life batteries, thereby increasing the cost of these batteries.
Large number of battery pack designs in working – There are a number of battery pack manufacturers and automotive suppliers who have their patented battery pack designs suitable for their EVs. This has increased the complexity of refurbishing of these battery packs, which in turn, will further impact their usage in stationary storage applications.
Outlook
The increasing uptake of the EV market is expected to result in the development of a huge number of batteries (terawatt-hours) in the next 10 years. According to Hyundai estimates, there will be 29 GWh of second-life EV batteries available by 2025. These batteries will generate significant value and bring down the cost for applications, such as stationary energy storage. The used EV batteries can be reused for the next 8-10 years in stationary energy storage applications. The current cost difference between second-life batteries and new batteries is a very attractive proposition and will play a significant role in increasing the usage of second-life EV batteries.
Second-life battery usage in stationary storage applications will also lead to various battery ownership models wherein automotive players will try to remain the owners of batteries, owing to the stabilization of the second-life battery market and its confirmed residual market value. Even though there are several challenges related to Second-Life EV batteries, if overcome, it can become a promising market.