Blog
Over-the-Air Software Updates – Reaping Benefits for the Automotive Industry

Mobility
Jan 22, 2020
6114 Views

7 min read
Add to Favourite
Evolution of Over-the-air Software Updates in Automotive
Over-the-Air (OTA) software updates refer to the wireless transfer—via Wi-Fi, 3G, 4G, and 5G—of new software, new firmware, software patches, configuration settings, and critical features to mobile phones, tablets, computers, and smart devices. Since its inception (refer Exhibit 1), OTA has made inroads in the telecom industry, followed by various industries, such as automotive, industrial machinery, agricultural machinery, aviation, etc. Currently, preceded by telecom, the automotive industry is at the forefront of adopting OTA.
In the automotive industry, Tesla offered the first OTA software update for its 'Model S' cars in September 2012. The company issued an update using either the embedded 3G data connection in the car or a Wi-Fi signal provided by the customer's home internet connection.
Other automotive OEMs such as General Motors, BMW, Volvo, Detroit Diesel Corporation, and Mercedes-Benz have started offering OTA updates from 2017-2018 onwards. Ford is also planning to offer OTA updates in 2020. Along with automotive OEMs, agricultural equipment manufacturers such as John Deere, AGCO Corporation, and CNH Industrial have initiated offering basic OTA updates for their tractors and mobile agricultural equipment.
Ecosystem of Automotive OTA and Market Trends
Automobiles, agricultural machinery, and industrial machinery are complex than smartphones and involve multiple moving parts controlled by Electronic Control Units (ECUs). For example, at present, automobiles can have hundreds of microprocessors consisting of a few hundred million lines of code. Due to this, OTA updates for machinery are more challenging, resulting in the slow adoption of OTA.
Automotive OEMs are collaborating with OTA solution providers (software and hardware) to over this challenge (refer Exhibit 2). However, automotive OEMs such as Tesla and John Deere are developing in-house OTA capabilities.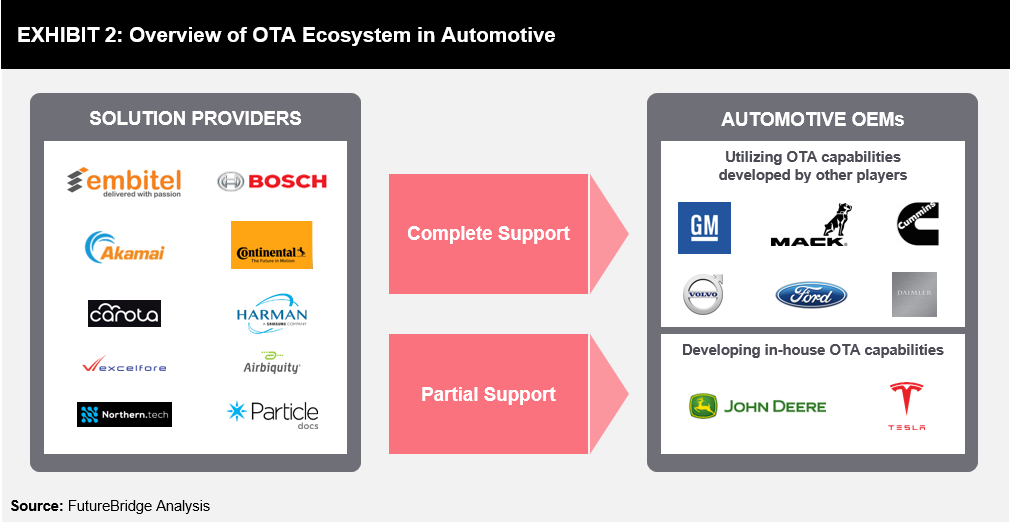 The ecosystem of OTA is changing with its popularity in the automotive sector. Recent market trends arising in this domain are collaboration/partnerships among solution providers & OEMs and backward integration by OEMs.
Collaboration/Partnerships
Multi-disciplinary technologies are involved in delivering OTA updates to end users. 'Safety and security,' 'embedded electronics,' and 'IoT' are critical for any OTA update. Due to this, software and solution providers are partnering with embedded electronic firms, IoT platform providers, and cybersecurity firms to improve OTA capabilities (refer Exhibit 3 and 4).


Several collaborations, joint ventures, and partnerships are taking place in the global automotive OTA space to meet varying demands from OEMs.
June 2019 – Airbiquity (develops software for vehicle telematics systems) and Wind River (Part of TPG Capital, offers IoT software for critical infrastructure) collaborated to develop a solution, which will proactively manage the software of connected & autonomous cars through the cloud.
Jan 2018 – Baidu (Chinese Internet Company) announced a partnership with Blackberry to develop an autonomous driving platform. Baidu developed an open-source autonomous driving platform (Apollo) with the help of Blackberry's QNX operating system.
June 2016 – Sierra Wireless and Movimento partnered to provide a cloud-based platform to maintain connected cars. The device-to-cloud solution offered by Sierra Wireless and OTA technology offered by Movimento combined to develop OTA updates of multiple software.
Backward Integration
Tier-1 automotive suppliers are implementing backward integration to deliver safe and secure OTA updates to the industry. Tier-1 suppliers are acquiring start-ups specializing in cybersecurity, data encryption, self-healing software, and artificial intelligence. Continental AG and Bosch have acquired cybersecurity start-ups (refer Exhibit 5 and 6) to strengthen their solution and service offerings for OTA in the automotive sector.

Factors Influencing the Adoption of OTA in Automotive
There are three main factors influencing automotive OEMs towards deploying OTA for their upcoming vehicles: High Recall Cost, Autonomous Driving, and Safety (Cybersecurity).
High Recall Cost
Automotive OEMs are adding electronic systems in vehicles to meet customer expectations of luxury and safety. Currently, vehicles are equipped with electric seats, auto-dimming mirrors, automatically adjustable mirrors, cruise control, LED lighting, advanced infotainment and navigation systems, parking assistance systems, powertrains, and battery management systems for EVs, Antilock Braking (ABS), and Electronic Stability Control (ESC).
In case of malfunction of any of these electronic systems (software), automotive OEMs recall vehicles for troubleshooting. According to the National Highway Safety Administration's data, in the US, recalls related to electronics and software defects have grown significantly. From 2007 to 2012, these recalls were at a 5% CAGR and from 2013 to 2016, these recalls witnessed 31% CAGR. FutureBridge estimates that automotive recalls in the US will witness a similar growth rate for the next four years (refer Exhibit 7). These increased recalls are mainly due to issues in integrated electrical components, software remedy, software defect, and software integration, which can be rectified through OTA.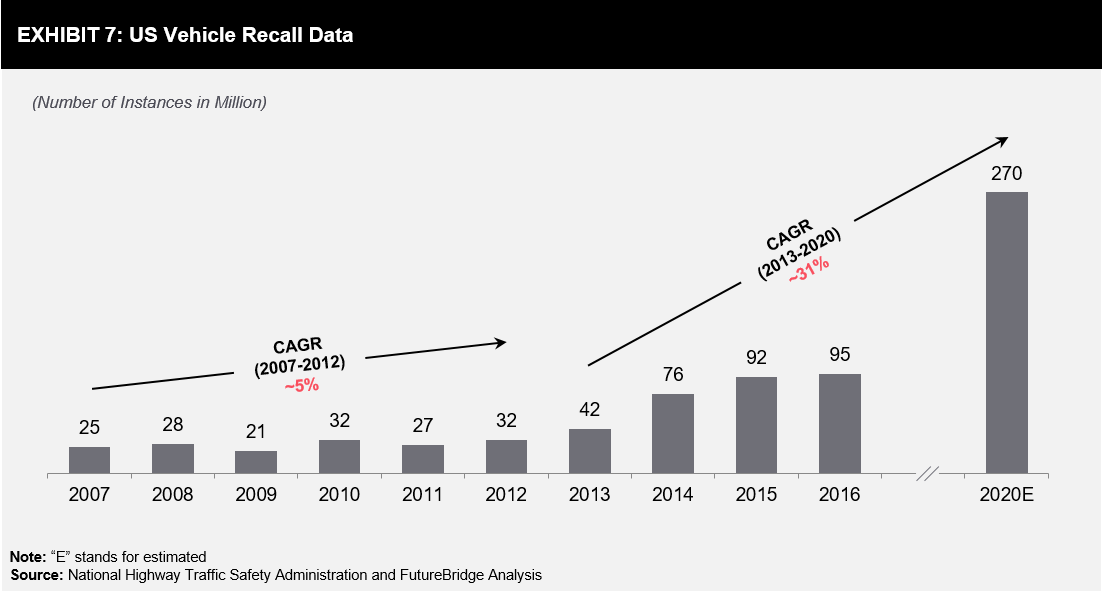 The cost associated with vehicle recalls increased in 2016; 95 million instances of vehicle recalls were recorded in the US alone. This has cost the US automotive industry around USD 22 billion in claims and warranty in 2016. 30-40% of these defects can be rectified with simple OTA updates by OEMs. Due to this, automotive OEMs are focusing on deploying OTA capabilities for both critical and non-critical vehicle components.
Autonomous Driving
Autonomous driving cars are the next frontier for global automotive OEMs. Currently, only some car models have level 1, level 2, or level 3 degree of automation. There are no vehicles that are commercially available in the market with level 4 and level 5 automation (for automation level definitions, refer to Exhibit 8). According to industry experts, in the next 5-10 years, there will be level 4 and level 5 degree autonomous vehicles, which will be commercially available in developed economies.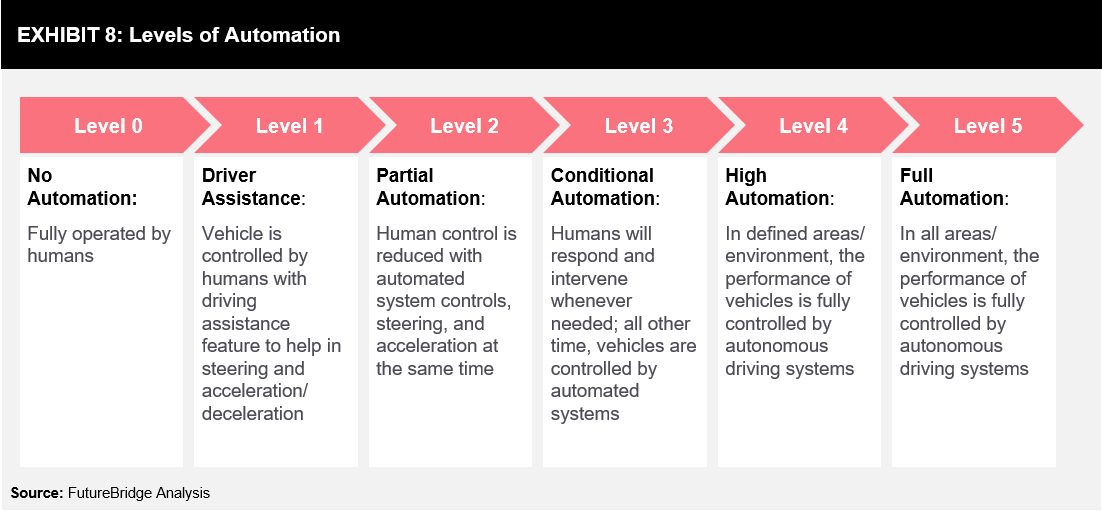 In 2018, Audi (Volkswagen Group) launched level 3 degree of autonomous driving systems for its A8 Sedan model. The company is planning to build fully autonomous (level 5) electric cars by 2021. The company is offering a subscription package for OTA updates, which include regular updates for navigation systems, onboard database (four times a year), and infotainment systems.
In October 2015, Tesla introduced autopilot technology for its electric cars through software updates. Tesla cars come with level 2/level 3 degrees of automation; the system is capable of autonomous steering (lane control), braking and steering control by recognizing signals on the road, and autonomous parking. In addition, Tesla cars can receive software updates (OTA) to improve autonomous driving abilities.
OTA updates are an essential part of autonomous driving technology, owing to which, key OEMs across the globe are focusing on developing OTA capabilities.
Cybersecurity
Traditionally (before the internet and smartphone era), there were limited 'computing ability' and 'internet connectivity,' and hence, there was no threat in terms of cybersecurity. Modern vehicles have a large number of ECUs, sophisticated infotainment systems, and navigation systems, which require software updates. When vehicles are connected to the Internet, there are risks related to personal data (such as GPS location and identity) theft. In some cases, hackers can even activate/disable vehicle brakes, control steering wheels, and change vehicle speed.
OTA solution providers are updating critical and non-critical systems at regular intervals to avoid such threats. Automotive OEMs and OTA solution providers are collaborating with cybersecurity companies to implement data encryption technology (refer Exhibit 5 and 6).
Industry Opinion:
Road Ahead
OTA updates for the automotive industry goes in hand with self-driving and connected cars. According to industry experts, OTA updates will be an essential part in the near future, and by 2030, 98% of the cars sold globally are expected to be connected cars. The value generated (in terms of price of the vehicle) by next-generation cars will be completely different from the current ones; in next-generation cars, the software will be a unique selling point (refer Exhibit 9). Automotive OEMs need to offer robust software, along with hardware systems, to sell their vehicles in the near future.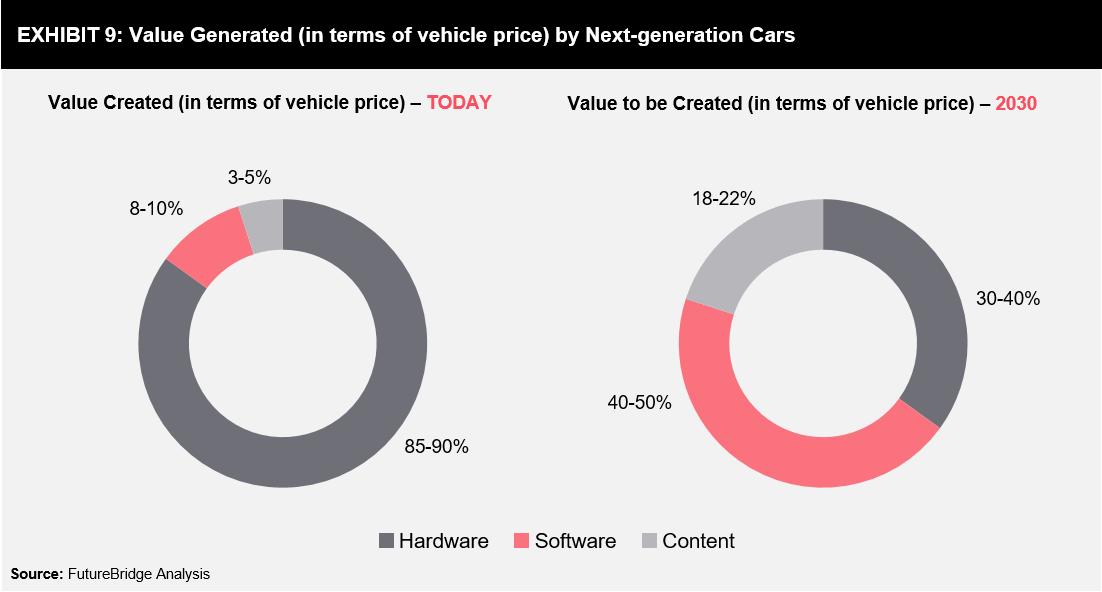 The telecom industry is at the forefront of OTA updates technology, and currently, this industry has already reached its maturity level with high market penetration (refer Exhibit 10). Automotive is expected to be the second-fastest-growing industry in terms of adopting OTA updates in the next 5–10 years. Agriculture machinery, aviation (only drones), and industrial machinery manufacturers are lagging behind in developing OTA capabilities for their machinery.