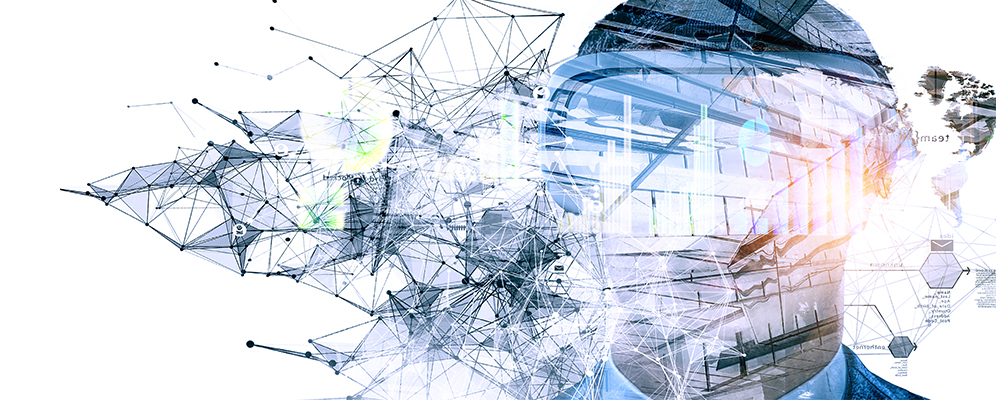 Potential Opportunities and Use cases
Digital Reality
Digital reality is commonly used as an umbrella term for augmented reality, virtual reality, mixed reality, and 360° content. They are all immersive technologies that are deeply engaging, multisensory, and digitized, with each having a different format. By design, augmented reality overlays digitally-created content into the user's real-world environment. Its features include transparent optics and a viewable environment wherein users are aware of their surroundings. Virtual reality is a technology that creates a digital environment that replaces the user's real-world surroundings and has an inbuilt body and motion tracking capabilities. On the other hand, mixed reality technology blends with the user's real-world surroundings and digitally created content in such a way that allows both environments to coexist and interact together. It utilizes advanced sensors for spatial awareness and gesture recognition. 360° content is created using a two-step process wherein multiple cameras or lenses capture an image from different angles. It is then "stitched" together and projected into an environment that supports the technology.
Introduction
Digital reality enables the seamless use of digital information to make choices in real-time. The three key foundational elements that underline the success of digital reality are the sources of data generation, presentation of data, and interaction with the digital world. The data is generated from sensors, cameras, IOT, and IIOT. These innovative technologies are helping to democratize access to visualization data, enabling engineers to take advantage of what was once the preserve to the specialist.
In the next 2-3 years, digital reality trends will likely gain momentum as more companies pilot use cases and accelerate them into production. Some early adopters are presently in their second or third iteration of product or service design. Others have taken use cases all the way to industrialization. For example, BMW has incorporated virtual reality into its automobile design process, while Air France has deployed "immersive entertainment systems" on some flights that allow passengers wearing VR headsets to watch movies in 3D.
Automotive manufacturers and dealers across the globe are making significant investments in a variety of consumer-focused digital technologies, ranging from tablet-based product guides to Virtual Reality (VR)-enabled applications, with an eye to increasing customer engagement on the showroom floor. The intent is to update and improve a sales process that has not changed for the better part of a century.
Trends and Adoption
The expansion of the core digital reality market over the past few years can be attributed to a number of beneficial factors; some of these factors are discussed below:
Increase in mobile apps with AR features: The large-scale global adoption of smartphones, rise in the number of mobile applications, and development of the application and content ecosystem have driven the digital reality growth. There are several developments happening in this field that are targeted to improve user interaction and AR features. The move is towards making fluid interfaces that is a blend of voice, body, and object positioning capabilities, which will make it possible for users to interact with data, software applications, and their surrounding environments. Though such functionality will develop further in the coming years, it can make interfaces seem much more natural.
Tetherless access: With the increasing penetration of smartphones in the current scenario, AR/VR will likely provide an "always on" connection to the Internet or to enterprise networks in the near future. Next-generation devices are emerging that offer users the benefit of immersive experience free of tethering wires or unwieldy battery packs. New developments in design and core technology are driving the market for next-generation comfortable digital devices free of tethering wires or bulky battery packs.
Declining ASPs of the hardware: As several large enterprises commercialize their solutions, the ASPs of smart glasses and HMDs are expected to decline. In terms of presentation of data, the use of low-cost, energy-efficient microdisplays specifically designed for tablets and smartphones could further improve the digital reality market growth. Declining prices of data-source hardware component, including sensors and cameras, are an added benefit.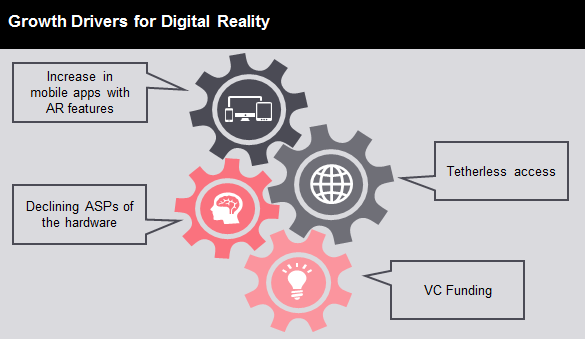 VC Funding: There is uncertainty regarding deep-pocket players investing in use cases across the digital reality spectrum. Large investment activity appears to be happening in the gaming arena, with one estimate suggesting nearly $10 billion in capital to be invested by 2021. Other areas of interest include retail showcasing, on-site assembly and safety, process manufacturing training, and travel/hospitality.
Patent Fillings: Post analysis of the patent filling trends, it was observed that the number of patents filled has almost grown more than 100% over the last 2 years from 2016 onwards, and this trend is expected to continue in the near future. Globally, almost a third of the patents are filled in the U.S., followed by China. These patents are based on some of the key applications that include integrated technologies of Virtual Reality (VR), Augmented Reality (AR), and Mixed Reality (MR), which are used for monitoring operations of lifting system in buildings and improving as well as minimizing the effect of errors, labor, and safety problem. A total of 515 patents analyzed are represented in the exhibit below.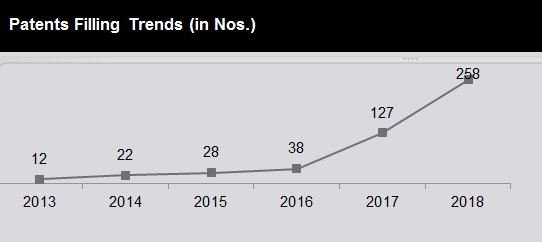 Opportunities
There are several opportunities where various industries can benefit from digital reality. From real-time support during repair work to training sessions before the deployment on the job, digital reality technology has widespread applications. Below are some ways of benefiting from it in detail:
Immersive connection: Digital reality makes it possible for co-workers to engage, share information, and support colleagues in other locations. It is much more than video telephony. For example, engineers sitting in a regional office will be able to witness field workers on-the-job as they repair and maintain remote equipment and offer necessary guidance to them. Videoconferencing and live chats staggered by broken connections and unimpressive camera angles may become immersive interactions that contribute to replicated facial expressions, gesticulations, and holograms in real-time. Teams will be able to work together on shared digital assets such as virtual whiteboards or digital models, which can be manipulated in real-time.
Knowledge sharing: Digital reality can offer knowledge workers (a broad term that basically applies to anyone using a computer) access to specific information at the exact moment when they need it. This is more than a document-sharing tool as it can present information in a visual context. For example, wearing DR glasses, construction engineers can witness a detailed description of a project's electrical and plumbing parts, and also study how the individual parts will fit into. The same flexibility is applicable in the initial conceptualization phase, which includes architecture and interior design, consumer product R&D, or supply chain and logistics mapping.
Immersive analytics: It can further enhance virtual collaboration by helping users explore data in multiple axes and dimensions. For example, by applying immersive analytics to historical data on urban cell phone tower placement, engineers immersed in a virtual environment might be able to move cell phone towers around a map to gauge the potential impact that each placement could have on nearby residents' quality of life.
Training and development: Some companies are using digital reality to immerse trainees in lifelike situations that would be too expensive or logistically impossible to recreate on the ground. For example, UPS provides VR driving tests that allow new drivers to prove themselves in a virtual environment prior to taking the wheel of a large delivery van.
Where can enterprises have a head start?
Few companies have fully commercialized their digital reality deployments till date. They are focused on learning more about these solutions and surveying the growing AR/VR market. As DR components are still being tested in enterprise environments, diving headfirst into an ambitious AR/VR initiative could be tricky and may not give expected results. Instead, enterprises may take the following preliminary steps to lay the foundation for larger projects implementation:
Get a toe hold of the technology: Traditional IT skillsets offer very little practical value to those working with AR, VR, 360°, and immersive technologies. Organizations may use this opportunity to upskill and increase the focus on new and developing technologies. Formal and informal training and a few hours spent with one of the many development kits can help in developing the necessary skills and vocabulary.
Look for relevant use cases: Across industries, companies, and government agencies are developing use cases and piloting DR technologies, and in certain cases, they are moving towards production deployments. Each enterprise may explore and understand the possibilities within its own sector and competitors. Likewise, enterprises may look at use cases in adjacent sectors, thereby pursuing their DR initiatives. Finally, suppliers, vendors, and business consultants may be willing to provide their perspectives on potential use cases and opportunities that can be jointly pursued.
Use cases within various industry verticals
There are several uses cases across industries ranging from military to marketing & sales. Companies have found rich and varied applications for digital technology. Below are some of the use cases in the target sectors:
Automotive: Ford began working with the Oculus Rift team in 2014 to design, prototype, and evaluate vehicles in a virtual setting. VR is an obvious fit for immersive car tours and experiential test drives. Consumers could experience the Volvo XC90 by using the Volvo Reality app and the Google Cardboard headset. Additionally, Audi created an augmented reality app to allow users to view cars nearly anywhere, not just at a car showroom. It outfitted showrooms with virtual models to educate customers on vehicles' inner workings as well as help them choose and preview thousands of model configurations and interior and exterior colors and fittings. Users could also create a personalized test track to see how the car operates.
Semiconductors: A majority of the front-end semiconductor fabrication plants, particularly in the wafer fabrication process, are using highly automated processes with few operators to oversee massive amounts of equipment and operations. AR/VR innovations that are a part of Industry 4.0 brings value and offers operators with broader visualization and high control over their sprawling production environments. Latest software with open and propriety applications help operators to access real-time data and status by placing their mobile devices or tablets on the equipment. In the near future, the visualization of the entire production floor in real-time using VR 3D maps might also be possible.
Oil and gas: AR/VR combined with the data collected through IoT devices are helping maintenance technicians make decisions without the need to be present in remote locations, such as oil wells. Various suppliers are helping clients in the oil and gas sector to monitor drilling and operations through its VR technology. It can help scientists determine the location and test drilling sites, enabling them to virtually test plans for oil wells, and thus, optimize procedures in the process.
Product design and development: Digital reality offers engineers a hands-on experience with their early-stage product designs, especially when those designs exist only within a software program. This is helpful in allowing engineers to visualize how tweaks and changes to one part of the design could affect an overall layout. Engineers are able to make changes to a product using a particular software, and later, see the results on a virtual reality display. They could rotate the image, see it from all angles, and understand exactly how a change would affect every aspect of the design, thereby offering a better idea as to how a finished product might look.
Risks
The advent of digital reality and change in the way people interact with data, the environment, and each other, have led to cyber risk implications of technology systems becoming even more complicated. While organizations are not immune to a cyber-breach, they are expected to secure virtual as well as physical worlds, at a time when the technology is being deployed in critical situations, such as surgical procedures or military training. Rather than viewing these issues as obstacles, meeting them head-on early in the development process can help mitigate cyber risks, enable faster deployment and innovation, and minimize brand and reputational risks. Organizations may look at the below perspectives:
Physical damage: Risks associated with digital reality are varied, becoming more nuanced and serious as applications are ported onto DR platforms. They can include physical harm, property damage, public safety, and operational disruption. With users relying on VR headsets and the content served to guide their actions and responses, it is critical to maintain the integrity of the data, device, and infrastructure to minimize physical harm, disorientation, and action triggered by erroneous information.
User identity: The protection of user identity and data is one of the key aspects that need to be analyzed. Users upload and generate their own content and further interact with other users. The key challenge is how to protect the data without sacrificing a rich end-user experience. This requires a large inventory of the data that organizations are extracting and how they are accessing, using, and storing it. Data privacy and security controls that organizations implement should also be placed for digital reality applications.
Third Party Access: Another dimension is third-party access to an individual's platform and network. If organizations are using third-parties or open-source software to build the platform, they should look at mitigating the risk of overexposing the code or data due to poor or malicious design. Organizations should also look at building the security right from the start of development, and extend it throughout the entire technology ecosystem. There are chances that a large number of developers may not consider risk implications until they face them. Enterprises need to understand components that enable their DR experience; review the policies and processes of their developers, third-party vendors, and partners; and ensure they follow the organization's security protocols.
Conclusions
Digital reality is poised to transform the way individuals interact with data and experience the world around them. Presently, the applications of digital reality appear to go well beyond the consumer segment, with a reach that extends across the enterprise world. Accordingly, businesses should consider investing in infrastructure and developing new operating models to improve connectivity and fast track the adoption of digital reality technologies. Indeed, digital reality is swiftly progressing from hype to reality, as it is evident from the market growth realized over the years, offering a plethora of benefits to organizations. The time seems apt for a full array of business professionals—from product planners to strategists to marketing and beyond—to understand the disruptive potential of digital reality and put the technology to use. FutureBridge understands the technology and market aspects of the domain and is placed very well to support with more information.
Development of these game-changing capabilities may not happen overnight. As with any development initiative, there are real technology and market issues to consider, including core integration, cloud deployment, connectivity, and access. Digital reality's component parts are still evolving, as are standards and governance strategies. Yet even with these headwinds, digital reality initiatives are progressing at a rapid pace.