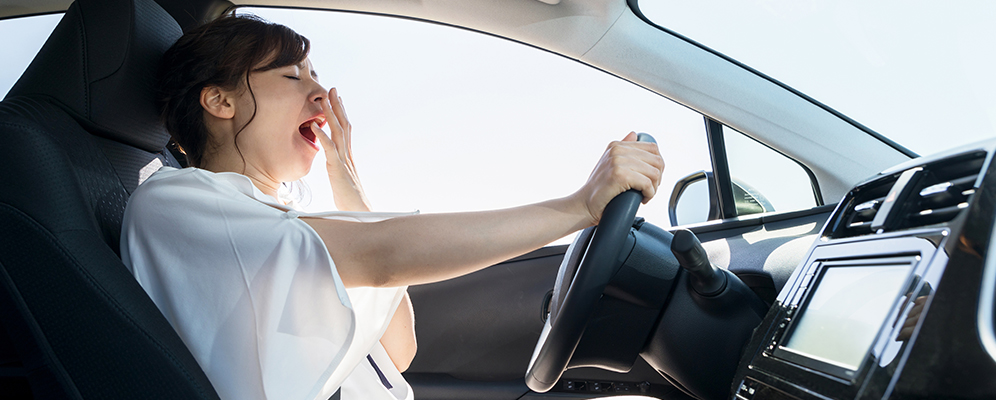 Driver Monitoring: Key Factors and Needs for Passengers and Commercial Vehicles
Connectivity features such as navigation and hands-free calling have enhanced the in-vehicle experience for drivers. However, these features have also become a key source/enabler for lack of focus in drivers. Key sources of distraction are using cell phones (calling, texting, and others); using connected vehicle features, such as navigation and infotainment; handling kids/pets; applying makeup; zoning out.
The use of cell phones to talk or text while driving is the most common reasons for distracted driving accidents. In fact, in the US, the National Safety Council estimates that 26% of all car crashes involve cell phones. As connected features get integrated into vehicles, they increase the level of distraction by integrating/connecting with a lot of other services available through phones.
Further, as level 2 & 3 autonomous vehicles penetrate masses, they also bring a few challenges, listed below:
The sudden and unexpected handover of dynamic driving task to the human driver;
The driver's ability to immediately assume control; and,
Issues with driver misconception on vehicle's automated driving capabilities (e.g., using a Level 2 system as a Level 3+ system)
These challenges would create major problems in public/driver safety.
The need for driver monitoring is arising not only in the passenger vehicle segment but also in the commercial vehicle segment, wherein challenges are enormous. Apart from all of the above-mentioned challenges, drivers are also working long hours, many a time more than what is recommended or stipulated. In these cases, driver fatigue & drowsiness is the primary cause of accidents. There have been rules and logbooks to monitor working hours; however, they have not been the perfect solution to control the number of vehicle accidents caused due to driver fatigue. Drivers are also known to not willingly comply with the strict guidelines/rules to meet deadlines and remain competitive.
Driver drowsiness, distraction, intoxication, aggravated state of mind, etc., have been a major safety issue worldwide, and systems to monitor driver behavior are becoming a priority for vehicles built in the near future.

Illustrative Image of Driver Monitoring Systems. Image Credit: Bosch
Regulators and Policy Makers Opting for Driver Monitoring
A majority of fatal accidents have been attributed to mistakes made by drivers. This can include distraction or unsuitable state of mind and body (drowsiness, fatigue, intoxication, road rage, etc.).
As technologies are available to determine the driver's state of mind, regulators across the globe are propelling to implement such technologies, so as to improve public safety. Regulations and guidelines are primarily focused on monitoring fatigue, distraction, and intoxication.
Another example of driver monitoring systems is Advanced Driver Assistance Systems (ADAS) or L2/3 capable vehicles, where drivers are expected to pay attention and be ready to assume control if/when needed. Most of the time drivers are unaware of the exact capability of the ADAS system, which might emerge from how they are named/marketed, e.g., Autopilot, ProPILOT, etc., which could hinder enhanced safety of the driver and passenger.
In addition, with technological advancements in automobiles, advanced vehicles seem to take care of several difficult situations. This, in turn, offers confidence to the driver that the vehicle is highly capable of preventing accidents. However, this is not the ideal case, and human intervention is required in many instances. Driver monitoring for distraction becomes vital to ensure that these technologies are not abused.
25 million people killed worldwide annually in road accidents – World Health Organization
40% of all US trucking accidents caused by operator fatigue – National Highway Traffic Safety Administration
5% of all US car accidents are caused by drowsiness – AAA Second Strategic Highway Research Program Naturalistic Driving Study
15% of all US injury crashes involve distraction – NHTSA
7% of all US drivers involved in fatal crashes were distracted – NHTSA
11 US teens die each day from Texting & Driving – US Centers for Disease Control and Prevention
30% total car driver time spent on distracting activities while driving – European Research Support Office
Several steps have been undertaken to ensure future vehicles adopt driver monitoring features. These are listed below:
Europe New Car Assessment Program Roadmap 2025 – Driver monitoring as primary safety systems starting in 2020 (likely required 4/5 star rating); target elimination of accidents associated with driver distraction and drowsiness
European Commission Staff Working Department (2018) – Actions to be considered: Mandatory application of drowsiness and attention, detection, and mandatory application of drowsiness (including distraction) recognition
National Transportation Safety Board – Prompted by fatal autopilot crash (Uber Arizona accident); driver monitoring to assure appropriate driver engagement on all level 2+ vehicles
Several Technologies Providing Driver Monitoring
There are multiple types of sensors, computing hardware, and algorithms used in driver monitoring systems. Major technologies used in automobiles are depicted in Exhibit 1: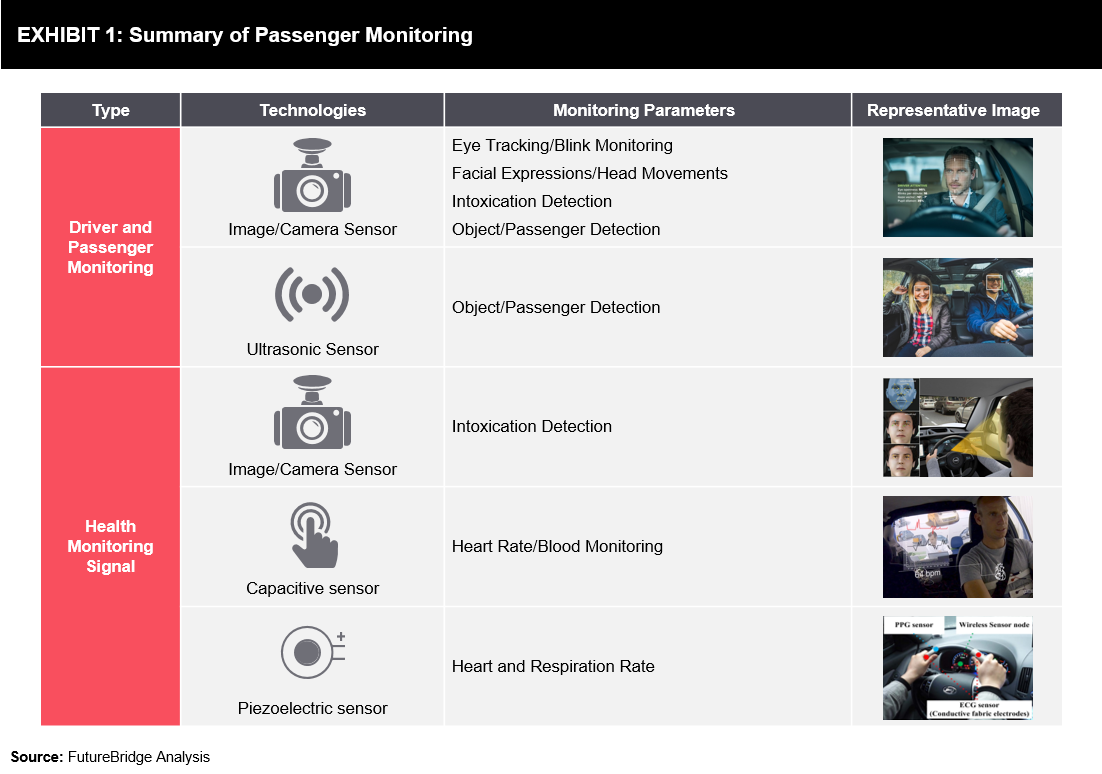 Adding Value by Monitoring Health Parameters
Nowadays, the present generation is becoming more health-conscious and are willingly adopting innovative technologies, such as wearable sensors. A lucrative opportunity awaits for automobile developers with innovation in automotive interiors. Advanced features used in automobile devices such as driver monitoring systems help enhance both driver and passenger safety.
Health monitoring features and technologies are independently capable of driving consumer perception and demand; the availability of driver monitoring systems simply makes it more synergic and cost-effective.
Some of the key possibilities are listed below:
ECG Monitoring: Electrocardiogram (ECG) may be monitored using sensors embedded in the steering wheel; however, the fact that many people use only one hand to drive makes this less feasible. An ECG can be monitored in an unnoticeable manner using sensors embedded in the seat back. The emergence of new generation sensors has made the task of bio-signal acquisition easy. Conductive fabric and capacitive electrodes are used to acquire ECG from the driver.
Respiration Monitoring: Respiration rate, which is a vital sign, may also be monitored by using Electric Potential Integrated Circuit (EPIC) sensors or accelerometers.
Integrated BP Monitor: BP can be effectively monitored by integrating a small form factor BP monitor on the "health cockpit" of the car. It is also possible to use BP monitors, which are available in the wristwatch form factor.
Integrated Blood Glucose Monitor: Blood glucose monitor can be integrated with the infotainment system. Based on the glucose level detected, corrective action may be carried out.
Allergy/Asthma Monitor and Alerts: Based on the location-based alert on pollen levels and pollution levels, the allergy alert system can be implemented.
Opportunities in Driver Monitoring Systems (DMS)
Recent market trends show innovations and benefits of implementing DMS in vehicles (refer to Exhibit 2).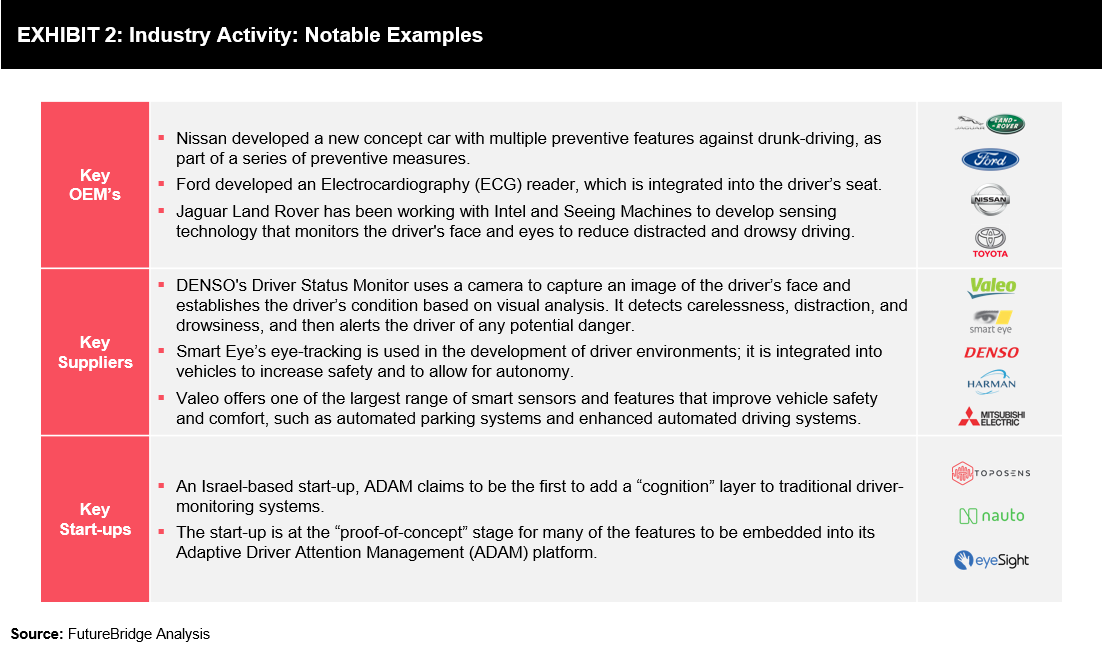 Automotive Players Should Explore their Potential in Evolving Industries
Driver monitoring systems can be an effective technology to curb accidents and fatalities. For OEMs and suppliers, it is a crucial way to maintain brand image and tech leadership – not only by having this advanced feature but also by ensuring that lower-level autonomy features do not get bypassed due to the abuse of ADAS systems and resulting failure. DMS features result in higher safety ratings and ratings on sale platforms.
Further, adding a layer of passenger health monitoring increases possibilities to develop and monetize newer services. This is important for the evolving automotive industry wherein the growth through sales is declining, and aftermarket is also reducing due to better materials, build quality, and electrification.
Thus, DMS seems to offer a significant opportunity for OEMs and suppliers to generate value, build brand, and capabilities in their digital-smart offerings portfolio.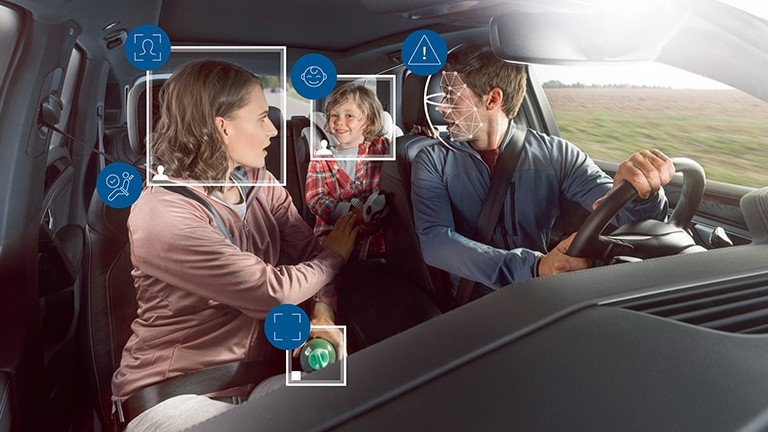 Illustrative Image of Driver & Passenger Monitoring System. Image Credit: Bosch