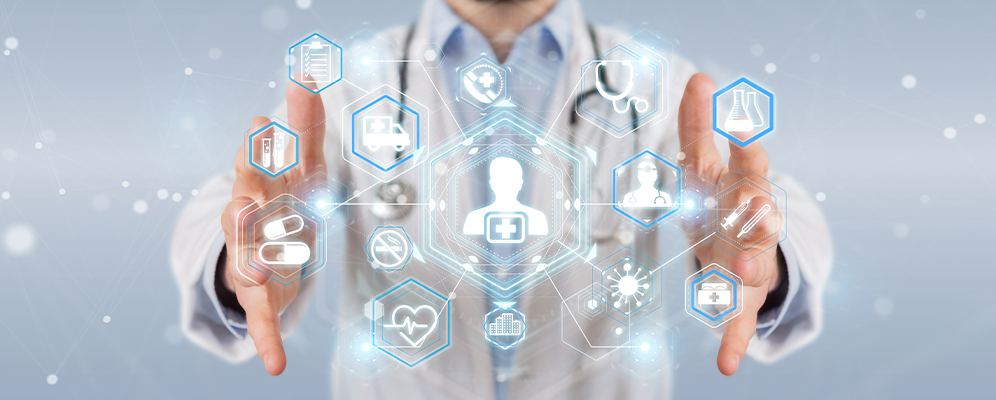 With changing healthcare dynamics and growing awareness, the patient has become the heart of the care continuum. The patient has traversed from being 'decision-follower' to 'decision-influencer'. It has become imperative for healthcare stakeholders to actively engage their patients. In this article, emerging digital trends have been identified that can effectively engage patients, thereby improving healthcare outcomes and enhancing the care experience.
Introduction
The healthcare industry has four key stakeholders, namely, patients, providers, pharmaceutical companies, and payers. Over decades, the industry has been dominated by providers as they are considered the key care decision-makers, and all other stakeholders revolve around them. Physicians are primarily responsible for deciding on drug brands, diagnostic labs, treatment protocols, etc. In certain instances, pharmacists became consultants when it came to Over-the-Counter (OTC) drugs. Patients were largely uninformed and hardly influenced the decision-making process. As a result, pharmaceutical companies concentrated all their activities around physicians and pharmacists, who were the key decision makers.
Patients have now started taking a keen interest in different components of the healthcare industry that include various lab tests, drugs and its brands, treatment protocols, insurance, etc. and have started appreciating industry stakeholders who are undertaking efforts to educate and empower them.
Awareness regarding diseases and the medical field has instilled power and confidence in patients; power and confidence not to challenge the doctor's decision but to ask relevant questions and be a part of the decision-making process.
This subtle shift of power with the entry of new influencers in the ambit of the decision-making process and the decision of the US Congress to link care reimbursement under Affordable Care Act (ACA) with patients' experience have led to patients becoming the heart of the care continuum.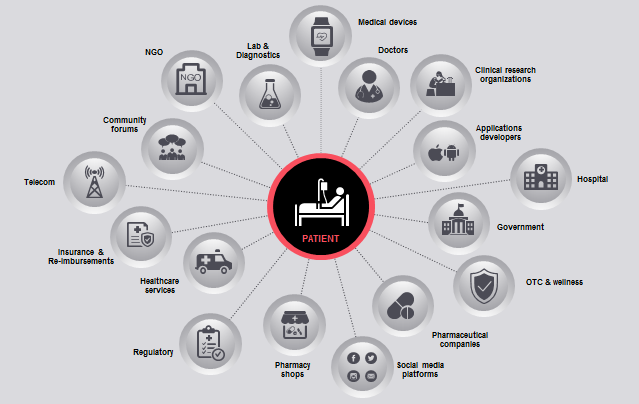 Pharmaceutical companies and providers have started exploring touch-points to interact and engage patients to increase their visibility, boost brand recall, and influence the patient's perception of the company or the care practice. Presently, these stakeholders are propagating their patient-friendly approach towards empathizing with patients and considering them as partners.The traditional ways of using print materials, appointing counselors for a chronic disease patient, etc. could provide limited touchpoints to fully engage the patient.
Technology and digitalization can effectively overcome this issue, as healthcare organizations are leveraging technology to supplement their traditional routes and help increase the number of touchpoints, thereby ensuring complete patient engagement.
Hence, a need arises to define patient engagement, especially from the pharmaceutical company's and provider's point of view, and the role played in it by digitalization.
Patient Engagement
It can be defined as an activity, initiative, or a program launched by a pharmaceutical company or a provider to deploy multiple touchpoints by providing value-added services using digital mediums to ensure complete engagement with patients, thereby empowering them to make a shared-decision on the care provided, enhancing their care experience and health outcomes, and eventually allowing healthcare organizations to achieve marketing objectives.
Hence, the key benefits associated with patient engagement can be broken down into Explicit and Implicit benefits:

Role of Digitalization
Digitalization has played a pivotal role in amplifying the impact of the stated benefits associated with patient engagement and helping stakeholders achieve their objectives. With the help of the Internet, mobile technology, and social media, these stakeholders are trying to create an omnichannel ecosystem, allowing them access to multiple touchpoints with patients to facilitate interaction.
This ecosystem uses multiple digital channels to engage patients. Most of these digital tools and techniques used can be segmented into three 'i's: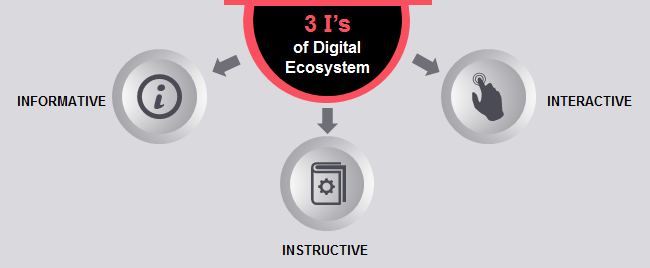 Instructive – Improves treatment adherence and compliance
Informative – Spreads awareness and education
Interactive – Allows healthcare stakeholders to interact with each other
Different digital tools used to connect with patients have been enlisted below, along with a few key statistics.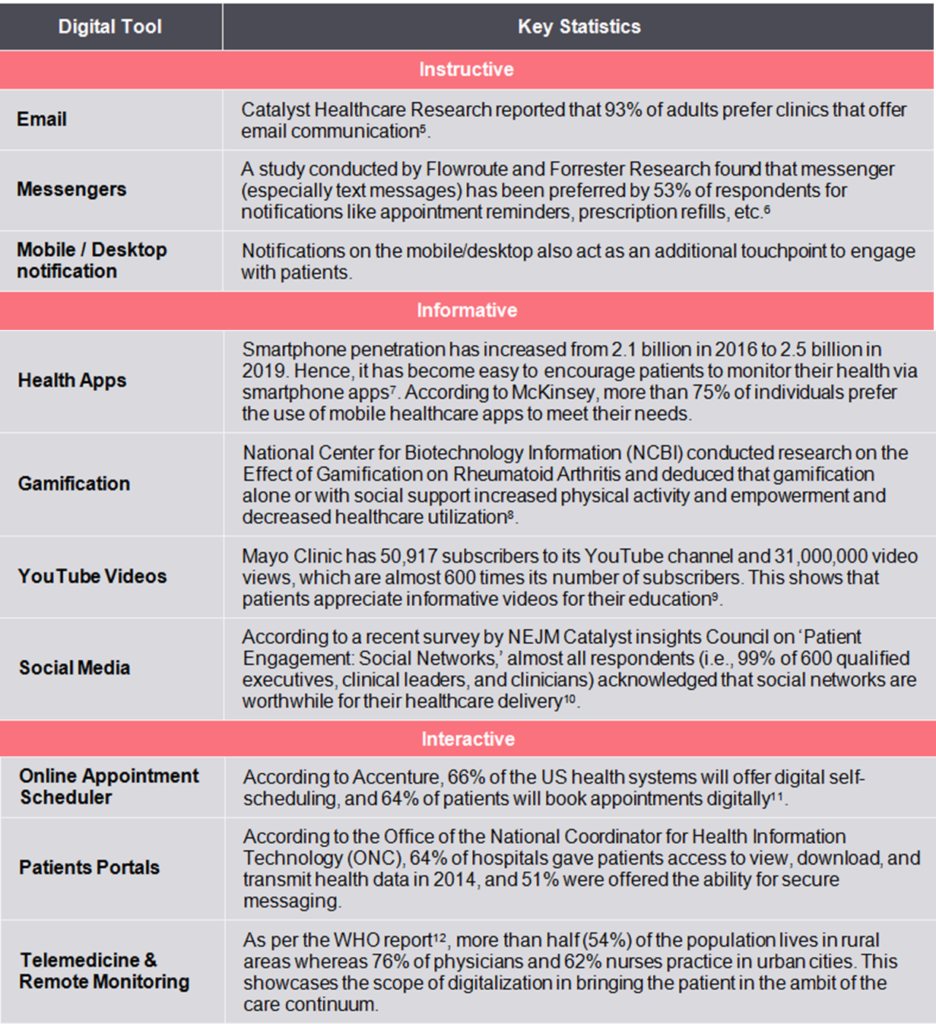 Several pharmaceutical companies have started using one or more digital channels to engage with their patients, either by encompassing multiple buckets or by focusing on one.
One such example is Pfizer, a pharma behemoth [focusing on Interactive bucket], which has recently started an initiative known as 'This is Living with Cancer.' Under this initiative, the company launched the 'LivingWith' healthcare app to enable remote interaction among cancer patients, their families, and physicians. The app also allows patients to record certain important information such as lab reports, track mood or pain, and learn about local events and nutrition1.
Similarly, another pharma giant, Merck & Co. [focusing on Informative bucket] launched dual healthcare apps known as 'Merck Manual Consumer Version' and 'Merck Manual Professional.' These apps offer convenient access to verified medical content, drug, and treatment information as well as an extensive database on diseases, symptoms, and up-to-date expert knowledge2.
Medisafe is an example of an organization using multiple channels covering more than one [Instructive and Interactive] bucket. It has launched an app that provides multiple patient engagement tools, such as medication & refill reminders, drug interaction warnings, family scheduling, and coupons. It also allows patients to communicate with their physicians3.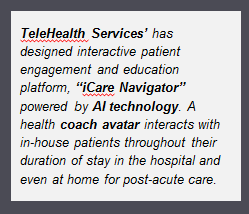 Aetna Inc., a managed healthcare company that sells traditional and consumer-directed healthcare insurance plans and related services, launched a program known as 'NeoCare Solutions', where parents of newborns in NICU or those recently back home from the NICU are provided with a personal coach with whom they can interact through mobile app or telephone to resolve their questions, concerns, and worries4
Deploying digital tools to engage patients covers only half of the patient engagement circle. These tools should be mapped to Key Performance Indicators (KPIs) to gauge its efficiency and create a negative feedback loop system to continuously improve on a program to achieve end objectives.
Future – New Era of Patient Engagement
In addition to the existing technologies, advanced technologies such as Machine Learning (ML), Internet of Things (IoT), Artificial Intelligence (AI), etc. are also being explored to launch unique engagement programs.
Companies are gearing towards creating an integrated ecosystem using IoT with an intelligent algorithm that links engagement programs to the patient's health outcomes. This will help quantify the benefits and also convince insurance companies to cover these engagement programs by demonstrating those benefits. Besides, it will empower physicians to make data enabled care decisions. Moreover, pharmaceutical companies and payers are responsible for designing insight-led innovative products and marketing strategies.
AI/ML-based Chatbots, Virtual Coach, and Robots are used to educate patients and providers on such initiatives, with the aim of creating awareness and increasing the adoption rate. These applications can be embedded in deep-learning technology to create a self-learning recommendation engine, which will assist providers in identifying personalized treatment regime for an individual patient.
The adoption rate of these technologies is on the rise, but the momentum is lacking.
Challenges – Adoption Rate Limiters
Industries such as banking, retail, e-commerce, etc. have adopted digital technologies for years to effectively engage their customers. However, the healthcare industry is facing various barriers that account for a relatively lower adoption rate. Some of these barriers are:
Regulatory restriction on pharmaceuticals companies for direct interactions with patients
Standards and compliances such as HIPPA for handling sensitive patient information
Difficulty in quantifying the positive outcomes of such activities
Underdeveloped technical infrastructure
Identification of the right mix of digital tools
Cost of deployment
Sluggishness in the change of mindset,e., moving from a physician-centric mindset to patient-centric mindset
Conclusion
Digitalization is not the end of traditional channels, but a supplement to it. It has certainly made inroads in patient engagement programs conducted by various healthcare stakeholders. The reach of these stakeholders has increased multifold with the advent of digital technologies. There are tremendous opportunities for healthcare companies to exploit these technologies and launch products that can help in successful patient engagement. In addition, it becomes essential to identify the right mix of channels to amplify the effect of patient engagement tools. The focus of healthcare organizations is to overcome the barriers, improve healthcare outcomes, and simultaneously, enhance the overall patient care.
References