Blog
Cannabis-based Therapies for Companion Animals – Challenges and Opportunities Ahead

Animal Health & Nutrition

Life Sciences
Mar 3, 2020
1587 Views

6 min read
Add to Favourite
Cannabis-based therapies, mostly experimental benefits are reported
After years of the controversial status of cannabis, public and commercial interest in the exciting and newly emerging therapy for companion animals has increased and resulted in a number of studies and clinical trials describing the benefits and safety of phytocannabinoids.
Experimental benefits from the use of cannabis include the reduction of anxiety; relief of pain; improvement of mobility in animals with osteoarthritis; reduction in tumor size; improved appetite; improved control of type 2 diabetes; reduction in inflammatory conditions and digestive issues; and enhanced control of epileptic seizures.
The supplementation of hemp in animal feed can be extremely valuable for treating several chronic diseases, including cancer, diabetes, heart disease, arthritis, atopy, Alzheimer's disease, and other ailments have an inflammatory component. Currently, veterinarians recommend readymade hemp-based supplement – Canna-Pet containing non-psychoactive cannabidiol for cats and dogs. At present, Palmitoylethanolamide (PEA) can be used to support skin health in companion animals; it is available under the trade name, Redonyl.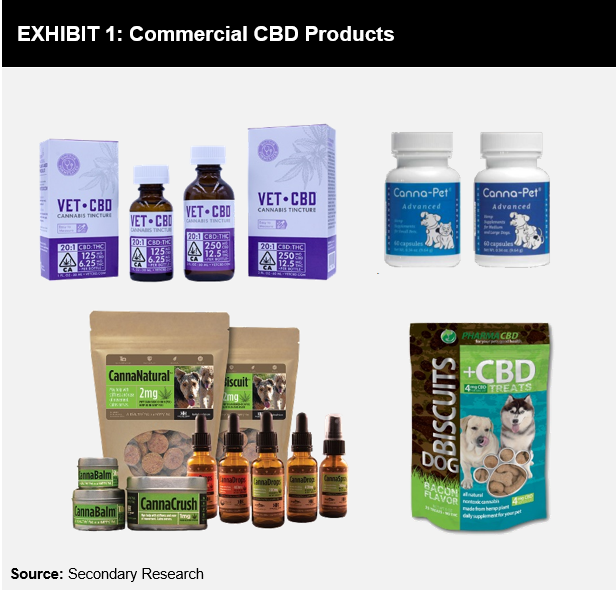 The most frequently reported use of cannabinoids (CP-55,940) in companion animals-rabbit (on a pre-clinical basis) is in association with the topical treatment of glaucoma.
Stringent regulatory guidelines regarding the use of cannabis
The Drug Enforcement Administration (DEA) of the US has persisted in its controlled substance classification of the Tetrahydrocannabinol (THC) found in the cannabis plant, whether it is from the state-legal medical cannabis with high THC (marijuana) or the federally legal low THC (hemp). DEA has listed hemp and marijuana as a Schedule I controlled substance, indicating that they have no medical applications and are potentially toxic or addictive. Dogs have shown high sensitivity to adverse neurological effects of the psychoactive decarboxylated THC. However, they can benefit from the use of the non-decarboxylated, non-psychoactive Tetrahydrocannabinolic Acid (THCA), without any fear of a visit to the veterinary emergency room.
A single product – Epidiolex derived from cannabis has been approved by the FDA for use in individuals suffering from rare and severe forms of epilepsy. The drug can be used in an extra-label manner by veterinarians in consensus with the Animal Medicinal Drug Use Clarification Act (AMDUCA).
Establishing safety and efficacy end-points is a real challenge
There is a wide range of clinical signs associated with Cannabis toxicosis, majorly urinary incontinence and dribbling by a depressed or ataxic dog. Several deaths have been reported due to Cannabis toxicity, primarily as a result of associated complications, such as aspiration.
Despite the limited information on the safety and efficacy of cannabinoids in pets, the cannabinoid pet treat industry is flourishing. Due to state-wide legalizations in Colorado, Washington, Alaska, Oregon, Nevada, California, Maine, Massachusetts, Vermont, Michigan, and the District of Columbia, several pet owners are beginning to offer cannabinoid-containing pet products to their companion animals in hopes that they provide therapeutic benefits.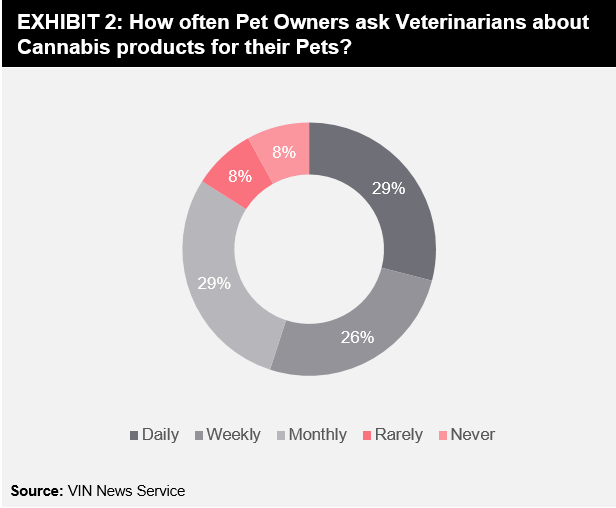 According to BDS Analytics in 2017, the sale of cannabis products marketed for pets at medical and adult-use cannabis dispensaries was approximately USD 7 million in Colorado, California, Oregon, and Washington. In Colorado, the sale of pet products increased by 49% in 2017 versus growth across all product categories, which is at 15%.
Cannabidiol (CBD), a non-psychoactive compound in the marijuana plant (Cannabis sativa) is the primary cannabinoid listed on pet treats. Due to non-psychotropic effects, CBD has been marketed as an herbal supplement. Companies producing and offering CBD pet treats indicate that these treats may help companion animals with anxiety, arthritis, and cancer. However, at present, CBD products lack FDA approval and any conclusive clinical studies in animals.
CBD may prevent mitochondrial-linked neurotoxicity diseases, such as Huntington's disease, due to its regulation of mitochondrial Ca2+ levels. As a result, CBD has shown to be effective as an anticonvulsant in the treatment of epilepsy. However, the immunosuppressant effects of CBDs may pose a risk for immunocompromised animals.
Evolving players in providing cannabis-based therapies in pet animals
A right mix of strategy and technology is needed to reap the benefits
Previous clinical studies in humans suggested that cannabis-based products possess possible benefits for patients with certain medical conditions. For example, Epidiolex™, a CBD-based drug, was approved by the FDA in 2018 to treat Dravet syndrome and Lennox-Gastaut syndrome. In contrary to the present clinical efficacy studies conducted with Epidiolex™, marijuana, including CBD, is still considered as a Schedule I drug. These studies suggest a greater gap in knowledge and opinion in the field of cannabis research and medicine, and the gap is even wider in veterinary medicine.
With the development of CBD products, the veterinary research community needs to evaluate the pharmacodynamics and pharmacokinetic parameters for short- and long-term duration to ensure the safety and efficacy of CBD products, followed by extensive clinical trials to assess CBD's and other cannabinoids' impact on various diseases in companion animals.
Further, there is a critical need for increased education and awareness among pet owners about the composition, consistency, and safety of various cannabis-based products for companion animals. In general, veterinary dosages of cannabis are lower than those in humans and must be administered gradually by means of a dose titration to generate tolerance and avoid psychoactive effects as much as possible. Therapies with cannabis both in animals and humans are safe and generate few adverse effects, provided the right products are used in the correct dosage.
The potential use of CBD for companion animals needs to be taken seriously to minimize the risk of unauthorized and non-professional treatment by pet owners. Statutory rules may differ in various countries, and the use of cannabinoids/medical marijuana should be in agreement with the respective guidelines.