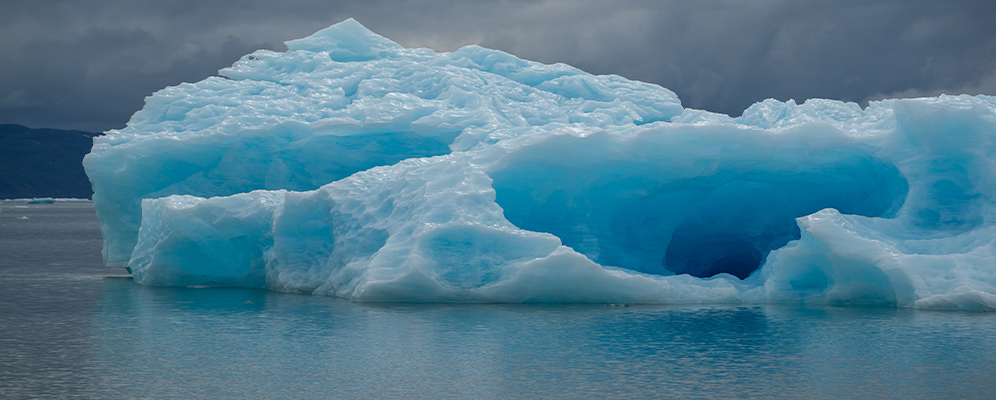 Arctic's Status Quo: Receding ice and much more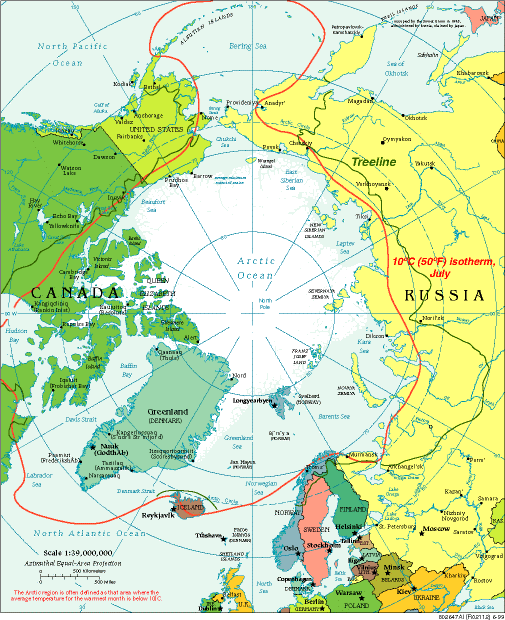 Global warming over the last decade has augmented the melting of ice in the Arctic region, making it easier to drill for massive oil and natural gas reserves. The region is the world's largest remaining frontier of undiscovered oil and gas resources. It is little explored or understood, and accessing these reserves presents challenges (remote location, harsh weather, and ice cover) and pitfalls not encountered in traditional Exploration & Production (E&P) operations. The U.S. Geological Survey (2008) estimates that there may be 90 billion bbl of oil, 1,669 tcf of natural gas, and 44 billion bbl of natural gas liquids.
The Arctic region covers an area of ~8 million square kilometers, with interests belonging to Denmark, Canada, Iceland, Finland, Russia, Norway, Sweden, and the United States.
Russia has the upper hand in the great Arctic oil race, where E&P companies need the approval of President Vladimir Putin to drill in the most environmentally vulnerable region on the planet. In 2017, Russia constructed a new military base in the region to strengthen its economic and geopolitical power. With the Russian Arctic break even of ~US$50/bbl, Gazprom estimates that most arctic projects under Russia's jurisdiction could presently be profitably developed at the current oil price, which is more than US$70/bbl. ExxonMobil recently won the contract to explore underneath the Kara Sea.
Due to an increase in Russian activities, the US might also allow access to the Chukchi Sea for exploration, which it had earlier banned for drilling due to environmental concerns. However, major players such as Shell are pulling out of their Arctic development due to financial pressures. Companies such as Equinor (Statoil) and Lundin are planning to increase drilling in the Norwegian's Arctic shelf in the Barents Sea.
The Arctic region can be divided into several different areas, such as Northern Canada, The Barents Sea, Alaska, East Coast of Greenland, The Kara Sea, Sea of Okhotsk, and Onshore Russia. Except for certain areas of Western Russia and Norway, the Arctic region lacks basic infrastructure for transportation. Realizing the hydrocarbon potential of the Arctic will not only need favorable regulation and policies but also extensive efforts to address the technical and commercial requirements.
Major technical challenges faced by companies focused on conducting drilling activities in the Arctic region can be segmented into three categories, which are discussed below
Extreme weather and ice loading challenges
The ice load from huge ice features are significant and exceed the maximum operating design limit of station-keeping-systems of floating structures. There are usually four different types of ice features that occur in the Arctic region: permafrost, ice accretion, pack ice, and icebergs. All the above features have challenges associated with them and demand different measures to tackle them.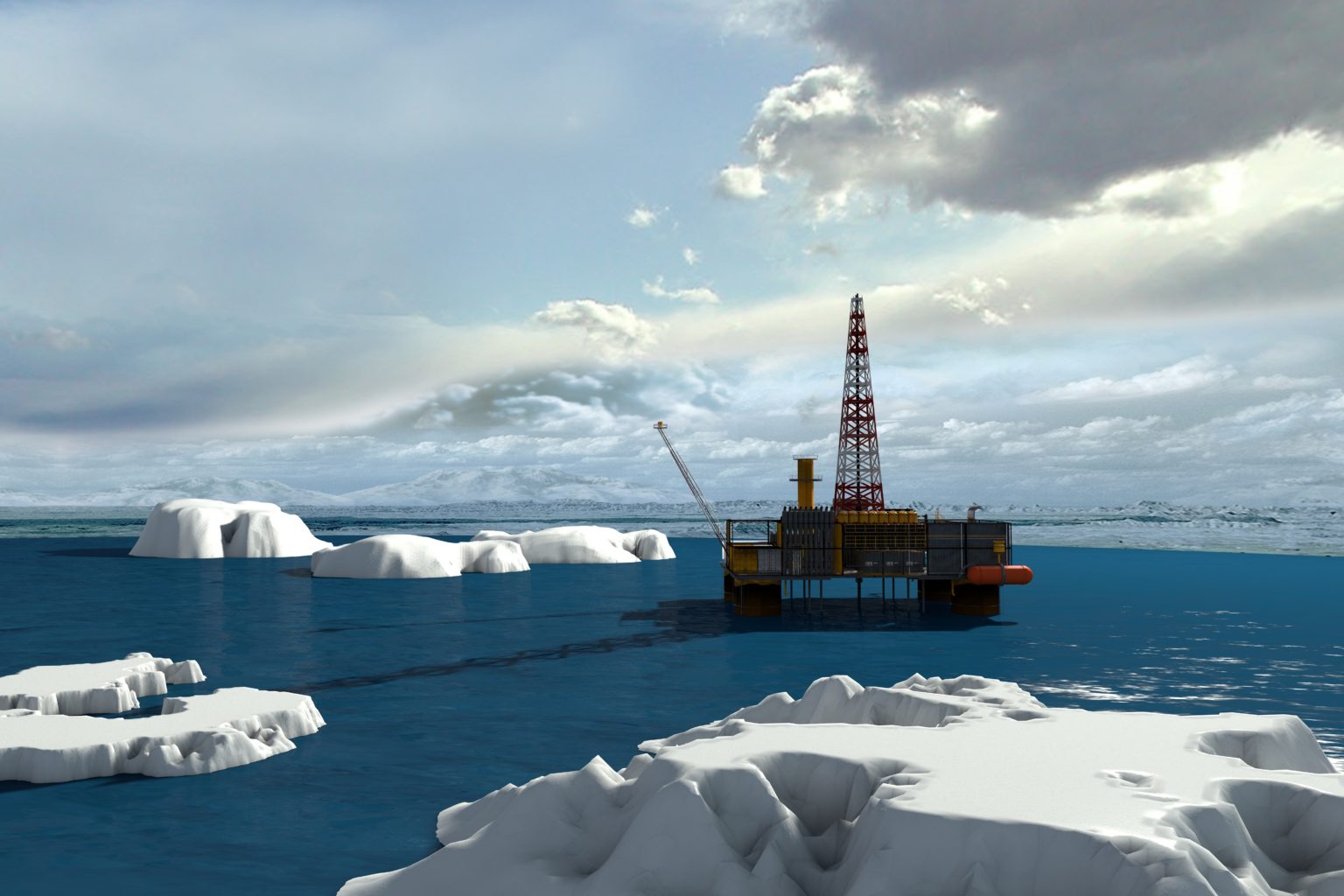 In a few areas in the Arctic region, the soil temperature drops below 0°C, causing freezing of soil. This phenomenon is known as permafrost. It usually causes huge problems in onshore areas. Melting of ice in the Arctic region due to warmer permafrost makes the land unstable for oil structures, which can eventually lead to breaking of structures and oil spillage. Permafrost is a major cause of concern during drilling as well as completion. While drilling through a zone containing permafrost, it becomes essential to drill through the formation while the mud temperature is still low; otherwise, it can lead to bore-hole instability resulting in its collapse. The cement job performed under normal conditions requires hours for compressive strength buildup in the cement slurry. However, if normal Portland cement is used in permafrost conditions, the cement slurry would freeze before it can build desired compressive strength, resulting in the failure of the cement job. These conditions in the Arctic region demand specialized slurries, which can attain desired compressive strength below the freezing point.
Ice accretion is another serious issue. When the temperature falls below the freezing point, ice starts to grow on most of the surface of structures. In a few cases with extremely low temperatures, the rate of ice buildup can be as high as 3 cm per hour. This buildup of ice causes challenges related to weight and stability.
Pack-ice is the ice that forms and floats on the surface. They can be either first year or multiyear ice. Multiyear ice contains less concentration of salt in comparison to the first year ice, and is thus, considered to be harder. The formation of pack ice usually decides the operational time window in the Arctic. If this window is too small, several wells in the Arctic region will not be economical. Therefore, by reducing the drilling time, the cost of the well can be reduced. Technologies that can reduce the drilling time by improving the rate of penetration, using less number of casing, and/ or reducing the non-productive time, are required in the Arctic region.
Icebergs are giant pieces of glaciers that fall off into the ocean. Glaciers do not contain any salt, which makes them even harder and tougher to break. They cause problems for offshore structures and installations. Contractors should make sure that icebergs do not collide with the installations.
Low visibility is another major issue that players face while operating in the Arctic region. Winter months in the Arctic region receives very meager sunlight, and thus, it is known as Winter Darkness. It is defined as the time period when the sun stays below the horizon for the entire period. In summers, fog causes visibility problems in the Arctic region. Fog usually forms in the area where hot and cold air stream meets, for example in Bear Island of Barents Sea. In this region, fog limits the visibility by up to 1 km for 2-3 months a year.
Developmental challenges
The development of an oil and gas field goes through various stages, from seismic surveys in the first stage of exploration to decommissioning of all installation as the final stage. Most of the development activity in the Arctic region takes place in shallow waters, and thus, the use of gravity-based structures or detachable Floating Production Storage and Offloading (FPSO) seem to be an apt option. However, to explore in deeper waters, a company needs to use and adapt floating structures and subsea systems.
Exploration and production activities in the Arctic region require drilling vessels that are capable of drilling in a cold environment. These vessels need to effectively withstand ice loads as discussed above. There is no single type of structure that can be a perfect fit for every zone in the Arctic region. When entering the Arctic environment, factors such as ice conditions, operational period, etc. become very important. For regions such as Beaufort, Chukchi, Kara, and Northern Greenland that are operational all year round (with annual ice cover and clear open waters), ship-shaped structure is the preferred option. Likewise, for other regions, such as the harsh southern Barents Sea, semi-submersible seems to be a feasible option. In addition to the exploration and production structures, there is also a need to identify which kinds of ice management structures can be used, which include tugboats, icebreakers, supply vessels, and standby vessels, for exploration and production activities.
In areas where iceberg incursion is prominent, ice ridge scour is the primary threat to the seabed installations, such as pipelines and subsea structures. Ice ridge scour is a phenomenon that usually occurs at water depths of up to 45 m only. The first year ice ridge's keels are particularly less hard than multiyear ridge's keels and result in a different kind of scouring. A solution to protect pipelines or other seabed installations from moving icebergs is to bury them into the seabed. Therefore, the initial design of subsea installations should also consider the determination of the required burial depth.
The construction of wells will require special types of muds and cement. Mud properties also change with temperature, and thus, proper mud selection becomes very important. In addition, both mud and cement need to be nature-friendly in this fragile environment.
Attracting new talent to operate in extreme working environments, especially the Arctic region represents a significant challenge. There is intense competition for experienced professionals in oil and gas companies, and several are facing a human capital shortage. Monetarily, it is difficult and expensive to sustain a workforce in these harsh areas. Economic crisis and downturn led to major cost-cutting resulting in highly competitive working environments, thereby challenging the ability of companies to manage operations.
Environmental challenges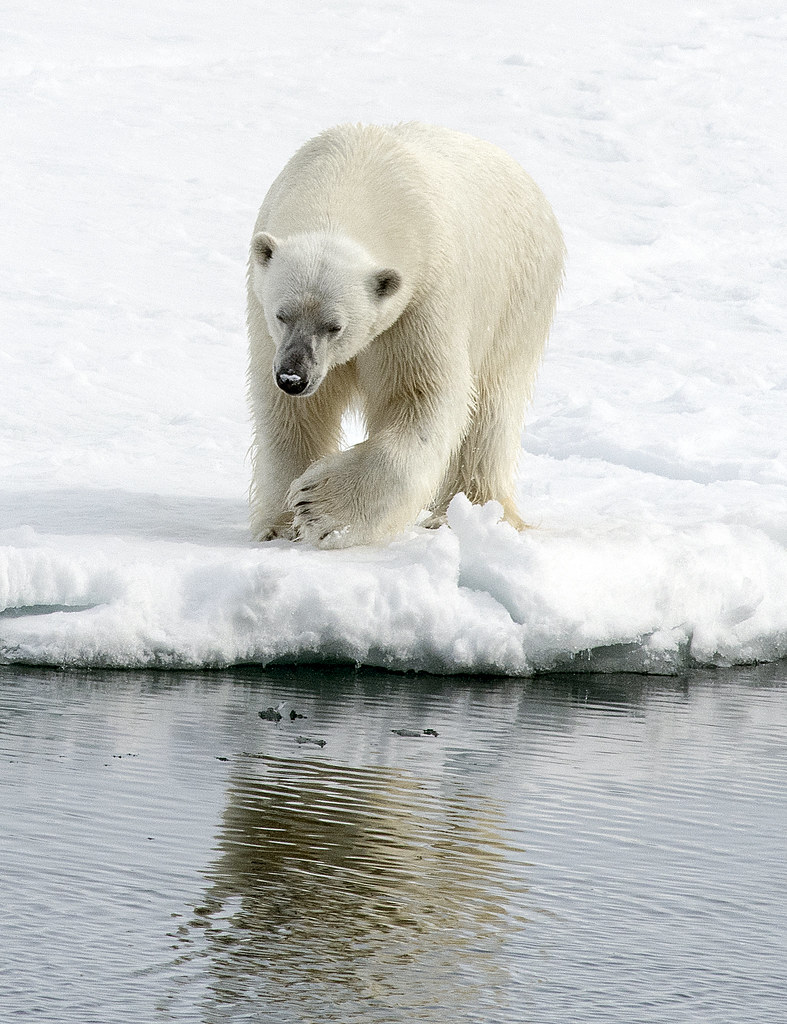 Ice remains present for more than half of the year in the Arctic region, which stops the transport of equipment, supplies, and personnel to and fro from the site, as well as damages ships and offshore facilities. Oil spills are tough to clean up in the Arctic, as oil gets trapped under big blocks of ice, and thus, it becomes impossible for any oil company to clean oil spill successfully. Companies have a small timeframe to cap leaking oil wells or successfully drill relief wells before winter ice returns and blocks operations. In 1989, the Exxon Valdez spilled ~260 thousand barrels of oil into the Prince William Sound in Alaska. Exxon spent USD 2 billion to clean up and still was able to recover only 7% of the oil spilled.
Vessels in the Arctic region pose a threat to the environment. For example, soot (black carbon) is a common pollutant generated by marine vessels due to incomplete burning of diesel fuel. These soot particles absorb sunlight and generate heat in the surrounding atmosphere, thereby speeding the melting of ice and snow.
Safety of the crew in extreme conditions (icy waves that reach 50 feet) serves to be a significant challenge. The nearest response stations to Arctic drilling sites are usually located thousands of miles away.
Technology innovation is the key
Even though drilling operations might be difficult, the Arctic region cannot be ignored due to the enormous untapped potential that it carries. Irrespective of whatever scenarios are chosen to rely on, hydrocarbons will play a significant role until 2040 in the global energy system. Therefore, oil and gas companies need to develop technologies that can help drill oil in the region in an eco-friendly manner.
Technology advancements in the areas of marine seismic noise reduction, design and construction of new Arctic Class drilling units, ice management, safe drilling and production operations, well control prevention and response, and oil spill prevention and response are presently under different stages of development. Companies such as Statoil, which has ambitious plans to drill in the Barents Sea, in the Norwegian Continental Shelf (NWS), has deployed Transocean Enabler, a rig specially designed for operations in extremely cold climates. It has a fully-automated control system for drilling operations and has the best safety and water purifications system. The rig has almost no environmental footprint, emits no harmful chemical in the sea, and even has a dynamic positioning system for ease of navigation.
With the advent of new digital technologies, monitoring and control of Arctic facilities can be made more efficient. Gazprom Neft is collaborating with IBM and SkolTech to develop cognitive support systems for drilling, seismic interpretation, and well-logging curves based on Artificial Intelligence for its Arctic assets — at the Novoportovskoye and Messoyakhskoye fields.
Arctic Cold War Continues
As the Arctic ice continues to melt, many of the international bodies witnesses it as a catastrophic disaster; however, countries such as the U.S., Russia, Canada, Denmark, and Norway see this as an opportunity for new trade routes and lucrative deals. According to international law, each country can claim 370 km (200 nautical miles) from its nearest coast, also known as Exclusive Economic Zone (EEZ). Apart from this zone, other areas are open for the claim, provided the country proves that in the UN. Iceland and Norway are the only countries in the Arctic region that have claimed for areas, which have been accepted by the UN.
Russia has undertaken an aggressive stance both in terms of military activities as well as exploration activities. It is currently planning to build four man-made islands on the Barents Sea to explore the new gas fields in Yamal (run by Novatek). Despite the concern raised by environmental bodies regarding the drastic consequences of building the LNG project, Russia is bullish about developing the project quickly. China, which is not an Arctic nation, is playing an important role in the development of this project with CNPC's 20% stake and other 9.9% stake coming from Beijing's Silk Road fund. China is interested in the development of "Polar Silk Road" with Russia, as this road links China with Europe through the Arctic Ocean, and thus, strategically it serves to be an important collaboration for China. At the same time, 80% of the equipment for this project would be manufactured in Chinese shipyards, which will boost the country's economy.
The current development position of the US and Russia can be compared by the number of icebreakers in the region, with Russia ramping up the numbers to 25, while the US has only one full seasonal ice breakers. The US and other NATO nations currently do not have a clear stance regarding the Arctic development and are still entangled in capital risk and other technical challenges as discussed above.
Looking Ahead
New exploration avenues are required to be explored to fulfill the rising energy demand. The Arctic region seems to be one of the most lucrative areas for exploration. As discussed above, due to the melting of ice, the Arctic has become more available for exploration by having more open water season in a greater area. However, there are different challenges that need to be overcome before E&P operations can be performed successfully. Advanced equipment must be developed for drilling in extremely deep waters; these equipment should be able to withstand freezing conditions and high winds.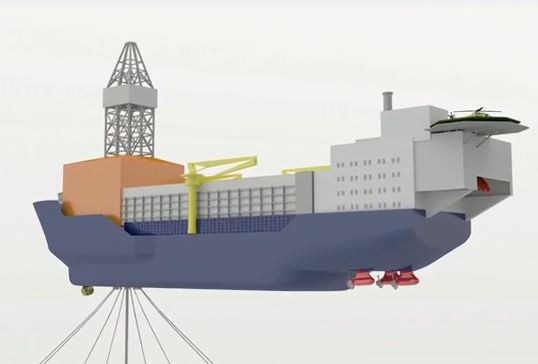 Engineering group, GustoMSC, has introduced the concept drill ship NanuQ 5000 for the Arctic. It is 631 ft. in length 124 ft. in breadth. This vessel is capable of performing autonomous drilling operations in Arctic conditions (up to 120 days). The bunker stations and deck logistics are covered by wind walls, which provide full protection to working areas and also re-supply over the stern under winter ice conditions. Several national and international oil companies have been focusing on design and construction of critical polar drilling equipment to seize strategic position and market opportunities. Recently, Aker Solutions developed a concept of an arctic drillship that can operate in Arctic sea ice. It can perform positioning by mooring of a bow mounted turret with the option of mooring disconnection; other features such as azipod thrusters help assure ice-vaning if a change in ice drift direction occurs. Improved hull shape breaks the ice more efficiently, and at the same time keeps the ice from going under the vessel, thereby protecting the riser from ice impact.
Additionally, innovations in the Arctic E&P operations include dynamic positioning systems, heating systems, subsea equipment advancement, automation for faster operations, and other key equipment. This has been the immediate focus of all major developers as it is critical for future development of the Arctic region and the energy security of the world.