Blog
Veterinary Diagnostics – Growth, Trends, and Impact

Life Sciences
Jul 6, 2019
8387 Views

8 min read
Add to Favourite
Introduction
Animal disease diagnostics forms a connecting link between the cause and cure of any disease, and thereby, plays a fundamental role in disease management and prevention. A small outbreak of disease can pose a threat to the entire animal community. Thus, to ensure the overall wellbeing of animals, the practice of veterinary diagnostics becomes essential. This field is growing exponentially, driven by the need to control and prevent diseases in animals. Data collected from millions of animal tissues and fluid samples help create drugs and vaccines. A major push in the development of animal disease diagnostics has been towards innovative methods that can provide complete and robust results in less than 24 hours or even during the course of the initial examination of the animal.
Key Components of Veterinary Diagnostic System
Vet Laboratory
The vet laboratory provides a facility for medical testing of infectious toxins or agents in animal diagnostic samples. Veterinary professionals such as public officials related to wildlife management or public health, animal owners, and scientists submit these samples for analysis. Special testing laboratories include molecular, pathology, bacteriology, Health Assurance Testing Services (HATS), toxicology, nutrition, and virology testing centers.
Vet Devices
The FDA defines veterinary (vet) devices as instruments, apparatuses, or accessories used for diagnosis of diseases, wherein vet devices include diagnostic test kits, syringes, needles, surgical instruments, X-ray equipment, prosthetic devices, and dental appliances.
Veterinary Diagnostic Test Kits
Various test kits used to control animal movement include kits for activated clotting time in dogs and cats, refrigerated veterinary diagnostic test kits with a shelf life of up to two years, and non-refrigerated test kits with a shelf life of up to 18 months, urine testing, and parasite detection systems.
Veterinary Diagnostic Techniques
Quality assured diagnostics are important for providing appropriate treatment. Hence, the diagnostic technique should be rapid, sensitive, specific, and cost-effective. The classical diagnostic approach includes microscopic technique, cell culture, and serologic assays. With advancements in healthcare, a large array of diagnostic tests have become available, and various modern diagnostic modalities are often routinely used.
There are two major types of test categories:
Screening Tests: Tests used for clinically healthy animals to detect the possibility of a disease
Confirmatory/Diagnostic Tests: Tests used for clinically diseased animal to confirm the diagnosis or classify disease status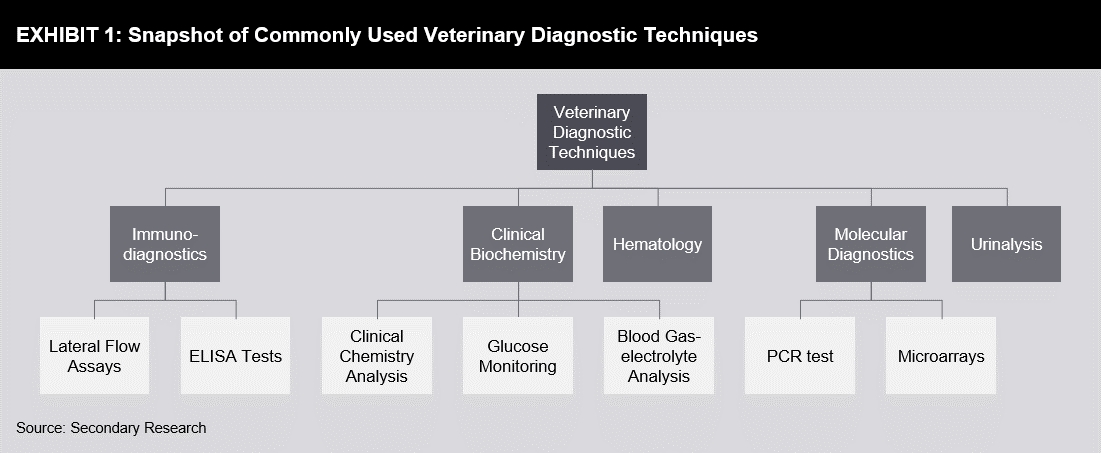 Advances in Diagnostic Technology by Integrating the Use of New Tools
Traditionally, laboratory diagnostics for veterinary pathogens have relied on methods of detecting the pathogen by culture or antibodies, using varied techniques, such as neutralization, Enzyme-linked Immunosorbent Assay (ELISA), agar gel immunodiffusion, and complement fixation. Over the years, veterinarians have incorporated new molecular diagnostic techniques, such as Polymerase Chain Reaction (PCR) and Western blot, as well as improved older techniques by using recombinant antigens, monoclonal antibodies, and synthetic peptides. Despite the routine use of conventional diagnostic assays, new molecular techniques have enabled veterinarians to use new tools for rapid and specific diagnosis of animal disease in real-time.
Improved immunoassays
The production of specific proteins or peptides that serve as target antigens or positive control reagents is possible with new biotechnological methods, such as the cloning of genes, overexpression of immunogens, and use of expression vectors and peptide synthesis in existing and newly-developed immunoassays. The use of these improved antigens can increase the specificity or sensitivity of immunoassays by providing a more defined target for binding antibody, which, in turn, can reduce serial-to-serial (lot-to-lot) variation of test kit performance.
Biosensors
Through the development of biosensors, the detection of either the agent or antibodies has been possible. Biosensors use a receptor (usually an antibody) to identify the target pathogen or a disease-specific antibody and a transducer that converts a biological interaction into a measurable signal. Some of the transducer technologies under-development include electrochemistry, interferometry, reflectometry, resonance, and fluorimetry. Biosensors, coupled with sophisticated instrumentation, are used to produce highly-specific analytical tools, most of which are mainly used for research and development due to their high cost.
Nucleic acid diagnostics
The inclusion of nucleic acid-based diagnostics in veterinary medicines has redefined the level of information for animal disease control programs. Nucleic acid detection techniques such as PCR and real-time PCR have led to the development of rapid, specific assays. The use of such single-tube, closed assay detection techniques decrease the problem associated with cross-contamination among samples and facilitate easy detection of positive samples effectively based on the amount of fluorescence released during amplification.
Non-polymerase chain reaction techniques for nucleic acid detection
With the advent of promising and sensitive gene amplification techniques such as Nucleic Acid Sequence-based Amplification (NASBA), the need for thermocycler is eliminated. The NASBA is an isothermal system, operated at a single temperature. It is a two-step process that involves an initial enzymatic amplification of the nucleic acid targets, followed by the detection of generated amplicons.
Proteomics
Proteomic technologies have immense potential in veterinary diagnostic applications as they target the patterns of protein expression of the target analyte, such as virus, bacteria, parasite, etc. Various proteomic techniques that are currently applied to veterinary science, include proteomic approaches to animal disease pathogenesis, recent achievements in immunoproteomics (i.e. identification of antigens involved in immune response through proteomic techniques), histoproteomics (i.e. the application of proteomics in tissue processed for immunohistochemistry), and clinical proteomics (i.e. the identification of new biomarkers of animal diseases through proteomics).
Nanotechnology
Nanotechnology test platforms such as nanoarrays and nanochips have the potential to analyze a sample to determine an array of infectious agents on a single chip. This involves identification of specific strains or serotypes of disease agents (including identification of specific influenza strains) or the differentiation of diseases caused by different viruses but with similar clinical signs, such as vesicular viral diseases.
Animal Diagnostic Market: An Overview
The globalization of trade in animals and animal products is a major driver for the improvement of the analytical and diagnostic quality of tests. The global companion veterinary diagnostics market is expected to reach USD 6.51 billion by 2022, at a CAGR of 20.1% from 2017 to 2022.
On the basis of technology, the companion veterinary diagnostics market is broadly segmented into:
Polymerase Chain Reaction (PCR)
Real-time Polymerase Chain Reaction (RT-PCR)
In situ Hybridization (ISH)
Immunohistochemistry (IHC)
Gene Sequencing
Other Technologies
Global Veterinary Diagnostic Market Players
The global veterinary diagnostics market is dominated by IDEXX Laboratories (U.S.) and VCA Antech (U.S.). A large share of IDEXX and Antech is attributed to their revenue from the reference laboratories business, where they have a competitive edge over other leading players in the market.
Other major players are:
Abaxis Corporation (U.S.)
Heska Corporation (U.S.)
Mindray Medical (China)
Neogen Corporation (U.S.)
Thermo Fisher Scientific Inc. (U.S.)
Major Diagnostic Products Offered by Companies in the Market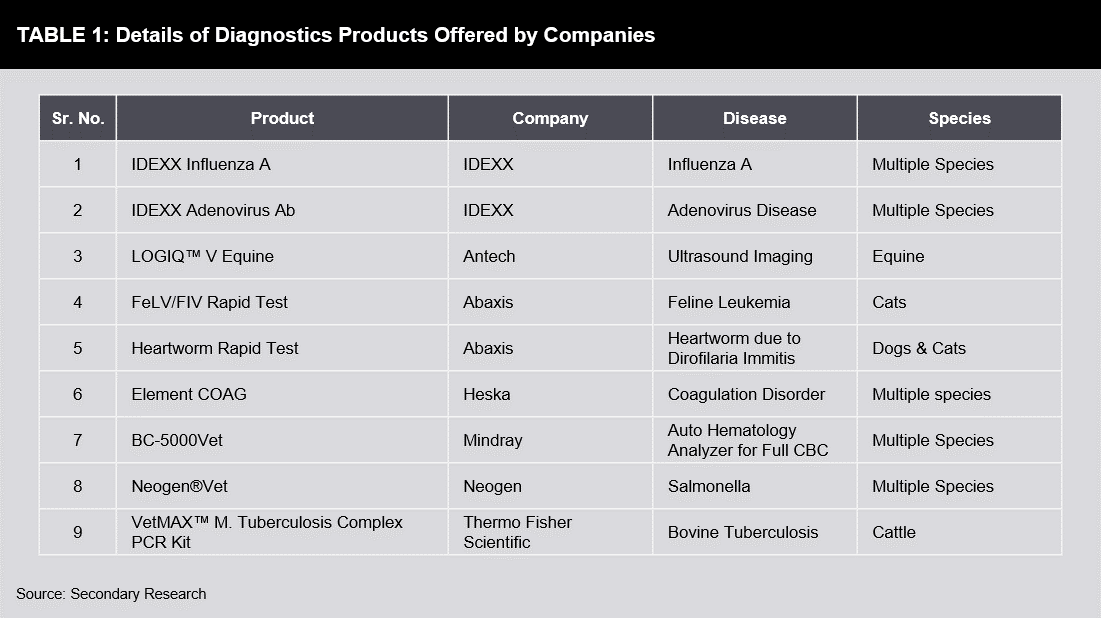 Drivers and Challenges in the Veterinary Diagnostic Market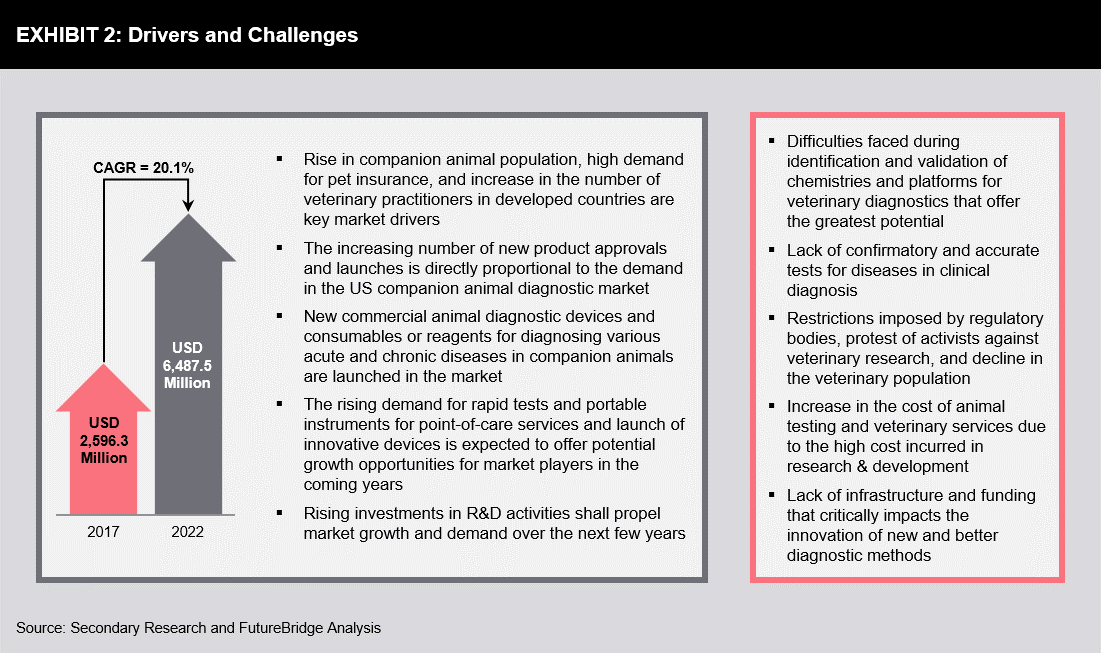 Impact of Advancements in Diagnostic Techniques
Food Safety and Sustainability
Diagnostics encourage animal health by disease prevention and control of critical livestock diseases. This improves the overall nutritional quality of food products obtained from animals.
Zoonotic Disease
Innovation is required for timely identification, monitoring, and treatment of fatal diseases that can pose a threat to human health. The HealthforAnimals Industry Survey confirms that the animal health sector plays a major role in the control of diseases in the human population.
The Global Threat of Antimicrobial Resistance
Antimicrobials, such as antibiotics, are substances used to kill microorganisms or to stop them from growing and multiplying; they are commonly used in both human and veterinary medicine to treat a wide variety of infectious diseases. Antimicrobial resistance is the ability of a microorganism to resist the action of one or more antimicrobial agents. Robust diagnostic technologies can limit the unnecessary use of antimicrobials by disregarding inappropriate prescriptions for infections that are caused by viruses and for which an antibiotic is not required.
Lifespan of Animals
There is an immediate need for timely diagnosis and treatment of fatal diseases in animals. The lifespan of companion animals has increased over the past few years as a result of advancements in diagnostic techniques and responsible pet ownership.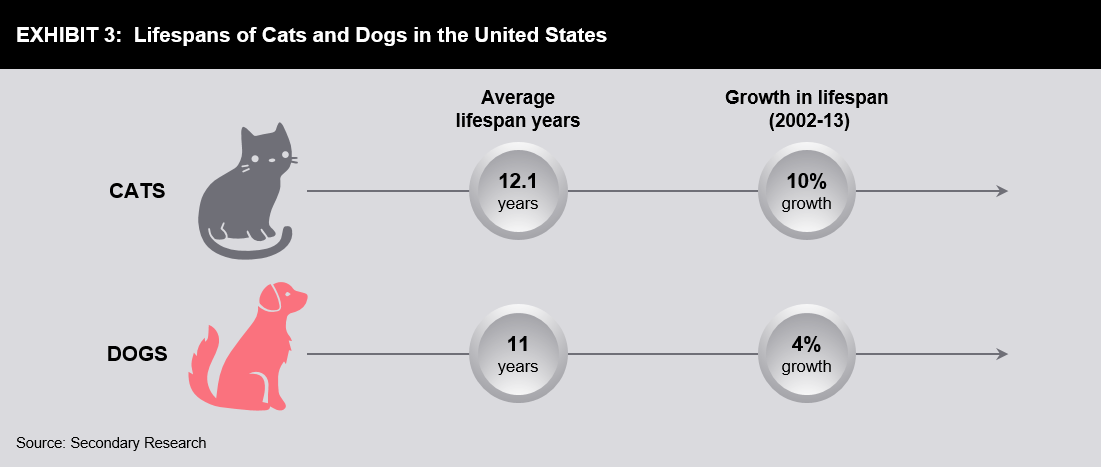 Conclusion
The growth of the veterinary diagnostics market is mainly driven by the increasing focus on cost reduction by pharmaceutical companies and the rising demand for target therapies. In the companion diagnostics sector, breast cancer and lung cancer in animals are the most prominent diseases. An extensive research on breast cancer biomarkers is projected to be continued.
North America will possibly continue to be the largest market for companion diagnostics, followed by Europe. Technologies employed in veterinary diagnostics have immense potential to improve early detection of diseases in developing countries, where centralized diagnostic capacity is not well-established.
Factors such as a large consumer base, high disposable income, increased awareness, presence of suitable infrastructure facilities, and acceptance of novel approaches in medicine will encourage rapid development of the animal diagnostics sector.